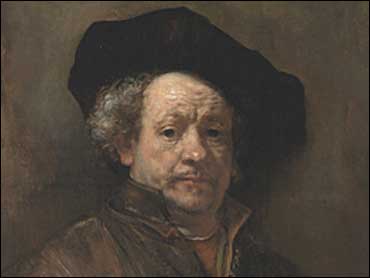 A Master Among Masters At The Met
Time now for a master class in the works of Dutch Master Rembrandt Harmenzoon Van Rijn. Centuries after his death, Rembrandt is in the spotlight again these days, and so are some Rembrandt wannabees. Russ Mitchell examines the evidence:

---

There's no mistaking a Rembrandt...or is there?

The painting, "Old Woman Cutting Her Nails," was celebrated as one of Rembrandt's most popular works - until the 1930s, when it turned out, it wasn't a Rembrandt at all.

According to experts, there were about 700 Rembrandt paintings in the world around 1900. Today, most experts would say about 300.

Which makes the 20 Rembrandts that are on display at New York's Metropolitan Museum of Art well worth seeing. Walter Liedtke is curator of this special exhibition of Dutch paintings.

"I think Rembrandt satisfies a need for modern times," Liedtke told CBS News correspondent Russ Mitchell. "He's so contemplative."

Rembrandts that are not Rembrandts are on exhibit here, too, but don't call them "fakes."

"The word fake is thrown around for lack of vocabulary, I suppose," Liedtke said. "If it's not a Rembrandt, it's a fake. But you know, it's actually a 'misunderstood painting by somebody else.'"

The 17th century Dutch school of art was so popular, that copying a master's style was a way to pay homage.

It was a golden age of portraits, landscapes and scenes of everyday life, as captured by Frans Hals and Johannes Vermeer.

"Young Woman with a Water Pitcher" is one of only 35 known Vermeers.

"It's a man's view of an ideal woman in an ideal home," Liedtke said, looking at the painting, "and it really evokes that period of prosperity of the Dutch in the 1650s and '60s."

Despite wealthy patrons and thriving careers, Vermeer and Rembrandt both struggled financially.

"Rembrandt overspent a lot," said Liedtke. "He bought a four-story house. He collected like crazy … he just wasn't a good money manager."

"Vermeer basically couldn't sell a picture for his last three or four years of life. And he had at that time 11 surviving children."

But in the late 1800s, it became fashionable to collect Dutch art in America, and by then, the rich were paying record sums: $80,000 for one Rembrandt in 1889, a stunning likeness of the artist's frame maker, Herman Doomer.

"It's also brilliantly preserved," Liedtke said, looking at the portrait with Mitchell. "We're on a polished oak board here with oil paint. And wonderful textures … the linen, rough, you can actually, if I let you, you could feel it."

In 1961, the Met paid $2.3 million for Rembrandt's "Aristotle with a Bust of Homer," then the most ever paid for a painting. And Rembrandt van Rijn, master of old masters, is still the star of the show.

Rembrandt's self portrait in the exhibit was painted when he was 54, nine years before he died.

"It's made by looking in a mirror for a very long period," observed Liedtke. "You can see all the furrows in the brow and the aging in the eyes, and the softness in the cheeks. He's not prettying himself up at all."

Nearly 350 years later, Rembrandt is still holding up pretty well. If he and the other Dutch masters could walk into the Met today, Liedtke thinks they'd be pleased.

"After the culture shock, they'd be very gratified to see how much they're appreciated."
Thanks for reading CBS NEWS.
Create your free account or log in
for more features.