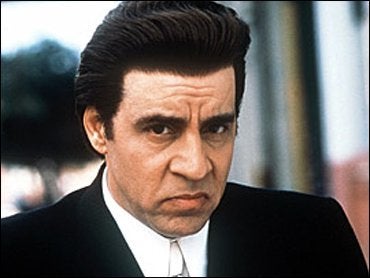 A Hit Man In More Ways Than One
Steve Van Zandt is one of the stars of "The Sopranos," but he started as Bruce Springsteen's consigliore. Sunday Morning correspondent Anthony Mason spoke to the the secondhand man for mobs and rockers.

---

The infamous Bada Bing club is set in a real-life strip joint just off a hustling New Jersey highway. There, on the set of "The Sopranos," Steve Van Zandt has just been given his script for the next scene.

As Silvio Dante, in his pompadour toupee, Van Zandt plays hit man and top lieutenant to mob boss Tony Soprano. But before he was Tony Soprano's consigliore, he was Bruce Springsteen's sidekick as a guitarist in the E Street Band.

Van Zandt is creatively restless, says his wife Maureen, who also plays his TV wife in "The Sopranos."

"That's what's interesting about him," she told Mason. "That he's a real renaissance man. I know that sounds very cliché, but he is."

His latest incarnation: music impresario and self-proclaimed savior of rock 'n' roll. It started with his syndicated radio show, "Little Steven's Underground Garage," which is now heard on 200 stations. From his New York production office, Van Zandt also books "Underground Garage" concerts that feature new and classic rock bands, as well as the underground garage go-go girls choreographed by Maureen.

Little Steven's radio show now has two million listeners. But in the beginning he had to beg syndicators to get it on the air.

"They said, 'Well, we can't get that on the radio anymore," Van Zandt said. "We sent out 350 pilot shows to every radio station in the country. And every one turned us down. Every one. It became, 'Uh-oh, I've got a war here.'"

At a convention of radio programmers he went on the attack, leading a revolution to put rock back on the radio. For Van Zandt that revolution began on February 9th, 1964 when the Beatles played "The Ed Sullivan Show."


"I saw hope for myself," he said. "It was like, here is something I've never seen before, I didn't even imagine existed. And suddenly, maybe there's hope for my life. Because I didn't fit in anywhere. And I was starting to get concerned, you know?"
So little Steven joined a band, the first of many. In 1970 he signed on as bass guitarist for a group called "Steel Mill." The lead singer was a kid named Springsteen. The two teenagers from New Jersey found they were kindred spirits.
"I mean in the end everyone who had a choice to do something else did it, you know," Van Zandt said. "And in the end, me and him were the only ones left standing. You know what I mean? We were the true freaks! The true misfits and the true outcasts."

He later joined Springsteen's "E Street Band" and co-produced the album "The River." Then, amicably, Van Zandt decided to go his own way — missing out on the success of the next Springsteen album, "Born in the U.S.A.," which sold 20 million copies.
"Oh yeah, it was brilliant," Van Zandt said. "When I joined the band we were making $200 a week. And we finally are about to cash in. And I leave."
As Little Steven, wearing the signature bandana that he says hides a scar from a car accident, Van Zandt recorded 5 albums and produced many more for other acts, but commercially nothing really clicked.
"You can't look back with too much regret," he said. "What little I know I've learned since I left the band. And one of the things you learn as you leave is - you shouldn't have left!"
Even his best-known song of the period, "Sun City," an anthem of protest against apartheid in South Africa, was no help to his career. By the early '90s he felt like he was cast out into the wilderness.
"Oh, I was done," Van Zandt said. "Because I was pretty much blackballed from the industry for being so political. It was not a cool thing to do. And I was a little too successful at it."
Then in 1997, while appearing on the Rock & Roll Hall of Fame ceremonies, his fortunes took an unexpected turn. Producer David Chase was dreaming up a new series for HBO.
"My wife and I happened to watch, happened to light on that induction ceremony with the Rascals and there he was," Chase said. "He just had so much presence, was interesting and funny, and I thought, 'Oh, I gotta bring that guy in.' He looked penetrating, suspicious, you know, ready for anything."
He asked Van Zandt to audition for "The Sopranos," but Van Zandt had never acted before. He ended up moving into character quite easily.
"I spent my whole life trying to learn about who I am. Being somebody else is a vacation," he said.
Just as "The Sopranos" began filming, Bruce Springsteen called. He was putting the E Street Band back together and wanted Van Zandt to tour with him again.
"You know, we grew up together and so I was his kind of righthand man for a long time and the guy he could trust," Van Zandt said. "The guy who didn't really have any ambition to be him, to be the Boss. I like being second in command. I like being behind the scenes. I like being an advisor, you know. I like being consigliore. I was born to do that. I don't know why."
But in his own production company, Van Zandt is the boss, promoting the music he loves. In a new animated series he's developing, the government has outlawed rock. The hero is a familiar looking guy in a bandana.
"I actually lead the revolution below ground," he said. "But above ground I'm a respectable businessman."
Thanks for reading CBS NEWS.
Create your free account or log in
for more features.