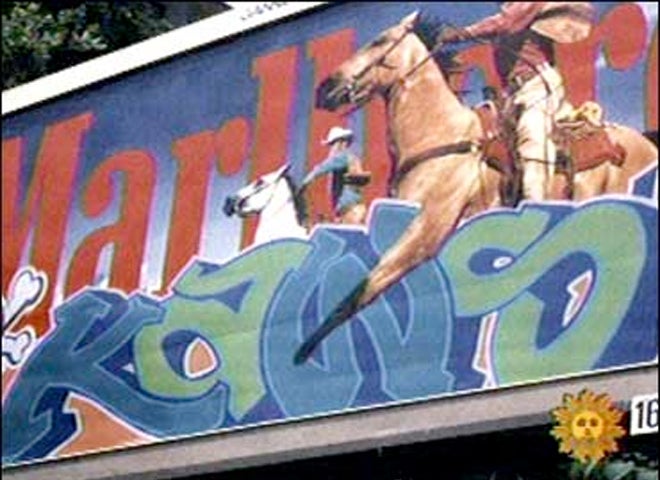 A graffiti artist goes mainstream
This morning we launch a trio of reports looking at graffiti artists who are turning a corner into the mainstream. With Serena Altschul we make the acquaintance of KAWS:
---
What is it … or who, to be precise … that has brought both art collectors and skater kids to this gallery opening on New York's Fifth Avenue?
Meet KAWS … painter, designer, former graffiti artist, and one of the hottest names in the art world. (More on his unusual name in a minute.)
After years of shying away from galleries, this reluctant star is now showing his face, and his work, to a whole new crowd.
Sandra Gering, who owns the Gering and Lopez Gallery, said, "The minute I saw the paintings, the very minute I saw them, I said, 'That's it.'
"He is just of his time. He connects with his generation, totally. And the younger ones as well. I mean, they just idolize him."
"It doesn't feel like somebody painted it," a guest at the showing said about one work. "It feels almost like a drawing blown up, you know what I mean? Yeah, it's perfect."
It wasn't all that long ago that the 34-year-old KAWS was just another mischievous kid. He found his artistic voice through the illegal public painting of graffiti.
"I just started simply through graffiti and drawing on my skateboard and painting on walls and getting that small recognition," said KAWS (left), known to his family as Brian Donnelly.
He grew up in the shadow of Manhattan, across the river in Jersey City, where his faded tags can still be seen on the sides of buildings.
Donnelly used the name KAWS to stay anonymous. He only made his real name public five years ago.
"It's just a combination of letters I liked," he told Altschul. "And when your whole art's based on the lettering you choose, you kinda figure out what ones work together. I just liked the shapes of the k, a, w, s. It has no meaning."
KAWS became a street legend in the '90s by drawing over bus stop ads, establishing his signature mark … placing x's over character's eyes.
He then started designing products and vinyl figures, including a character called "companion," and painting cartoon characters from his childhood.
Altschul described a "nostalgic" from some of his work, which Donnelly connected to Smurfs.
"For me, that's one of the things, if I went to the dentist, I was allowed to buy a smurf afterwards."
Ten years later, thanks in part to a huge Internet fanbase, KAWS (who hasn't painted graffiti in a decade) has become a worldwide sensation.
Even some of music's biggest names have taken note. Hip-hop mogul Pharrell Williams was an early admirer.
"To our generation, we're gonna look at him, like, you know, he's the guy that made us pay attention to art," Williams said.
Williams has commissioned dozens of pieces for his Miami home.
"When you see KAWS, he is somethin'," he told Altschul. "His work is really truly like a stimulant. It connects with the inner child."
Working out of his Brooklyn studio, KAWS has also created artwork for superstar rapper Kanye West's latest album, "808's and Heartbreak" (left), and for billboards. He has also collaborated with some of the world's biggest brands, like Nike and Marc Jacobs.
He only releases a limited number of each product. "What is a fan to do if someone wants to buy one?" Altschul asked.
"You know, they come savvy really fast," he said, "and figure out how to buy stuff at retail."
But it's not always that easy. Last fall, thousands of fans lined the streets of Tokyo outside KAWS' shop in hopes of buying a "Star Wars" stormtrooper he designed with Lucasfilm. Most went home empty-handed.
Despite his increasing fame, KAWS says he happiest in the studio.
"It's really the only time where I could have clarity and think about everything that's going on and happening," Donnelly said. "There's sort of just a calmness of being there and working and being in the studio alone."
He's created dozens of new pieces, including bronze sculptures of his own head, for solo shows at galleries in New York, Miami and Los Angeles. They can sell for up to $100,000.
The shows give KAWS a chance to introduce himself to a new audience, while sending his diehard fans into a frenzy.
Is he surprised that his popularity is so big and has come so far?
"Yeah, I don't know what to make of it," he said. "It is shocking that [there are] that many people that are interested or follow the work."
And while fans see him as a phenomenon, KAWS has a different take:
"Right now I feel hungry," he said. "I feel like there's a lot of things I need to settle. There are things I need to do. There are places I need to get that I'm really far from."
Editor's Note: Because of rights issues we are unable to post a video of this report online.
For more info:
Thanks for reading CBS NEWS.
Create your free account or log in
for more features.