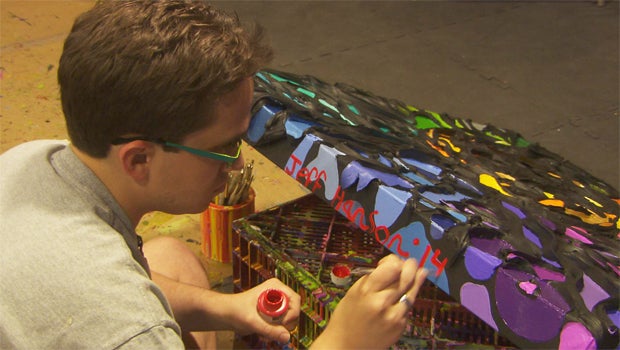 ​A blind artist's altruistic vision
Painter Jeff Hanson is a young artist with an inner vision that defies his physical limitations. Tracy Smith shows us how he does it:
You've got to wonder, looking at these paintings, with their vibrant colors and deep textures: How does this artist see the world?

Truth is, he really can't.
Twenty-one-year-old Jeff Hanson is legally blind. He also has a few other physical and mental challenges, but that hasn't stopped him -- or apparently even slowed him down.
He's done about 1,400 paintings to date. "My mom keeps track for me," he said.
His mom, Julie Hanson, helped turn the basement of their Kansas City home into a rainbow-splattered assembly line.
The man in the paint-splattered surgical scrubs is Jeff's dad, Dr. Hal Hanson, head of the ER at a local hospital. Sometimes dad helps load up the putty knife ... and Jeff does the rest.
It's a family business, and something no one here ever thought would happen.
When Hal and Julie Hanson were married, all of their dreams seemed to be coming true. In 1993, they were blessed with a healthy baby, who grew into a healthy kid. All seemed well, until little Jeff started bumping into things.
"He couldn't see that there was a curb," Hal said. "He couldn't see that there was a stairway, and he would fall down it. And we realized, he's not seeing a lot."
Their only child had a genetic disorder called neurofibromatosis. The disease caused a brain tumor that was stunting his growth, and slowly robbing him of his sight.
"There's one night I particularly remember," said Julie. "Hal loves astronomy, and so so, of course, as a father and son he wanted to show his child the stars and start to teach him about the sky."
Hal added, "He stepped away from the telescope and he looked up at the sky and he said, 'Do you see stars just when you look up with your eyes?' And I said, 'Yes, there's millions of stars.' And he said, 'I don't see any.' And I realized his sky doesn't have any stars."
No stars, and not much fun, as doctors fought to shrink his tumor and save what little vision he had left.
Smith asked, "Did you ever get down? Did you ever say, 'Why me?'"
"No," said Jeff. "I never cried during chemotherapy or radiation. I definitely smiled my way through."
To distract Jeff during chemo, Julie would have him use watercolors to decorate little notecards.
And as he painted, something inside him clicked.
"To me, it was nothing more than kid art," said Hal. "I didn't see any genius to it. It would be something that you would put on the refrigerator with a magnet and forget it in a couple of days, and it would make it to the trash can."
Luckily, it turns out, Julie couldn't bring herself to throw any of her son's artwork away.
"I started using his note cards for thank-you notes during chemotherapy and radiation," she said. "But as I started to do that, my friends would say, 'Do you have any extras? I would love some of those.'"
Jeff started selling them at a makeshift stand in his family's driveway, and a business was born
Because Jeff can barely see what he's working on, his process is unique:
First, he slathers a kind of plastic goop on canvas, front and sides. After it hardens, and gets a coat of flat black, Jeff uses those ridges to feel his way around his painting as he works.
Now, he can't keep up with demand: Jeff has at least a six-month backlog of orders -- and some pretty prominent fans. Warren Buffett has a painting; Elton John has two.
A Jeff Hanson original typically goes for around $4,000.
According to Hal Hanson, Jeff has supported himself with his painting. "We really haven't been involved in this financially at all," he told Smith.
After expenses, Jeff makes around $50,000 a year.
He's in it for the money -- just not for himself. For every painting that Jeff sells, it seems he donates another one. For Jeff, the real goal isn't making a fortune: it's raising a fortune, and giving it away. Hanson's paintings frequently sell for $20,000 or more at charity auctions.
A couple of years ago he made a vow to give away a million dollars by age 20. He made it -- with two days to spare.
Jeff Hanson may never see the stars in the sky; his father gave up on that dream a long time ago.
"You can't see stars with tears in your eyes," Hal told Smith. "And it made me cry. So, we move on. And this is a new horizon."
And that's okay? "It's great," said Hal.
Like his paintings, Jeff's future is brighter than his parents could ever have hoped -- and that is something you don't need a telescope to see.

GALLERY: The works of blind artist Jeff Hanson

For more info:
Thanks for reading CBS NEWS.
Create your free account or log in
for more features.