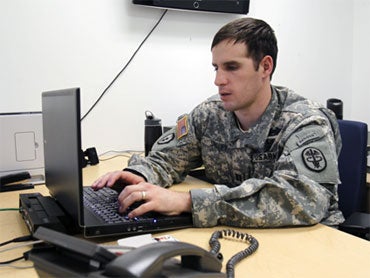 A Blind Army Officer's Challenging Vision
American combat operations in Iraq drew to a close this past week, seven years and five months after we first committed our forces to topple the government of Saddam Hussein. Operation Iraqi Freedom claimed more than 4,400 American lives and wounded another 32,000. Behind every one of those numbers is a story, and some of those stories are above and beyond . . . like the one our Tracy Smith will tell in our Cover Story:
At West Point, the motto is "Duty, honor, country." And few cadets ever took that more seriously than Scott Smiley.
Known as Scotty to friends and family, he was a straight-arrow - a leader among leaders with a promising future, and a high-school sweetheart he adored: Tiffany Elliott.
"You talk about beauty on the inside, but you also describe her as just as pretty as any magazine cover?" Smith asked Smiley.
"Oh, she's hot!" he laughed.
Scott Smiley graduated in 2003, just after the start of the Iraq War, and by December he and Tiffany were married.
"Could you have pictured - standing there, saying your vows - how your life would unfold?' Smith asked.
"Not at all, not at all," Tiffany Smiley said. "I mean, we thought we kinda had it figured out. And it was almost, like, everything was so perfect."
By the Spring of 2005, Scotty Smiley was a platoon leader in northern Iraq, in an area where car bombs were becoming more common and lethal.
For Smiley, the duty was tough, but the mission, in his mind, was sound.
"Every day that I woke up, despite me not getting any sleep for the last 24 or 48 hours, meant that I was doing something productive, meant that I was making a positive difference in not only another country's life, but my own country's life," he said. "That I was protecting my wife back home, my family, my parents, my brothers and sisters. That the impact that I was continually making was making a difference."
And so one April day smiley didn't flinch when his platoon rolled up on a nervous-looking man driving a suspicious-looking car.
"I yelled at him to get out of his car, and he looked at me," Smiley said. "He faced me, raised his hands up like, 'I'm, nothing's wrong.' And, you know, in my mind I think, it was like, 'Okay, great. Like, I'm glad that nothing's wrong,' but he still wasn't moving or doing anything.
"[I] yell at him again. He raised his hands up like nothing's wrong, then began pulling forward, kind of pulling away from me."
"So, the last thing you remember is, what?" Smith asked.
"The last thing I remember is seeing that man's face, and his hands in the air," Smiley said. "In all honesty, that's the last thing that I remember seeing in my life."
At that moment, the driver set off a massive bomb, sending shards of metal through Scotty Smiley's eyes, and into his brain.
Close to death, Smiley was quickly stabilized and put aboard a life-saving airlift.
When he woke up two weeks later at Walter Reed in Washington, D.C., he was surrounded by family he could hear but not see. The doctors said he was partially paralyzed . . . and totally blind.
"In my mind, my life was over," Smiley said. "I had, in my opinion, no reason to live. I couldn't see. I couldn't walk. There was, in my mind, no purpose to live. And unfortunately, at that time, I didn't trust in God. I didn't trust in my wife. I know, unfortunately, the beautiful woman that I married, I was not nice to."
Smiley says his spirit was crushed. When he was awarded the Purple Heart, he cried through the entire ceremony.
"The ophthalmologist who had worked eight hours on my right eye the day before came in and told me that I would never be able to see again," Smiley recalled. "I cried for about an hour."
It seemed that there was no place for a blind soldier to go but out of the Army. But somewhere deep inside Scotty Smiley, the despair gave way to determination.
"I said, 'You know what? I'm gettin' out of bed. I'm not gonna be an individual who just squanders my life away because of what has been given to me. I'm gonna make a step forward."
Instead of accepting medical retirement, Smiley decided he'd fight to stay in uniform. He sought the advice of a family friend, Lt. Gen. Robert Van Antwerp, now the head of the Army Corps of Engineers.
"Our hope and prayer all along was that Scotty could continue to serve and be productive," said Lt. Gen Van Antwerp. "He had no intention of wanting to get out. From day one, as soon as he could speak to us, he said 'I want to stay in. There's a place for me.' And we were holding fast to that."
After grueling physical therapy to get back in fighting trim, Smiley began an all-out campaign to convince his superiors that he could still contribute, blind or not.
He went back to West Point and taught leadership classes to cadets, then got himself into Duke University's prestigious business school, where he graduated with an MBA.
And earlier this year, Scott Smiley took command of West Point's Warrior Transition Unit . . . as the Army's first blind active-duty officer.
Now, it's Smiley's job to lead by example: helping other wounded or ailing war veterans fight their own battles to stay on active duty, or transition to civilian life.
"He's the old Scotty," said Van Antwerp. "He doesn't see through his eyes, but he sees in a lot of different ways."
Smiley's readiness to accept a challenge has become a habit. Last month, he took part in the West Point triathlon, running most of it lashed to his buddy, Captain Jeff Pickler.
And in the years since his injury, he's summited Mount Rainier, surfed solo in Hawaii, skied down a mountain, and jumped out of a plane.
His blindness hasn't stopped him, or even slowed him down.
"You could say that God spared him once - why push it?" Smith asked.
"Right!" said Tiffany Smiley. "But then I'm like, it's still life. You only have one life to live. So I'm gonna let him live it. And I know he wouldn't be a very fun man to live with if I kept him from those things."
In a book out later this month from Simon & Schuster, a CBS company, Scotty Smiley says he's found ways to compensate in other areas of his life as well, like in the delivery room when his first child was born.
"We didn't know what we were having, and so no one in the room knew," Tiffany said. "The doctor just took Scotty's hand and rubbed it in between Grady's legs. And so Scotty was the first person to know what we had."
"So, Scotty, you got to say #0151;"
"'It's a boy!'" Scotty said.
There are TWO boys now, three-year-old Grady and one-year-old Graham.
"You do have a beautiful family," Smith said. "And I know when people tell you that, it's a compliment . . . and it also stings."
"It does," Scotty said. "I mean, it's so rewarding to know that, one, it's phenomenal to have a beautiful wife. And it's amazing that people recognize her to be beautiful. It's amazing to know that my children are absolutely gorgeous.
"But it does hurt. It hurts me very badly to know that I'll never be able to see my wife again. It crushes me to know that I'll never be able to see my children. It's hard . . . like when my sons were born, it was very difficult to know that I'm never gonna be able to see you."
Scott Smiley says he spent a lot of time wondering Why me? But these days, he'd rather focus on the road ahead.
"You said that when you initially woke up, that you saw yourself as a failure," Smith said. "You don't see yourself as a failure now?"
"Ah, there's always room to improve, though!" Scotty laughed.
He's been called a hero more than once. But Scotty Smiley sees himself as any other Army officer: someone who fought through adversity with his faith intact, and with his goals clearly in sight.
For more info:
"Hope Unseen" by Scotty Smiley with Doug Crandall (Simon & Schuster)
Thanks for reading CBS NEWS.
Create your free account or log in
for more features.