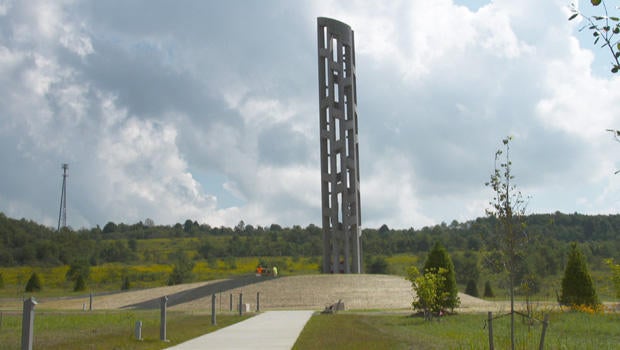 9/11 heroes honored with wind chime memorial
Americans this Tuesday will mark the 17th anniversary of the 9/11 attacks that struck the World Trade Center, the Pentagon, and Shanksville, Pennsylvania. That's where Chip Reid takes us to visit a new monument, and hear its voices in the wind:
In a field amid the rolling hills of central Pennsylvania stands the "Tower of Voices." Ninety-three-feet tall, it honors the heroes of Flight 93.
It will be dedicated later today, the last piece of this 2,200-acre memorial that includes the crash site, known as the sacred ground; a visitor center that tells the story of Flight 93; and the wall of names built directly under the flight path.
The tower, still a work in progress, holds eight wind chimes, but soon there will be 40 – one for each passenger and crew member who died here on September 11, 2001.
When completed the chimes are expected to sound like this:
Hear a simulation of the wind chimes for the "Tower of Voices"
Reid asked Paul Murdoch, the architect of the Flight 93 National Memorial, "When people visit the tower of voices and they hear those chimes, what do you want them to feel?"
"The first thing I want them to do is feel," Murdoch said. "Whatever they feel. The tower itself is quite heroic; it's a monumental piece, it's meant to be heroic. But the sounds are not booming chimes. They're meant to be actually quite subtle and intimate, so that people can be there and have a very personal experience, whatever it is for them."
This part of Pennsylvania is known for its windmills. "There's a lot of wind in this area and that's part of why we thought of the wind chime tower," Murdoch said.
But there's another reason: The 40 chimes, he says, symbolize the voices of the 40 passengers and crew members, many of whom called their loved ones after the plane was hijacked. Some were only able to leave heartbreaking voicemails.
But others calling from Flight 93 got through and learned that three planes that morning had already been flown into the World Trade Center in New York, and the Pentagon. They quickly realized that their plane was being used in a terrorist attack.
The passengers and crew debated what to do. They voted on a plan, and they decided to fight back. They stormed the cockpit, and after a struggle, the plane crashed near Shanksville, Pa., killing all on board.
It was later determined that the hijackers' target was probably the U.S. Capitol.
Gordon Felt, whose older brother, Ed Felt, was a passenger, is president of the Families of Flight 93. He told Reid, "We don't look at the passengers and crews as victims; we look at them as heroes. Obviously they wanted to live. But they also knew that in order to try to survive they had to fight. And in doing so, they lost their lives. But they averted a far greater tragedy that would've been inflicted on our country."
Reid said, "If you were asked in one sentence to say what is the purpose of this memorial, what would it be?"
"To remember," Felt said. "To remember September 11th, [and] the sacrifices of all of the heroes that were present that day. 'Cause really, they represent us all. It could have been any one of us that morning.
"Most importantly, when visitors walk away, I hope that they take with them a question: If it was me, could I have done what they did?"
Paul Murdoch says he hopes this landscape, that is both pastoral and rugged, will keep people coming here to remember for generations to come.
"There's a serenity here to allow people to reflect and be contemplative," he said, "and there's a severity to remind people of what actually happened here. This is a battleground on the one hand, but it's also a final resting place of these 40 people."

For more info:

Story produced by Juliana Kracov.
Thanks for reading CBS NEWS.
Create your free account or log in
for more features.