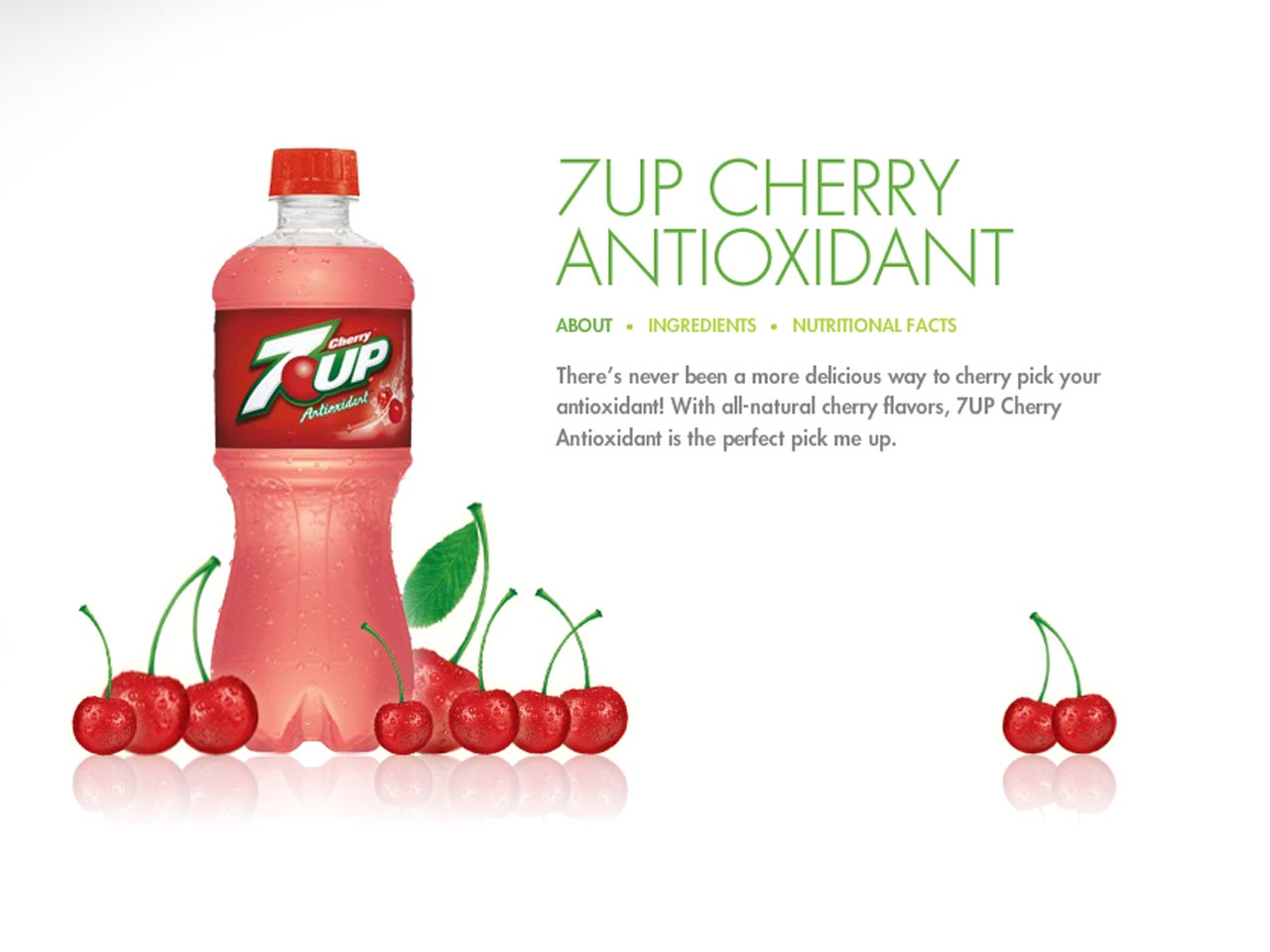 7Up maker sued over antioxidant claims
7Up Antioxidant sodas are under fire from the Center for Science in the Public Interest (CSPI). The consumer advocacy group has sued the drinks' maker, Dr Pepper Snapple Group, saying its antioxidant claims are not only misleading but illegal.
The lawsuit, which was filed Thursday in U.S. District Court in California, calls the claims misleading because they give the impression the antioxidants come from fruits featured on the label rather than added Vitamin E. The group also notes that the Food and Drug Administration prohibits companies form fortifying candies and soft drinks with nutrients.
The suit was filed on behalf of a California man who bought the drinks but says he didn't know the antioxidants didn't come from juices.
7Up Cherry Antioxidant, Mixed Berry Antioxidant and Pomegranate Antioxidant were launched in 2009. Despite the pictures of cherries, blackberries, cranberries, raspberries and pomegranates on various 7UP labels, the drinks contain no fruit or juice of any kind.
"Non-diet varieties of 7UP, like other sugary drinks, promote obesity, diabetes, tooth decay, and other serious health problems, and no amount of antioxidants could begin to reduce those risks," CSPI executive director Michael F. Jacobson said in a written statement. "Adding an antioxidant to a soda is like adding menthol to a cigarette -- neither does anything to make an unhealthy product healthy."

Representatives from Dr Pepper and the FDA did not immediately respond to requests for comment.
It's not the first time a soft drink maker has run into trouble for nutritional claims.
In 2007, the CSPI dropped a planned lawsuit against Cadbury-Schweppes (which later became a part of the Dr Pepper Snapple Group) when it stopped marketing 7Up as "all natural."

In 2008, the FDA sent The Coca-Cola Co. a warning letter for placing inappropriate nutritional claims on its Diet Coke Plus soft drink. The agency had objected to the product's labeling, which described the drink as "Diet Coke with Vitamins and Minerals." A representative for Coca-Cola did not immediately say why the company took the drink off the market.
The FDA had said at the time that it is inappropriate to add extra nutrients to "snack foods such as carbonated beverages."
In 2010, the FDA warned the makers of Canada Dry ginger ale and Lipton tea (Dr. Pepper Snapple Group and Unilever respectively) over unsubstantiated nutrition claims.

Thanks for reading CBS NEWS.
Create your free account or log in
for more features.