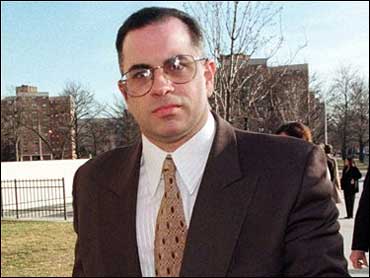 $7M Bond For 'Junior' Gotti
The jailed son of late mob boss John Gotti neared freedom on Monday after a judge agreed to release him on $7 million bond, less than a week after declaring a mistrial on the bulk of his racketeering case.
Under bail conditions approved by U.S. District Judge Shira Scheindlin, John A. "Junior" Gotti would be released from a federal lockup in lower Manhattan, but remain under house arrest in his home on Long Island until a possible retrial early next year.
Gotti, 41, was still in custody Monday as paperwork was finalized. His lawyers said he could be home with his wife and children as early as Tuesday.
"He's nervous," said defense attorney Jeffrey Lichtman. "He hasn't been out of prison in a long time."
The judge set a Feb. 13 trial date and granted bail despite warnings by prosecutors that Gotti might try to tamper with witnesses if set free. But the judge predicted the scion of the Gambino organized crime family, who has been jailed since 1999, wouldn't run the risk.
"It strikes me that nobody is that stupid," she said at a hearing in federal court in Manhattan.
The judge declared a mistrial last week after a jury failed to reach a verdict on charges accusing Gotti of orchestrating a botched 1992 plot to kidnap Curtis Sliwa, a radio show host and founder of the Guardian Angels crime-fighting group, in retaliation for his on-air rants against the senior Gotti. He had faced a sentence of up to 30 years in prison if convicted.
Sliwa - who testified at trial about being shot by a masked gunman in a stolen taxi - told reporters that granting Gotti bail sends the message that, "the boss is back. ... It means I have to watch my back."
In exchange for his release, Gotti will put up a $7 million bond secured in part by the $4.5 million Long Island mansion owned by his sister, Victoria, along with his mother's $715,000 home in Howard Beach, Queens. He also will be subject to electronic monitoring, random searches and other restrictions.
The defendant was indicted last year only two months before he was to finish a prison term for an earlier racketeering conviction. The judge had denied him bail last year, and prosecutors argued on Friday that he should remain behind bars because of evidence of enduring mob ties.
Gotti has claimed he quit the Gambinos after his 1999 conviction, and wants to lead a quiet life with his family.
"This is not the same John Gotti that he was in '92, or even in '99," Lichtman said.

Thanks for reading CBS NEWS.
Create your free account or log in
for more features.