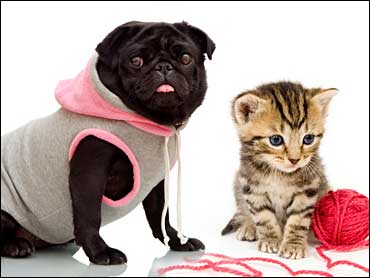 67 Percent Say They Understand Their Pets
When your dog says "Woof," you hear an eager, "Let's take a walk." And your cat has a certain entitled meow that you know means, "Put more food in my bowl - now!"
You are not alone.
Sixty-seven percent of pet owners say they understand their animals' barks, purrs and other sounds, according to an Associated Press-Petside.com poll released Wednesday. In a finding many parents of teenagers might envy, 62 percent of owners say that when they speak their pets get the message.
"I speak to her on limited subjects and she does the same with me," said Stephen King, 63, a retired chemist from Kempner, Texas, who claims to understand his dog Dagny's repertoire of barks signaling anger, eagerness, contentment and other feelings. "Common sense works 98 percent of the time."
King is among the one-fifth of owners who said in the poll that they and their pets understand each other's sounds completely.
The survey, conducted by GfK, shows that owners' affection for their pets goes well beyond speaking their language. Even as a recession forces millions of families to curtail their budgets, just one in seven owners said they've been forced to trim spending on their pets in the past year. And more than four in 10 said they still plan to buy holiday gifts for their animals - about the same as last year.
"They look to me for food and shelter just like my children do," said Charlotte Phillips, 40, of Abingdon, Va., a mother of two whose family is cutting spending overall but not for its two dogs and five cats. "They can't fend for themselves."
Even so, these tough economic times are taking a toll.
Of the 15 percent of owners who say they're having to spend less on their pets, about a quarter say they've contemplated giving up the animal. Half or more say they've seriously considered cheaper food, fewer toys and delaying routine veterinary visits.
"It would have killed me," said Krystal Kantala, 27, of Bonneau, S.C., who contemplated giving away one of her two cats when her husband lost his job. They kept it after they took out a loan and he found a new job.
More than seven in 10 women but fewer than six in 10 men say they and their pets understand each other's efforts at communication. Older and lower-income people are especially likely to say they and their pets get the message.
On the flip side, men are twice as likely as women to say they and their pets are clueless about what each is saying to the other. All told, those folks include fewer than one in 10 pet owners.
"It's kind of like, 'What are you doing?"' Edwin Oto, 47, of Moraga, Calif., says of his futile efforts to figure out what his dog, Shilo, wants when she keeps barking after he lets her into the house.
Dog owners prevail over cat people when it comes to claims of successfully speaking to their animals: Three in 10 dog owners think their pets are baffled when they speak to them, compared with nearly half of cat owners who say the same.
When it comes to communicating in the other direction, cat owners do better. Twenty-five percent say they completely understand those meows, compared with 16 percent of dog owners who claim to be totally fluent in barks.
Jane Starring, 48, of Barrington, R.I., says she and her family are confounded by their 8-year-old cat, Flannel, who often chases people about the house meowing.
"We're not sure we're making much progress understanding him," said Starring. "I don't know what his point is."
William Miller, a professor of veterinary medicine and medical director of Cornell University's Companion Animal Hospital, says it's not unusual for many owners and pets to understand some of each other's speech. He said animals and people learn to communicate over time by associating certain sounds with actions, such as a particular bark when a dog wants to go outside or the soothing tone many people use when petting their cats.
"It's not like you'll sit down and have a U.N. conversation with them" spoken in different languages, Miller said.
Some 74 percent of all pet owners have dogs, and 46 percent have cats, according to the poll. Men and women were about equally likely to own either kind of animal.
Twelve percent of pet owners have fish, 7 percent have birds, and 2 percent or fewer have horses, rabbits, rodents, turtles, lizards or other pets.
Even with economic cutbacks, 43 percent said they would buy holiday gifts for their pets - 48 percent of dog owners but just 28 percent of cat owners.
The AP-Petside.com poll was conducted by GfK Roper Public Affairs & Media from Dec. 3-8 and involved landline and cell phone interviews with 1,129 randomly chosen pet owners. The margin of sampling error is plus or minus 2.9 percentage points.
Petside.com is a Web site with information and advertisements about pets and pet products.
Thanks for reading CBS NEWS.
Create your free account or log in
for more features.