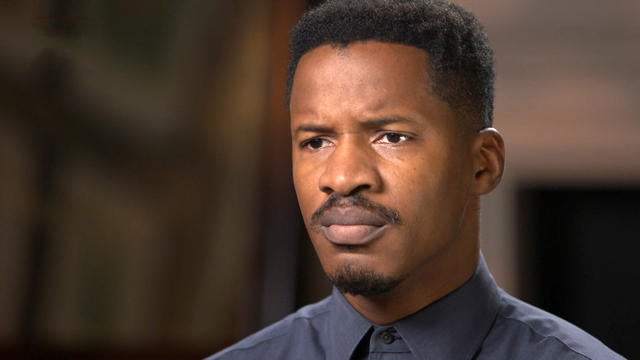 Hollywood filmmaker Nate Parker will not apologize for the rape case he became embroiled in at college 17 years ago because, he tells Anderson Cooper, he was falsely accused and then vindicated in court. He also says it would be unfortunate if people stayed away from his new historical epic based on Nat Turner's slave rebellion because of the incident. Parker's film, "The Birth of a Nation," had generated a huge amount of Oscar buzz until an uproar grew over the incident and it became widely known the woman who accused him killed herself in 2012. Parker speaks to Cooper on the next edition of 60 Minutes Sunday, Oct. 2 at 7 p.m. ET/PT.
Parker, who produced, directed, wrote and stars in the film based on the 1831 Virginia slave rebellion, says potential film goers shouldn't be thinking about him. "I think that Nat Turner, as a hero, what he did in history, is bigger than me. I think it's bigger than all of us."
When Cooper asks him whether he thinks he did something morally wrong in 1999, he answers, "As a Christian man...just being in that situation, yeah, sure. I am 36 years old right now...my faith is very important to me...so looking back through that lens...it's not the lens I had when I was 19 years old."
Thirteen years after the accusation, in 2012, the woman, who 60 Minutes does not identify, killed herself. When asked if he had anything to apologize for, Parker, getting emotional, says, "I was falsely accused...I went to court...I was vindicated," he says, "I feel terrible that this woman isn't here...her family had to deal with that, but as I sit here, an apology is -- no."
Thanks for reading CBS NEWS.
Create your free account or log in
for more features.