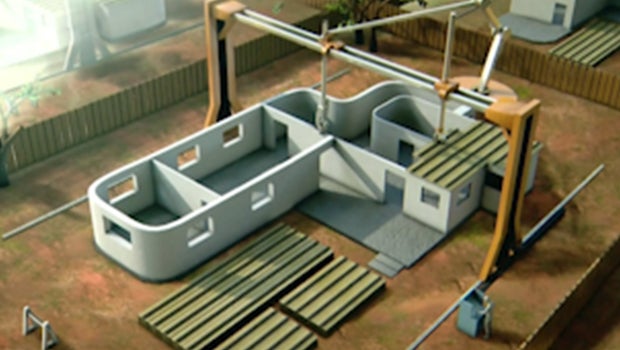 3D printing could transform home building
Building a 2,500-square-foot house in less than 20 hours? It sounds like a tall tale, but a professor at the University of Southern California says it is absolutely possible. He would toss out traditional building practices and replace them with a single 3D printer.
It's called contour crafting, creator Behrokh Khoshnevis, the director of the manufacturing engineering graduate program USC, tells CBS News.
"Construction the way its done today is very wasteful," he explained
in a presentation
at TEDxOjai. "Our solution benefits from advanced technology...it is essentially a way of streamlining the process of construction by benefiting from the experience we have gained in the field of manufacturing."
The 3D printer lays out concrete and interlocking steel bars as it builds a structure. Khoshnevis says that the printer can handle the plumbing, electrical networks and flooring for multi-story buildings.
An animated video posted on ContourCrafting.org explains the building process in more detail:
Khoshnevis sees the technology as a way to quickly rebuild communities and towns damaged by natural disasters.
"My true hope is that this technology gets to be used worldwide to the fullest extent possible," he said.
USC is currently working with NASA to build lunar structures, such as landing pads, radiation protection walls and lunar fuel vessels.
Thanks for reading CBS NEWS.
Create your free account or log in
for more features.