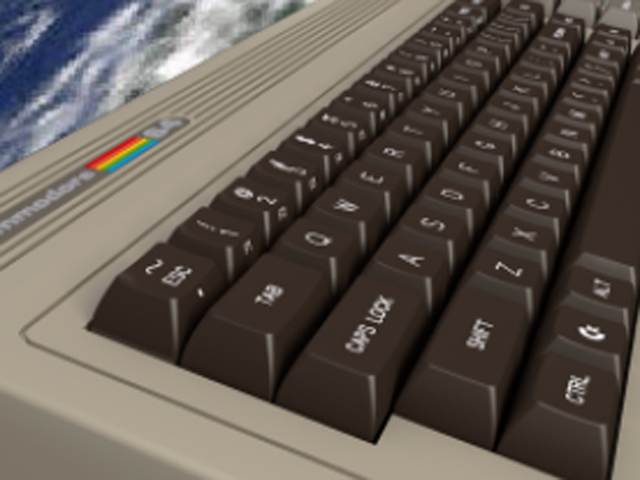 30 years later: Remember the Commodore 64?
The coming of CES next week marks 30 years since one of the most beloved computer systems of all time was introduced to the world: the Commodore 64.
The Commodore 64, or C64, was an 8-bit computer that was a competitor to the more expensive Apple II. It would go on to dominate the PC world for almost 10 years.
The C64 featured 64k of memory, a MOS Technology 6510 processor running at 1MHz, a 16-color graphics chip, and a composite video output.
As a kid, I remember frittering away countless hours loading tapes into the Datasette peripheral to play the newest games such as Impossible Mission and Super Pipeline.
While the machine has enjoyed a resurgence in the last year with the release of the Commodore 64x PC, it's been a long and bumpy road. Here is a brief history of the little 64k marvel:
January 1981: Work begins on a successor to the Vic 20, originally codenamed Vic 40, which would contain 64k of RAM
November/December 1981: The group beats its self-imposed January deadline by completing work on the new machine
January 1982: The Commodore 64 debuts at the Winter Consumer Electronics Show in Las Vegas
August 1982: The Commodore 64 hits the market at $595 ($1,387.36 in today's money)
December 1982: At the end of its first year, sales were modest with 300k units sold
January 1983 to December 1986: The C64 is on its way to becoming the single-most successful computer model ever with an estimated 2.5 million units sold per year. Though official numbers vary, it's estimated the company sold 19 million units in all
July 1985: Commodore releases the 256 kB successor to the C64: the Amiga 1000
December 1989: Sales of the C64 peaks for the last time at between one and 1.5 million units
December 1990: Commodore releases the ill-fated C64 Games System in Europe only
March 1994: Commodore announces the C64 will be discontinued in 1995
April 1994: Commodore files for bankruptcy
November 2007: Newly minted company Commodore Gaming unveils its line of PC gaming desktops
April 2010: Commodore USA is founded by Barry Altman licensing the Commodore name and look. The company sets itself the lofty goal to "bring the much loved brand back to the mainstream and restore its prominence in the tech industry to that which it richly deserves"
April 2011: Commodore USA releases the Commodore 64x with the original look and price ($595 for the basic model)
Thanks for reading CBS NEWS.
Create your free account or log in
for more features.