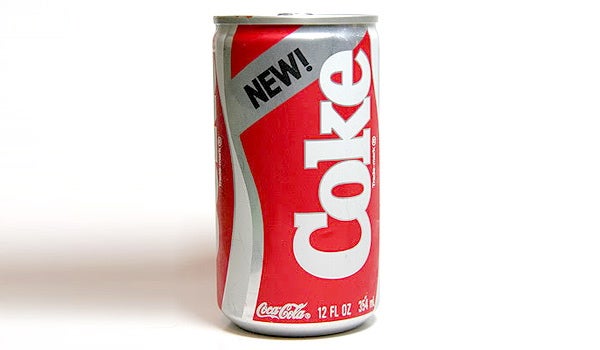 ​30 years ago today, Coca-Cola made its worst mistake
This feature, The Way It Was, resurfaces and explores past stories from the CBS News archives. If there's a topic you'd like to see, leave a suggestion in the comments section or send us a tweet at @CBSEveningNews.
---
When an athlete is great, he or she is called the Michael Jordan of his or her sport. When a new product launch is a disaster, it is called the "New Coke" of its industry.
That negative association emerged 30 years ago Thursday, on April 23, 1985, when Coca-Cola Company announced a change to its nearly century-old secret formula. The new Coke would have a smoother, sweeter taste -- similar to Diet Coke, but sweetened with corn syrup. Market researchers and pollsters were sure it'd be a hit.
"This has got to be the boldest consumer products move of any kind of any stripe since Eve started to hand out apples," said Jesse Meyers, publisher of Beverage Digest, in 1985.
"I believe it'll do for brand Coca-Cola what Diet Coca-Cola did for the diet market," added Coca-Cola bottler Bobby Pidgeon.
Coca-Cola was number one at the time, but Pepsi was gaining ground and cutting into Coke's precious market share. In the fierce cola wars of the 80s, new Coke was no shot across the bow. It was meant to be a direct hit.
"These two products, Pepsi and Coke, have been going at it eyeball to eyeball, and in my view the other guy just blinked," said former PepsiCo CEO Roger Enrico in 1985.
Blinked Coke did, and in that moment it was blind to what was about to happen.
"I think the new Coke is too sweet, I like the old Coke better," said a woman.
A poll showed that only 13 percent of soda drinkers liked the new Coke. The pop was a bust of epic proportions. Pepsi took full advantage by launching a commercial featuring a girl who asked: "Somebody out there tell me why Coke did it? Why did Coke change?"
Fans weren't upset -- they were angry. So passionate were Coke drinkers that they launched grassroots campaigns across the country to force Coca-Cola to bring back the original Coke.
"It was the people against the corporation -- only in America," reported CBS News' Bob Simon in 1985. "Coke said it was committed, so were the people. In California they collected signatures, in Seattle they set up a hotline."
One protest group in particular gained national attention. The "Old Cola Drinkers of America," headed by Gay Mullins, was relentless in its pursuit to have the original Coke return. They set up petitions, provided pins with new Coke crossed out, and spoke to the media about their mission.
Eventually the pressure from the fans and the press became too much. Coca-Cola showed signs of cracking when it launched a commercial featuring Donald Keough, the longtime president of the Coca-Cola Company in 1985.
"We're bringing it back, the original taste of Coca-Cola returns as Coca-Cola Classic and soon America will have a real choice: the new taste of Coke or the original taste of Coca-Cola Classic," said Donald Keough, Pres. Coca-Cola Company.
"Well I think we've won," said Gay Mullins. "I think the Coca-Cola Company, if in fact they start producing the old Cola, we've won."
The victory was made official on July 11, 1985 when Coca-Cola held a press conference to officially announce the return of the old Coke - and to admit it had made a mistake.
"The simple fact is that all of the time and money and skill poured into consumer research on a new Coca-Cola could not measure or reveal the depth and abiding emotional attachment to original Coca-Cola felt by so many people," said Keough.
For the record, the drink wasn't actually called "New Coke," it was Coke with the word "new" on the can but the product took on the name with the public. Eventually the soft drink fizzled out.
Its legacy is one of mockery, often appearing atop lists of "Epic, Embarrassing Product Failures." But the truth is the 77-day fiasco that followed the launch may very well have been a blessing in disguise, perhaps even a good mistake. It taught Coca-Cola a valuable lesson that the company continues to draw from.
A Coca-Cola spokesperson told CBS News this week:
"Thirty years ago, we introduced New Coke with no shortage of hype and fanfare. And it did succeed in shaking up the market. But not in the way it was intended. When we look back, this was the pivotal moment when we learned that fiercely loyal consumers -- not the Company -- own Coca-Cola and all of our brands. It is a lesson that we take seriously and one that becomes clearer and more obvious with each passing anniversary."
Thanks for reading CBS NEWS.
Create your free account or log in
for more features.