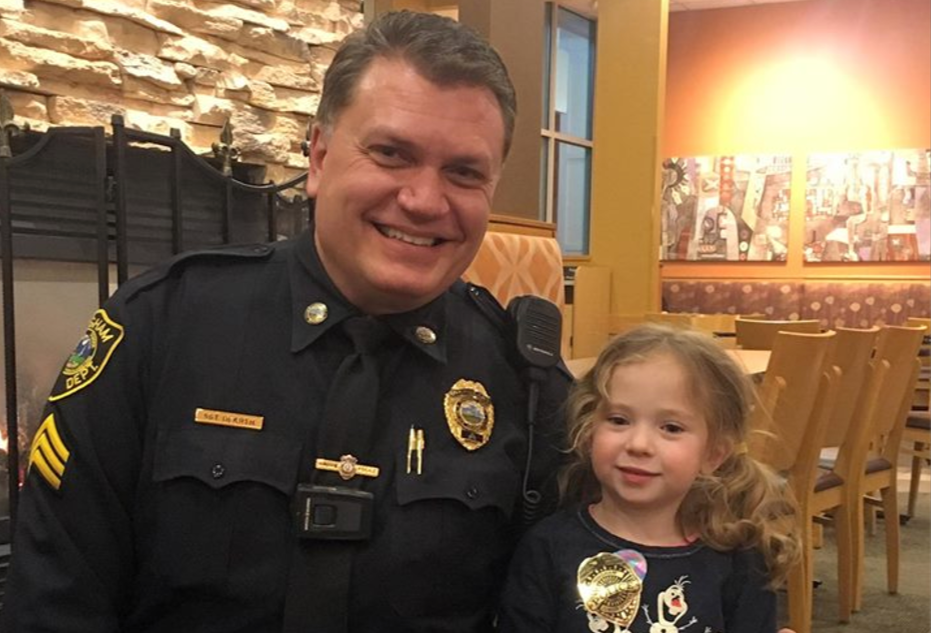 3-year-old sees cop eating alone, so she walks up to his table and sits down
Sgt. Steven Dearth was taking a quick dinner break when he spotted a little girl in a booth with her family in Panera Bread staring at him.
The 3-year-old girl named Lillian was sitting in her dad's lap when she started waving to the police officer, who works with the Hingham Police Department in Massachusetts. The officer, waiting in line to pick up his order, flashed a smile and nodded.
"You can talk to him," the girl's dad encouraged, as they got up from the table and walked toward Dearth.
Smiling, the officer asked the little girl her name and how old she is, while handing her one of the junior police officer stickers he always carries in his pocket. They chatted for a few minutes, and when Dearth got his food, they said their goodbyes.
But that wasn't the last he'd see of little Lillian.
A few minutes later, she noticed the officer was eating dinner all alone.
"I sat down and you know, as all police officers do, faced the exit so I could see who's coming and going," Dearth told CBS News. "I was sitting by myself. I didn't really think anything of it. Then all the sudden she walks up."
Lillian left her mom, dad and 1-year-old baby brother behind to offer Dearth some company, which he happily accepted.
"She was a little shy at first," Dearth explained.
But it didn't take Lillian long to warm up to the officer, proudly telling him that she wanted to be an officer herself someday.
"At 3 years old," Dearth laughed. "I wanted to be one since I was 5, so she had me beat."
After Dearth finished his meal he walked Lillian back to her family. She begged to get a peek at his patrol car, and with her father's permission, he agreed.
The girl and her family walked Dearth outside. He pulled up to the front door and let them take a look inside, offering to give them a tour of the police station any time.
Of course, Lillian was excited about the offer, and he plans to show her family around the "office" this week.
"I hope this reminds kids and their parents that we're there to help," Dearth said. "We're the good guys and girls. We don't want people to be afraid of us."
And Dearth said he was just happy to have the company. "It was the best 'dinner date' I've ever had."
Thanks for reading CBS NEWS.
Create your free account or log in
for more features.