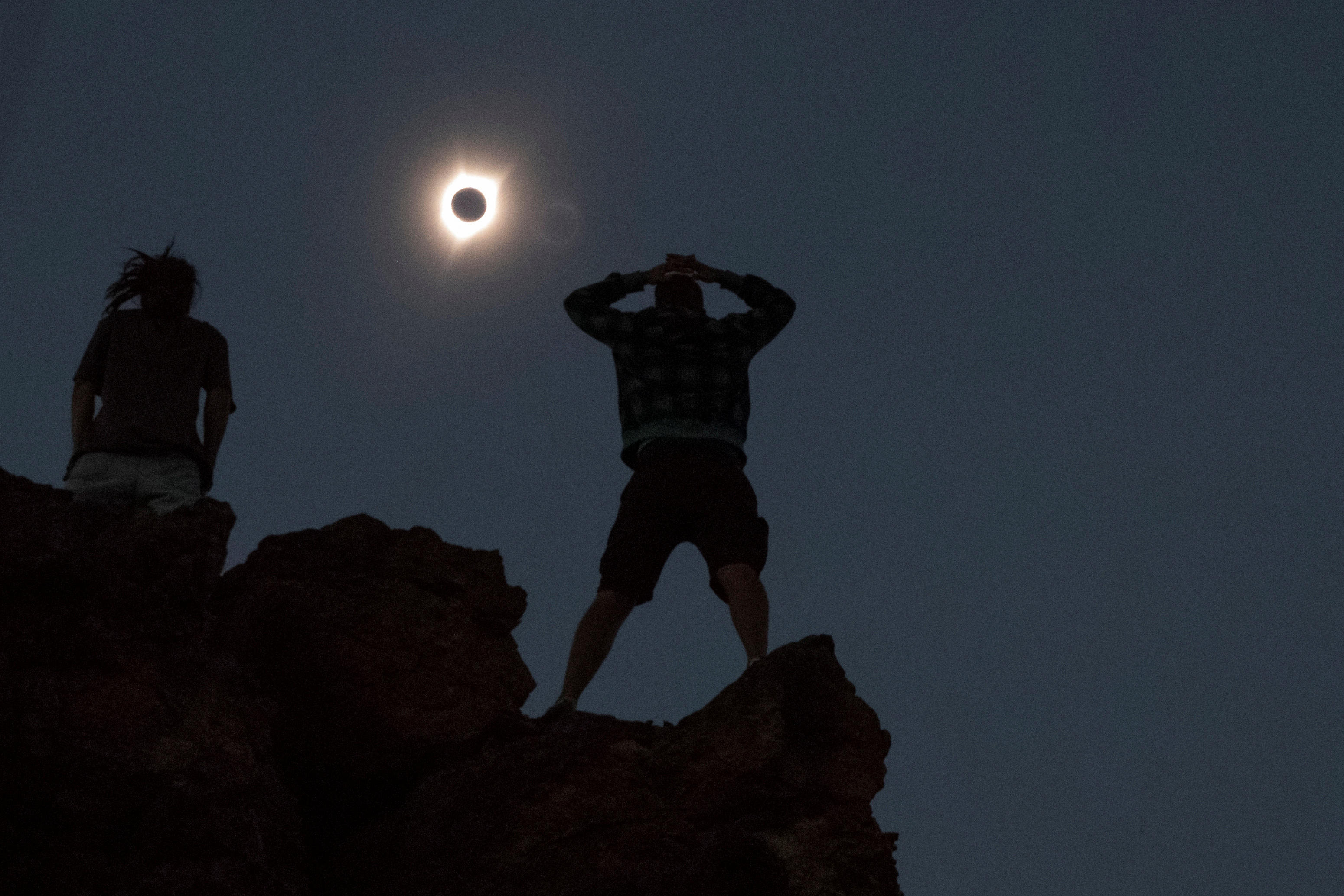 "Humbling": Sun and moon put on celestial performance
It was the greatest show on Earth. The sun and the moon put on a celestial performance -- for an audience of hundreds of millions. It was a matinee that saw the moon upstage the sun, bringing darkness to daytime.
The sun was completely blocked for a couple of minutes in a band 70 miles wide that stretched across 14 states, from Oregon to South Carolina. It was the first coast-to-coast total eclipse in 99 years, and, for many Americans, a once-in-a-lifetime chance to witness -- and celebrate -- a wonder of the universe.
Two-hundred million Americans live within the "path of partial eclipse or totality," and many hit the road to witness the laws of nature go topsy-turvy. For one afternoon, millions of people looked up at the sky rather than down at their phones, as CBS News' Mark Strassmann reports from Mount Pleasant, South Carolina.
Satellite imagery showed the trajectory's sweep. From the Pacific Northwest, the eclipse raced 2,500 miles across America's heartland in roughly 90 minutes.
It was just as riveting from 30,000 feet -- in an airplane, Strassmann reports.
In Greenville, South Carolina, a baby girl born early was named Eclipse.
And people everywhere tried to preserve the rare moment, using their protective glasses to take photos on their smart phones and post them on social media, which exploded in wonder.
A NASA image showed the International Space Station crossing the eclipse.
The Charleston Harbor Resort and Marina threw an eclipse beach party for 2,000 people and there was a flotilla offshore. When totality arrived, the clouds parted just in time for Janelle and Will Alexis.
"That's the word: humbling," the couple told Strassmann.
In Carbondale, Illinois, tens of thousands went to Southern Illinois University to watch the total eclipse. Some were there for the fun, while others went for the science, CBS News' Adriana Diaz reports.
Totality was a golden opportunity for NASA scientists like Lou Gallo.
"This is game day," Gallo said. "This is like the Super Bowl of eclipses."
NASA scientists gave Super Bowl-worthy roars as the U.S. caught its first eclipse glimpse in Oregon. Because of the potential for data collection, NASA covered it like the big game -- aiming 14 satellites, flying 10 airplanes, launching upwards of 70 balloons and deploying data-collecting telescopes along the path, including a trailer-sized mobile telescope.
The eclipse does more than turn day into a 360-degree sunset, said Michelle Nichols of Chicago's Adler Planetarium. It brings scientists closer to unlocking the mysteries of the sun that we depend on for life.
"The temperature of the bright part of the sun that we can see, it's about 11,000 degrees, temperature of the corona, several million degrees," Nichols said. "What's going on to cause that? We don't know. So when the moon covers the sun, we get to study that part of the corona."
"We're explorers," Gallo told CBS News. "It's in our genes, so we explore the universe."
Even though Carbondale only got a shot at totality for 10 seconds, NASA scientists told Adriana Diaz that they were able to collect valuable data in the short time, and that data will be added to information gathered nationally.
CBS News' Jamie Yuccas spent the afternoon in Madras, Oregon, which has a population of 7,000 and was one of the first places in America to watch day turn into night. One-hundred thousand stargazers surged into the city, and when the magic moment arrived -- totality -- people across the country gaped in wonder.
It happened at exactly 10:19 a.m. and lasted precisely 2 minutes and 2 seconds.
"The light got so weird. And it was like, the world never looks like this," eclipse watcher Rebecca Boyd told Yuccas.
The town of 6,200 estimates it packed in 100,000 spectators, including Mona Thompson.
"I totally cried … I don't know why," Thompson said. "It was just so awesome."
Carl Brown came to celebrate his 92nd birthday and agreed it was a once-in-a-lifetime event -- at least for him.
Others, old and young, cheered the celestial event. Among them were Chris and Eli White.
"We all came for the same reason and we kind of became a small community and I love that," Chris said.
People traveled to Madras from 30 countries and every one of the 50 states. Once the sun's party ended, many jumped in their cars to head home.
Some people at an Oregon campsite packed up before the eclipse even started. The line to get out was hours long, Yuccas reports. Some said they'll just stay until Wednesday so they don't have to get in a traffic jam.
Over in Nashville, Tennessee, CBS News' David Begnaud was in Music City, which celebrated the eclipse with a twang: Thousands gathered in front of the Grand Ole Opry.
Nashville was the largest city in the path of totality and one that knows how to throw a party -- even a star party. When the moon swallowed the sun, the skies went dark and the glasses came off.
At the local zoo, many animals didn't know what to do. Giraffes were clearly confused by nightfall at midday.
And then there was Gary Parkerson, who edits an astronomy magazine. He spent 15 months biking the entire route of totality to promote the event, even missing the birth of his granddaughter. For him, Monday meant everything.
"You know I didn't sleep at all last night, I was too excited so I'm exhausted, I'm exhilarated, I want this to last as long as possible," Parkerson said.
But, as the moment of totality finally approached, so did a large cloud. Parkerson's moment in the sun was ruined, but not his spirit.
"I wish I had seen totality but I got to see so much more. I got to see so many people," Parkerson said.
Thanks for reading CBS NEWS.
Create your free account or log in
for more features.