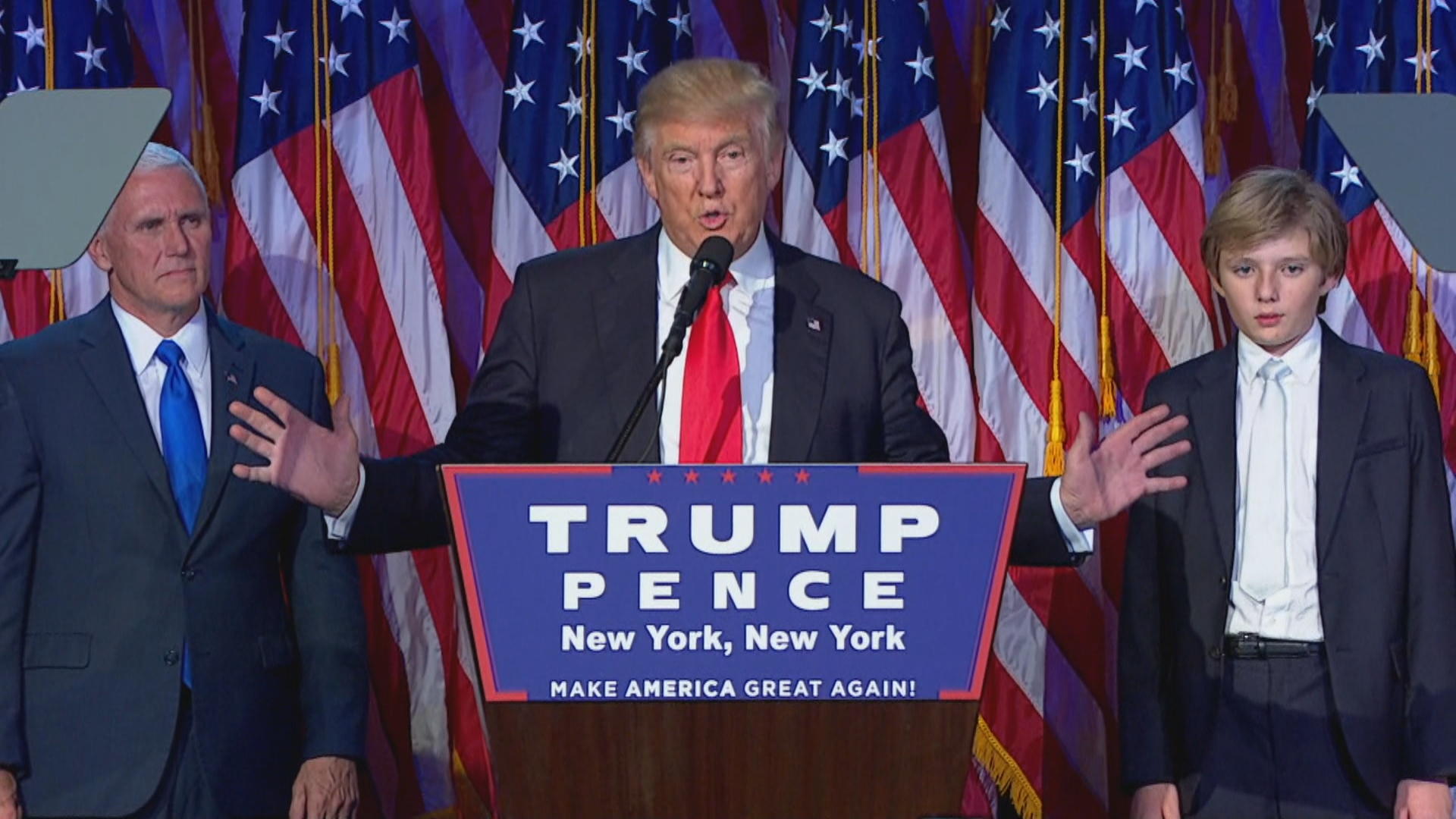 After stunning win, Donald Trump offers soothing words to non-supporters
CBS News projects Donald Trump will be the next president of the United States, with an estimate of at least 289 electoral votes.
Hillary Clinton, the overwhelming favorite before Tuesday's vote, has just 218. We are still unable to call a winner in three states: Minnesota, Michigan and New Hampshire. Trump is also leading in the popular vote, but not by much.
The winner wasn't decided until close to 3 a.m. ET. The night began gloomily for Trump, his advisers and the somber crowd at their Manhattan campaign headquarters, with discouraging exit polls and early returns. But over the time, despair gave way to joy as Trump's unshakable belief in voter turnout that would defy the odds and shatter the predictions materialized – and the presidency was his.
With characteristic flair and his family and campaign advisers in tow, Donald Trump began the transition from political phenomenon to commander-in-chief.
"I just received a call from Secretary Clinton," Trump told cheering supporters, saluting the vanquished Democratic nominee he once threatened to jail during a historically bitter campaign.
"Hillary has worked very long and very hard over a long period of time and we owe her a major debt of gratitude for her service to our country," Trump said. "I mean that very sincerely."
With votes still being counted, Trump offered soothing words to more than 55 million Americans who voted against him, vowing to pursue reconciliation.

"For those who have chosen not to support me in the past, of which there were a few people, I'm reaching out to you for your guidance and your help so that we can work together and unify our great country," Trump said.
Trump said it was time for the country to dream big and he promised massive investments in new infrastructure and a push to clean up America's inner cities.
"America will no longer settle for anything less than the best," he said.
As he has throughout his campaign, Trump said his administration would soften the blows of globalization with tougher policies on trade and immigration.

"The forgotten men and women of our country will be forgotten no longer," Trump said.
Living a history he uniquely saw as his political destiny, Trump said he would now focus on the fight ahead.

"While the campaign is over, our work on this movement is now really just beginning," Trump said.
Trump tweeted this morning: "Such a beautiful and important evening! The forgotten man and woman will never be forgotten again. We will all come together as never before."
According to sources, Trump will receive his first transition briefing late Wednesday afternoon at Trump Tower. The main topic will be cabinet secretary recommendations.
Thanks for reading CBS NEWS.
Create your free account or log in
for more features.