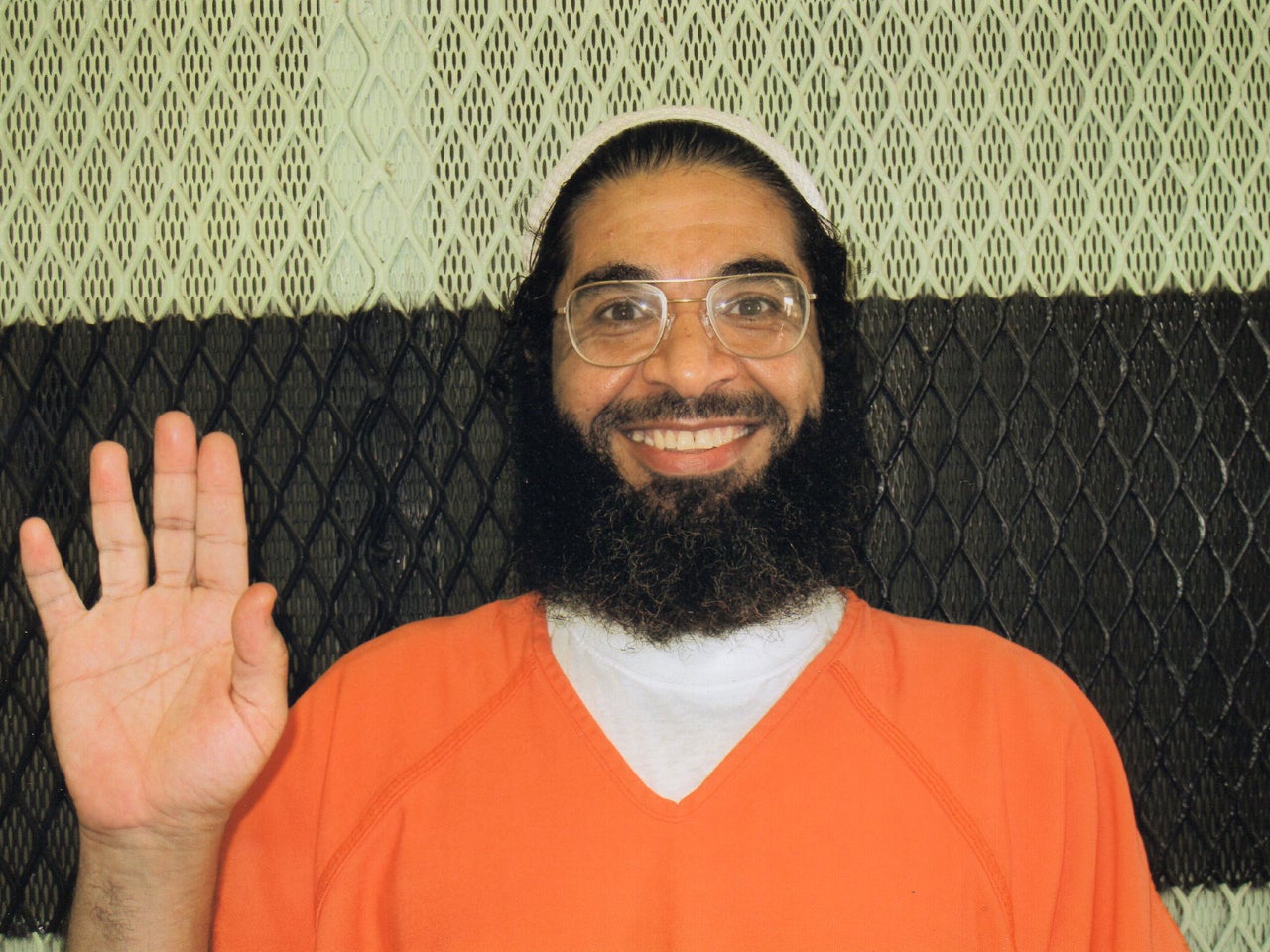 11 years in Guantanamo without trial or charges
(CBS News) NEW YORK - Shaker Aamer, 47, a one-time U.S. Army translator incarcerated at the U.S. military prison at Guantanamo Bay, Cuba, for 11 years, has never seen his fourth child. His son Faris was born the day Aamer arrived at Guantanamo, on February 14, 2002, a Valentine's Day full of heartache for the Aamer family.
Aamer, Guantanamo detainee number 239, has never been formally charged with a crime and like most Guantanamo prisoners was not even captured by the U.S. military. Afghans villagers turned him over to U.S. troops 10 weeks before his transfer to Cuba.
What separates Aamer from the other 165 detainees remaining at Guantanamo is he is the last one who is either a British legal resident or citizen, and the British government has asked for his return.
Aamer is also among 56 Guantanamo detainees a U.S. national security task force approved for transfer three years ago.
"The fact that Shaker remains at Guantanamo today is not because he's a dangerous individual or because he's guilty of anything," said his attorney, Ramzi Kassem, an associate professor at City University of New York Law School who has represented a dozen Guantanamo detainees. "Shaker was not in Afghanistan to fight for the Taliban, al Qaeda, or any other armed group."
Attorney: Guantanamo detainee "skin and bones"
General calls Guantanamo hunger strikers "frustrated"
Dispute over hunger strikes at Guantanamo
Aamer's story, related by Kassem, his family, and his advocates in Britain, is that he moved to Afghanistan in June 2001 to work for a Muslim charity building schools for Afghan orphans. He sent for his wife and their three children two months later. Then came the September 11 terrorist attacks and the U.S. invasion of Afghanistan. Aamer was captured near Jalalabad by Afghans in December 2001.
"He was swept up in a very broad dragnet that was created by U.S. military and intelligence forces," Kassem said. "Shaker is not atypical in the sense that a large reason that he was taken into custody was the bounty that was being routinely paid by the United States to anyone who basically reported or handed over an Arab, and because he was an Arab in Afghanistan, he was automatically subject to one of those five- to fifteen-thousand-dollar bounties, which is a huge sum of money anywhere, but particularly in a poor society like Afghanistan."
"Somebody sold him," said Saeed Siddique, Aamer's father-in-law, in a rare family interview in London. "The main purpose he was traveling was just helping the suffering people there."
The Saudi-born Aamer is from the Muslim holy city of Medina. In 1989 and 1990, he lived and studied in Georgia and Maryland, and during the Persian Gulf War against Iraq, Aamer worked as a translator for the U.S. Army in Saudi Arabia. By the late 1990s, he had settled in London with a British wife, Zineera, who like him, was a strict Muslim.
"He'd rather live in a more Islamic atmosphere, so he thought Afghanistan would be a good place for that," said father-in-law Siddique, who is originally from India.
In 2001, the Aamers were raising a four year-old girl, Johina, a two-year-old boy, Michael, and a one-year-old boy, Saif. Those children are now 15, 14, and 12. Zineera was pregnant when Shaker was taken away. After ten weeks detained at the Bagram air base in Afghanistan, Aamer was transferred to Guantanamo. Faris, born that day, is now 11.
"The youngest, Faris, he's really sensitive. He always says, 'Where's my father? Why he does not come to seem me?'" Siddique said. "Does he not love me, love us?' Because, he doesn't know what is happening and what will happen. They ask questions. No answer."
Since Guantanamo opened as a prison for the global war on terror in January 2002, 779 detainees have arrived, and 604 have left. The military's own enemy combatant review process found at least 60 percent of the captives were not affiliated with al Qaeda or the Taliban, according to declassified documents studied by the Seton Hall Guantanamo Project.

Besides the remaining 166 detainees, nine detainees have died inside Guantanamo, which is more than the number convicted in military commissions that substitute for federal trials on the base. While 71 detainees left Guantanamo during President Obama's first term, most detainees were released during the administration of George W. Bush.

"They were hard decisions," says Charles Stimson, who served as Deputy Assistant Secretary of Defense (DASD) for Detainee Affairs in Bush's second term and is now with the Heritage Foundation. "Whether you transfer someone or not depends on how much risk you're willing to take on."

Matthew Waxman, who preceded Stimson as DASD and now teaches at Columbia University, said: "This has always been the challenge - where do you set the needle on how high a risk someone has to be for continued detention?"

Waxman said the detainee review process may give too much weight to the prospect of recidivism and too little to other costly factors, such as the drain on military resources, the diplomatic friction, and lost opportunities for intelligence cooperation. Unless the prisoner population is reduced, Waxman noted, closure of Guantanamo will be an unattainable goal.

"It is possible that the Bush Administration had a bit of an easier job in finding cases for transfer or releases, because many of the lower level cases were moved out before the Obama Administration came in," Waxman said.

During Obama's first term, 27 detainees went back to their home countries, while the State Department brokered the repatriation of 40 men to 17 third-party countries willing to accept them, mostly in Europe, but also in far flung places like Bermuda, Cape Verde, and the Pacific island nation of Palau, southeast of the Philippines. Those countries qualified based on meeting human rights and security standards. Two detainees were sent to Italy for trial, and two Chinese Muslims, known as Uighurs, were ordered released by a federal court and sent to El Salvador.

Between Guantanamo's opening in 2002 and 2010, when detainee transfers stopped, Britain received 14 former detainees, UK citizens and legal residents, who have lived there without incident.

"In terms of the level of confidence in our partnership, it doesn't get any higher than the U.K.," Waxman said.

Congress made these transfers more difficult in the past two years with amendments to the annual National Defense Authorization Act requiring the defense secretary to certify in writing that a recipient nation "has agreed to take effective actions to ensure" a detainee "cannot take action to threaten the United States, its citizens, or allies in the future" or "engage or reengage in any terrorist activity."

Stimson called the requirement a "poison pill," adding: "It was basically, 'Go ahead, I dare you.' No secretary of defense wants his name on that piece of paper."

This requirement can be waived if the defense secretary finds a recipient nation can "substantially mitigate" those risks.

Former Defense Secretary Robert Gates and former Pentagon general counsel Jeh Johnson declined to answer questions about such decisions during Obama's first term. The current deputy assistant secretary of defense for detainee affairs, William Lietzau, declined an interview request.

"The internal deliberation process is just that -- internal -- and we simply do not discuss the myriad considerations the secretary of defense may or may not contemplate," Pentagon spokesman Todd Breasseale told CBS News. "We are committed to transferring those we can transfer, once we have the requisite security and humane treatment assurances from the receiving country."

The original list of detainees approved for transfer was compiled by a special task force created in 2009 and comprised of national security professionals from the Defense, Justice, State, and Homeland Security departments, the Office of Director of National Intelligence, the FBI, the CIA, and the National Security Council. Its January 2010 report (PDF) labeled detainees as referred for prosecution, too dangerous for transfer, from countries where they cannot be transferred for security reasons, or approved for transfer, the largest group. The list of detainees approved for transfer was unsealed by a federal court last September.

"All of these were judged by unanimous consent the threat posed was low enough that it could be mitigated reasonably," said a senior administration official. "The assumption was not that the men were necessarily innocent, but their risk could be managed."

Of the 56 men approved for transfer, the 26 Yemenis have no chance of leaving due to the security situation in Yemen. Three more Uighers await a nation willing to accept them. That leaves 27 cleared detainees who are stuck, including Shaker Aamer.

"If ever there was a case where certification was possible, it's Shaker Aamer's case," said his attorney, Ramzi Kassem. "You have an individual, who has been approved for transfer, and the country that he will be sent to is not just any old country, it is the United States' oldest and most reliable ally."

British Foreign Minister William Hague told the House of Commons one year ago: "The British Government remains committed to securing Shaker Aamer's release and return to the United Kingdom."

In a statement to CBS News, a foreign ministry spokesman added: "Aamer's case remains a high priority for the UK Government, and we continue to make clear to the U.S. that we want him released and returned to the UK as a matter of urgency."

Several British members of Parliament wrote to members of Congress two years ago calling on the U.S. to free Aamer. They never received a response, according to British Member of Parliament Jeremy Corbyn, who co-authored the letter.

"He has a legal right to be in the U.K. His wife is a British national, his children are British nationals, and therefore, we believe, that the British government has a responsibility to care for him," Corbyn said. "Why don't they either put him on trial or release him? I suspect they think he knows too much, will say too much, and will describe too much about life in Guantanamo."

Aamer does claim he endured physical abuse at the hands of his American captors at Guantanamo and earlier at Bagram Air Base in Afghanistan - that he was forced to stand naked before groups of guards, including women, was deprived of sleep, and exposed to loud music, bright light, and temperature extremes. He says at times he was beaten, slammed against walls, and suspended by his arms with his arms twisted behind his back.

At Guantanamo, Aamer has protested his confinement by going on hunger strikes, resulting in guards force-feeding him with tubes down his nose.

Aamer has told his attorneys that he is among the growing group of active hunger strikers at Guantanamo. On Friday, Aamer told Clive Stafford Smith, Director of the Human Rights Group Reprieve, that he has been refusing meals since February 15 and has lost 32 pounds. The U.S. military does not release the names of any of the 37 men it counted as hunger strikers as of Friday.

Aamer spends 22 hours a day alone in a steel cell in Guantanamo's Camp Five Echo and gets two hours a day for outdoor recreation by himself, according to Kassem, who most recently visited Aamer last month.

"He is alone at all times. He is allowed no social contact with other inmates. The U.S. military will tell you that is not isolation, because he can scream through the vents and perhaps another prisoner will hear him and respond," Kassem said.

Guantanamo detainees are not permitted visitors except attorneys who have passed extensive background investigations. Phone calls to families do happen occasionally. Outgoing and incoming mail is subject to military censors.

"I miss you a lot," Aamer's 12-year-old son, Saif, wrote to his father last year in one redacted letter seen by CBS News. "We all love you a lot too."

The boy listed things he likes as rugby, basketball, swimming, wrestling, skating, karate, computer games, science, reading, and the Koran.

"Please come back quick so we can go to places with you and so we can see you," Saif wrote. "We all have grown."

With no criminal or military charges ever filed against him, the only available government accusations about Shaker Aamer are contained in old Defense Department detainee assessments posted by WikiLeaks. The 2004 paperwork alleged Aamer was tied to a European support network for al Qaeda and lived briefly in London with convicted 9/11 conspirator Zacarias Moussaoui. It called Aamer a close associate of Osama bin Laden who had visited an al Qaeda training camp in Afghanistan. It said he later participated in jihadist combat and had expressed a desire to be a martyr.

"What you have in those documents is not evidence," said Kassem.

Jeremy Corbyn, the British MP advocating for Aamer's return, called on President Obama to fulfill his 2008 campaign pledge. "He told the world he would close down Guantanamo Bay, because he thought it was a disfigurement of the principles of U.S. democracy and justice. I want him to stand by his words."

Before he left his post this month, National Security Council spokesman Tommy Vietor told CBS News: "The President is still committed to closing the prison at Guantanamo Bay. He thinks it is in our national security interest to do so. But the bottom line is Congress has put every hurdle it can find in our path to close the prison."

Congress has also blocked detainee transfers to the U.S. mainland for either incarceration in federal prisons or trials in federal courts, Vietor said, "despite the fact that federal courts are a more tried and tested venue for terrorist conspiracy and material support charges."

Still, Ambassador Dan Fried, the U.S. State Department's special envoy for transferring Guantánamo detainees during Obama's first term, has been re-assigned, and his office was eliminated with its duties now handled by the department's legal counsel's office.

The word "Guantanamo" never came up during Senate confirmation hearing for newly sworn-in Defense Secretary Chuck Hagel.

Aamer's supporters launched an online petition for his release on the U.S. government's "We The People" website but fell short of the 100,000 signatures that were needed by March 8 to require the White House to formally respond.

"He's a very perseverant person, he's a very hopeful person," Aamer attorney Kassem said. "He is by no means a broken man. He continues to struggle and hope and live."

CBS News correspondent Mark Phillips and producer Ella Flaye in London contributed to this report.
Thanks for reading CBS NEWS.
Create your free account or log in
for more features.