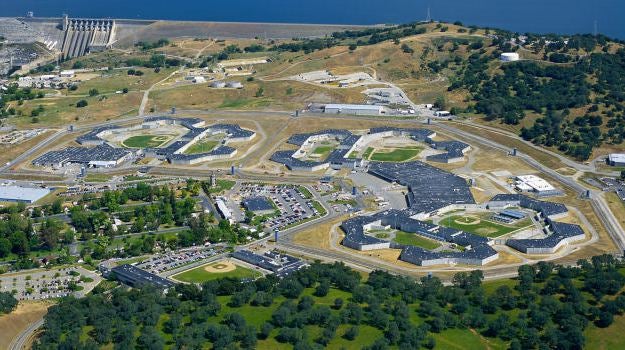 Inmate linked to violent 1971 prison escape attempt killed in riot
SACRAMENTO, Calif. -- An inmate involved in a bloody 1971 San Quentin escape attempt that left six dead has been killed by a fellow prisoner, corrections officials said Wednesday.
The slaying of Hugo Pinell, 71, triggered a riot Wednesday that grew to involve about 70 inmates at a maximum security prison east of Sacramento, said California Department of Corrections and Rehabilitation spokeswoman Dana Simas.
"He was definitely the target," Simas said. She would not give more information about the alleged attacker for his own protection.
Once Pinell was attacked in a California State Prison, Sacramento, exercise yard by a fellow inmate, "everyone else joined in," including members of multiple prison gangs, Simas said.
Eleven other inmates were taken to an outside hospital to be treated for stab wounds, while other injured inmates were treated at the prison. No employees were harmed. Guards fired three shots and used pepper spray to break up the brawl.
Pinell first was sentenced to life with parole for rape with force in 1965. Six years later, he killed a correctional officer, earning him another life sentence, CBS Sacramento reported.
He was also one of the "San Quentin Six," a group involved in a 1971 attempt to escape from San Quentin Prison, which left six people dead. He was convicted of assaulting two correction officers, earning him another life sentence. Guards said at the time that Pinell lured one of the guards killed in the escape by telling him he had a letter that needed mailed.
Pinell was last up for parole in 2009, but he was denied for a ninth time. In his previous attempts, the next wait would only be one to five years, but California voters passed Proposition 9, known as "Marsy's Law" in 2008, which allowed the parole board to set his date for 2024.
The last major riot at Folsom Prison happened in September 2012. A total of 13 inmates were injured, including one shot by a corrections officer. Dozens of inmates were involved in the riot.
The prison, commonly called New Folsom, houses more than 2,300 maximum-security inmates in Folsom, about 25 miles east of the state capital.
Prisoners remained locked in their cells as officers investigate the disturbance.
Thanks for reading CBS NEWS.
Create your free account or log in
for more features.