Community Connect: Detroit Stew - A Cultural Melting Pot
Southfield (CW50) - On the debut of COMMUNITY CONNECT, Lisa Germani hits the ground running as she explores four cultural iconic areas that help to make Detroit a true melting pot.
First, learn how Greek culture is going through a thriving renaissance in Greektown as she sits with Spero Dionysopoulos, co-owner of the longest standing Detroit Greek restaurant, the Golden Fleece.
When talking about the impact of the restaurant on Greek Town, Spero said, "We want to have something for our kids to be proud of and continue, and hopefully their kids will not lose our culture."
Spero also talked about the expansions they are making to the restaurant including their historic rooftop.
Then, she travels to Hamtramck to talk with Rachel Srodek about how Srodek's Campau Quality Sausage, Co. is helping to keep Polish traditions alive for current and future generations.
When talking Srodek's being in Hamtramck, Rachel said, "When our great grandparents came from Poland, it was the melting pot of Detroit."
"We get costumers from all over the world... All different nationalities, not just Polish people... Hamtramck can bring in anyone from any part of the world"
When asked about what it means to be a part of the next generation through Srodek's, Rachel said, "It really brings out your Polish heritage... working at Srodek's you see people come in [for the holidays] that only come in once a year, but they only come to Srodek's for the kielbasa or pierogis."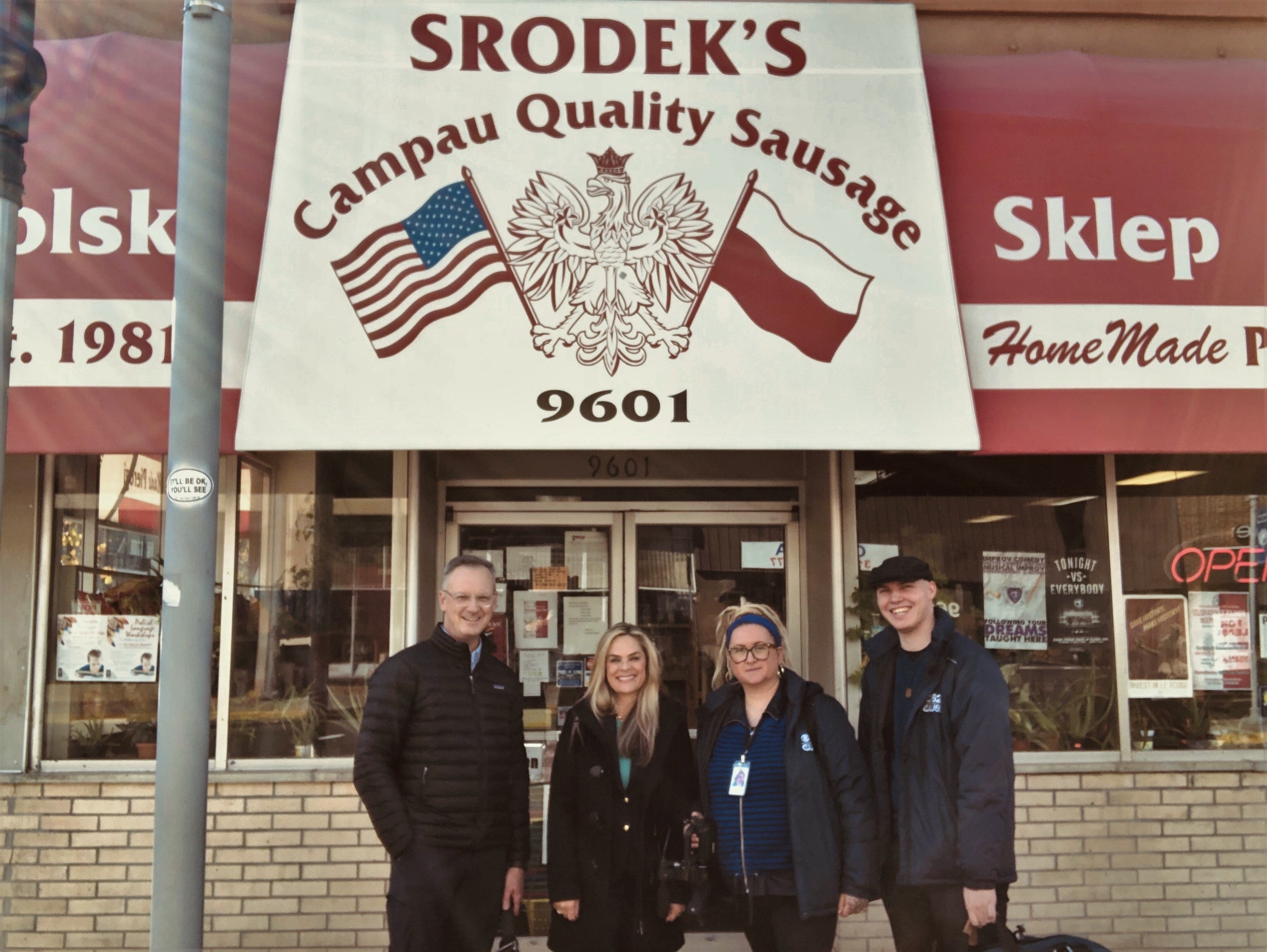 The Community Connect crew outside of Srodek's in Hamtramck, with Community Connect Host Lisa Germani (Credit: Olivia Bennett/CW50)Next, hear from Jorge Chinea, Professor and Academic Director, for the Center for Latino/a and Latin American Studies at Wayne State University on the diverse cultural groups that helped to make Mexicantown what it is today.
Jorge Chinea told a story about how someone he knew while going to school in Minnesota use to teach at Wayne State University and told him about the "Ethnic Enclave" in Detroit that is Mexicantown.
He then laid out the boundaries of Mexicantown to Lisa and described why each boundary is unique.
When asked what's special about Mexicantown, Jorge said, "I have heard people say that what makes Mexicantown community unique is that it's an engine of economic opportunity in southeast Michigan."
He then described the economic growth that the area has given to Michigan.
Jorge and Lisa then talked about the oldest church in North America, which is in southeast Detroit.
And Lastly, she joins Tania Shatila, co-owner of Shatila Bakery, as she explains how her family carries on the same traditions that her father, Riad Shatila, put forth when he opened the Dearborn bakery 40 years ago.
Tania started by talking about how she and her siblings would force their dad to bring them to work at the bakery when she was a child, saying "We loved to get our hands dirty... and see what [our father did] day-to-day."
She talked about how her dad was a traditionalist and ow he wanted the bakery to be as authentic as stepping into a bakery back in Lebanon, saying that he didn't want the food to be as sweet as the American versions.
Watch the Premiere of COMMUNITY CONNECT Saturday at 8:30am on CW50
Thanks for reading CBS NEWS.
Create your free account or log in
for more features.