Jason Van Dyke Trial: Key Moments As Jury Deliberates
Chicago (CBS) -- The trial has lasted 11 days, with 40 witnesses. Now 12 jurors will have the final say. Is Chicago police officer Jason Van Dyke guilty of first degree murder?
CBS 2's Roseanne Tellez recaps the critical evidence jurors are weighing as they make their decision.
The prosecution's case kicked off with video of a Chicago police officer patiently following a knife-carrying Laquan McDonald for several blocks.
"We were trying to buy time to have a taser," said the witness.
In contrast, prosecutors said Jason Van Dyke arrived, jumped out of his car and within six seconds started firing.
Van Dyke's partner that night, Joe Walsh, testified that he had his gun drawn too, as McDonald was "swinging his knife, with "his right arm and shoulder coming up."
Dashcam video showed a squad car responding with a taser. It was too late. McDonald was already down, shot 16 times, a point prosecutors would drive home repeatedly.
The prosecution showed the results of the autopsy, which included one graze wound, seven penetrating bullets, eight exiting McDonald's body. There were 24 bullet holes in all.
Ballistics expert Scott Patterson showed what 16 shots in the same time frame looks and sounds like. "He was taking time," he said.
Van Dyke's attorney Dan Herbert said this is not an excessive force case, it's a murder trial.
Forensic animation was touted as a first look from Van Dyke's point of view. Attorneys said it was proof McDonald was closing the distance between the two.
But prosecutors pounced on inaccuracies. It only showed five shots and none of the other officers at the scene.
The defense went on the offensive, with a succession of witnesses from the juvenile detention center describing McDonald as an out of control teen.
The night of the shooting they said McDonald, "was on a wild rampage through the city."
A truck driver had called 911 to report a black teen breaking into trucks. "He tried to stab me."
A pharmacologist described the effects of PCP on McDonald, saying McDonald was in a rage, aggressive, looking deranged, making noises and failing to heed orders from police.
The most compelling testimony came on the day 10, from witness number 39, Jason Van Dyke.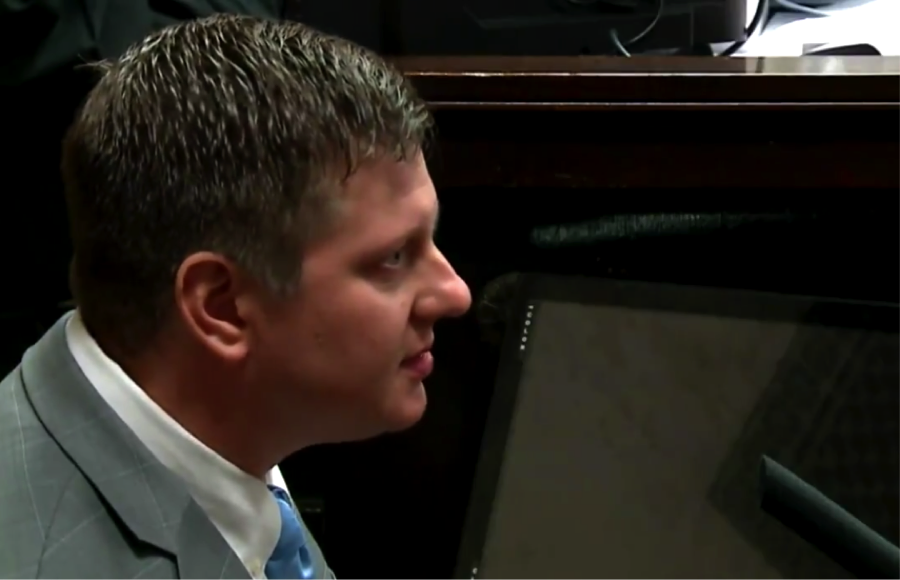 "He had no expression," said Van Dyke about McDonald. Van Dyke said McDonald raised his knife.
"What did you do next" asked his lawyer.
"I shot him."
Van Dyke was, at times, tearful, confused and frustrated, contradicting the defense's own experts.
"Do you see in that video Laquan raising the knife?" asked the prosecutor.
"That's not my perspective," responded Van Dyke.
As jurors deliberate, they will have the option to consider a second-degree murder charge if they determine the defense showed Van Dyke believed shooting Laquan McDonald was justified, but they decide his belief was not reasonable.
RELATED STORIES:
Van Dyke Trial: Jury Begins Deliberations In Jason Van Dyke Murder Trial
The jury has been sent to deliberate the verdict in the Jason Van Dyke murder trial after ten days of testimony that culminated today with closing arguments.
Chicago Police Increasing Patrols In Preparation For Van Dyke Verdict
Closing arguments are set to begin Thursday in the Van Dyke murder trial. The Chicago Police Department said it is increasing police patrols around the city in preparation for the verdict.
Defense Rests Case In Jason Van Dyke Murder Trial
When court began Wednesday in the Jason Van Dyke trial, a day after the police officer charged with murder took the stand, Van Dyke's defense team rolled out the police car's tire that Laquan McDonald slashed the night he was shot. The defense team rested its case after the tire was admitted as evidence.
Van Dyke Trial: Van Dyke Emotional, Frustrated During Testimony
Officer Jason Van Dyke testified in court Tuesday, taking the stand in his own defense. He claimed he just wanted Laquan McDonald to drop his knife.
Van Dyke Testifies About Fatal Shooting Of Laquan McDonald; 'The Video Doesn't Show My Perspective'
Jason Van Dyke took the witness stand on Tuesday in his murder trial, telling jurors the infamous video of the shooting does not show what he saw when he shot and killed Laquan McDonald. Van Dyke insisted the teenager raised a knife across his body, prompting the officer to open fire.
Thanks for reading CBS NEWS.
Create your free account or log in
for more features.