Homeowners Stranded For Hours In Northwest Indiana After Strong Storms
CHICAGO (CBS) -- Rushing flood waters are causing big problems in Northwest Indiana. Some families in Crown Point were stranded for hours.
Friday night's storm flooded yards and basements and left homeowners stranded in their driveways.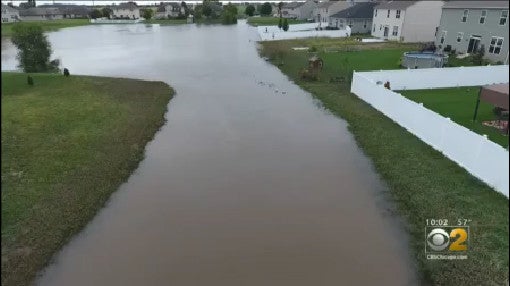 "Neighbors across the street had like three feet of water in their basements," said Caryle Hawkins. "We had about six inches, but we have a finished basement. So we're dealing with right now cleaning up from that, so we'll have to tear up everything and redo all the drywall and the flooring."
A sidewalk sank in the Edgewater subdivision of Crown Point after the strong storms overnight turned the walkway into a waterfall.
Some of the people who call the subdivision home compare what they saw when they wok up in the morning to Niagra falls.
A nearby retention pond overflowed during the heavy rainfall, but water levels wen down consistently Saturday afternoon.
With more storms and heavy rain expected overnight, homeowners say they're bracing themselves and hoping Mother Nature will be kind.
Lake County, Indiana, is under a Flash Flood Watch until 10 a.m. Sunday.
Thanks for reading CBS NEWS.
Create your free account or log in
for more features.