Chicago Area Forecast: Chance Of Severe Evening Storms Including Tornadoes
CHICAGO (CBS) -- After a muggy Monday morning with clouds and fog, and the potential for severe storms ramped up as rain began to fall in the late afternoon.
No watches or warnings were in effect for the Chicago area as of the late afternoon Monday, but the National Weather Service still raised alarm about the strong weather system.
Probability for damaging winds up to 70 miles per hour appears to be the biggest threat right now. There is also a limited risk of up to quarter-sized hail.
As of 5 p.m., CBS 2 Meteorologist Mary Kay Kleist reported that heavy rain was seen north of DeKalb, southeast of the city in Indiana, and also near Midway International Airport.
But a low-pressure system that was over Omaha at 5 p.m. was making its way to Chicago. It was expected to create more instability and spark thunderstorms through the 11 p.m. hour.
By 8:20 p.m., heavy rain was falling from LaSalle and Kankakee counties to Northwest Indiana. Tropical-like rainfall rates of an inch per hour were possible for those areas, CBS 2's Kleist reported.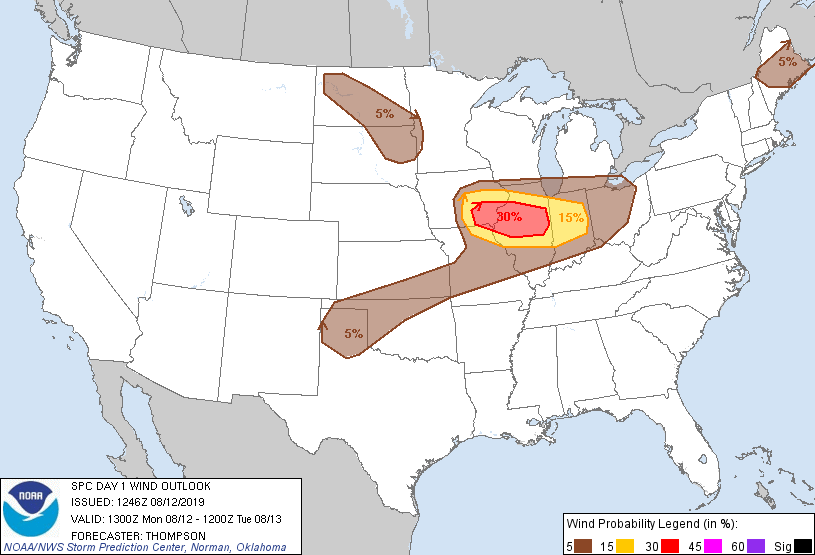 Severe thunderstorms, heavy rain, wind gusts, hail and even isolated tornadoes were all deemed possible. The risk is higher south of I-80. This could lead to isolated instances of flooding into the evening.
Significant damaging winds will be likely across southeast Iowa through central Illinois, mainly Monday evening.
The main corridor for severe weather is expected to be from Mendota, Illinois to Rensselaer, Indiana, the NWS said.
CBS 2 Meteorologist Ed Curran reported that while the bullseye for the storms is downstate in Central Illinois, parts of the Chicago area are also close to the zone. There is only a "marginal" risk of severe weather to the north in the Chicago area, but the risk rises to "slight" to the south, and "enhanced" for parts of LaSalle and Kankakee counties.
The tornado threat also rises the farther south one goes – with a 10-percent chance for an F2 to F5 tornado striking in Central Illinois Monday evening. Dew point temperatures in that area are especially high – at 73 percent in Peoria and 75 percent in Champaign.
The high temperature for Monday was expected to be 81 degrees.
Severe weather should be gone in time for the Tuesday morning commute.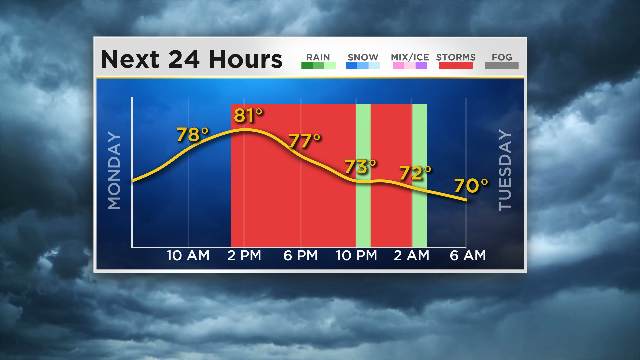 Forecast:
Monday: Rain and storms. High 81
Tuesday: Mostly cloudy. High 80
Wednesday: Isolated showers. High 78
Thursday: Mostly cloudy. High 77
Friday: Mostly sunny. High 81
Saturday: High 86
Sunday: High 87
Thanks for reading CBS NEWS.
Create your free account or log in
for more features.