Tornado Confirmed in Anne Arundel County, Observed In Area Of Fort Howard As Remnants Of Hurricane Ida Hit Maryland
BALTIMORE (WJZ) -- Multiple tornados touched down in Anne Arundel County and one was observed near southeast Baltimore County as the remnants of Hurricane Ida battered the state.
There are reports of at least 100 homes damaged and a number of power outages.
A tornado was confirmed about 2:30 p.m. near Parole in northeastern Anne Arundel County. The Anne Arundel County Office of Emergency Management reported buildings were damaged and trees and wires were down in the Riva, Woodland Beach and Annapolis area.
Anne Arundel County Executive Steuart Pittman spoke with WJZ about 3:36 p.m. and said one tornado touched in Parole, not far from Annapolis, and another hit near Edgewater.
"The wind and the power outages have been bad all along the Chesapeake coast so on the eastern side of our county," he said. "We have power outages, we have trees down and we have some roads closed. And our emergency operations center is activated."
He said no injuries were reported yet. Pittman advised residents to stay home and said there were concerns about flooding in the county.
Mitchelle Stephenson, a public information officer with the City of Annapolis, told WJZ there was "significant damage" in Maryland's capital, including multiple damaged buildings, and active gas leak and road closures on West Street between Gibralter Avenue and Chinquapin Round Road, Aris T. Allen Boulevard, and Forest Drive.
In Baltimore County, a tornado was reportedly observed in the area of Fort Howard in Edgemere about 2:51 p.m.
A new tornado warning was issued about 3:49 p.m. for parts of Harford and Cecil counties until 4:15 p.m. The storm was located near Havre de Grace and moving north at 30 mph.
Residents are advised to go to an interior room on the lowest level of their house, get away from windows, go to the center of the room and get under a sturdy piece of furniture.
Gov. Larry Hogan urged Marylanders to "take shelter immediately" if their area is under a tornado warning.
The site Eye On Annapolis shared a picture of damage on West Road.
The Anne Arundel County Fire Department is responding to "substantial storm damage" in the area of Londontown, Mayo and Edgewater. No injuries have been reported yet, the department said.
Multiple videos possibly showing the tornado were posted on Twitter.
At 3:25 p.m., the National Weather Service issued a flash flood warning for west Carroll County and south Frederick County until 6:30 p.m. The City of Frederick announced multiple road closures due to flooding or high waters:
Franklin at South Street
Opposumtown Pike at Willow Road
Waverley Drive at Ford Motor Co
Hamilton Avenue
West Patrick Street at James Street
Market Street at Schifferstadt Road
Routzahn's Way at Schifferstadt Road
Huntingcorn Lane and Huntingcorn Court
N. East Street at N. Market Street
In Baltimore, heavy rainfalls caused flooding in the Fells Point neighborhood.
Tornado warnings were previously issued Wednesday afternoon for parts of Anne Arundel, Baltimore, Harford and Carroll counties.
Much of central and eastern Maryland is under a tornado watch until 7 p.m. Wednesday.
Anne Arundel, Baltimore, Calvert, Carroll, Cecil, Charles, Dorchester, Frederick, Harford, Howard, Montgomery, Prince Georges, St. Mary's, Somerset, Wicomico, Worcester Counties and Baltimore City are under the watch.
Maryland is under a Flash Flood Watch from 11 a.m. Wednesday to 8 a.m. Thursday.
Remnants of Ida will interact with a stalled front, leading to a prolonged period of heavy rainfall beginning Wednesday morning and continuing through Wednesday night. Considerable river and flash flooding is possible.
Rainfall amounts of 2 to 4 inches are expected, with some areas even seeing up to 6 inches.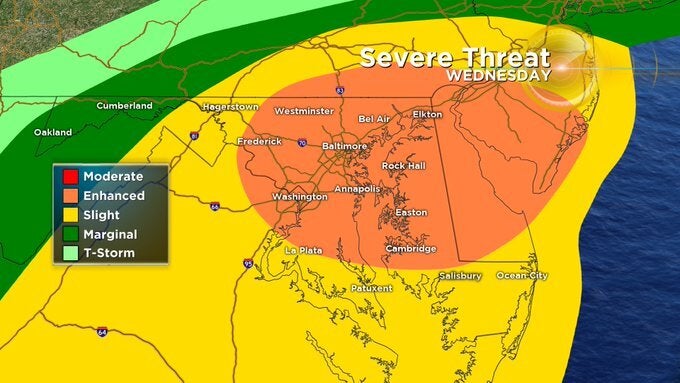 In addition to downpours, this system brings a threat for severe weather, including isolated tornadoes. Portions of central Maryland were under a Tornado Watch Wednesday morning and meteorologist Meg McNamara says another Tornado Watch is likely for later in the day.
The Governor's Office advises residents to take these precautions ahead of the storm.
Never drive through flooded roadways. Turn Around, Don't Drown.
Heed all warnings and stay indoors during severe weather.
Closely monitor updated weather forecasts and be sure to have a way to access local forecasts and warnings.
Keep devices charged in case of power outages.
Let friends or family know of your travel route and expected arrival time.
Know who to contact in the case of a power outage. Emergency phone numbers for utility companies can be found here.
Follow MEMA and your regional National Weather Service (NWS) social media accounts for localized forecasts.
Not sure about the difference between a "watch" and a "warning?" Let's review: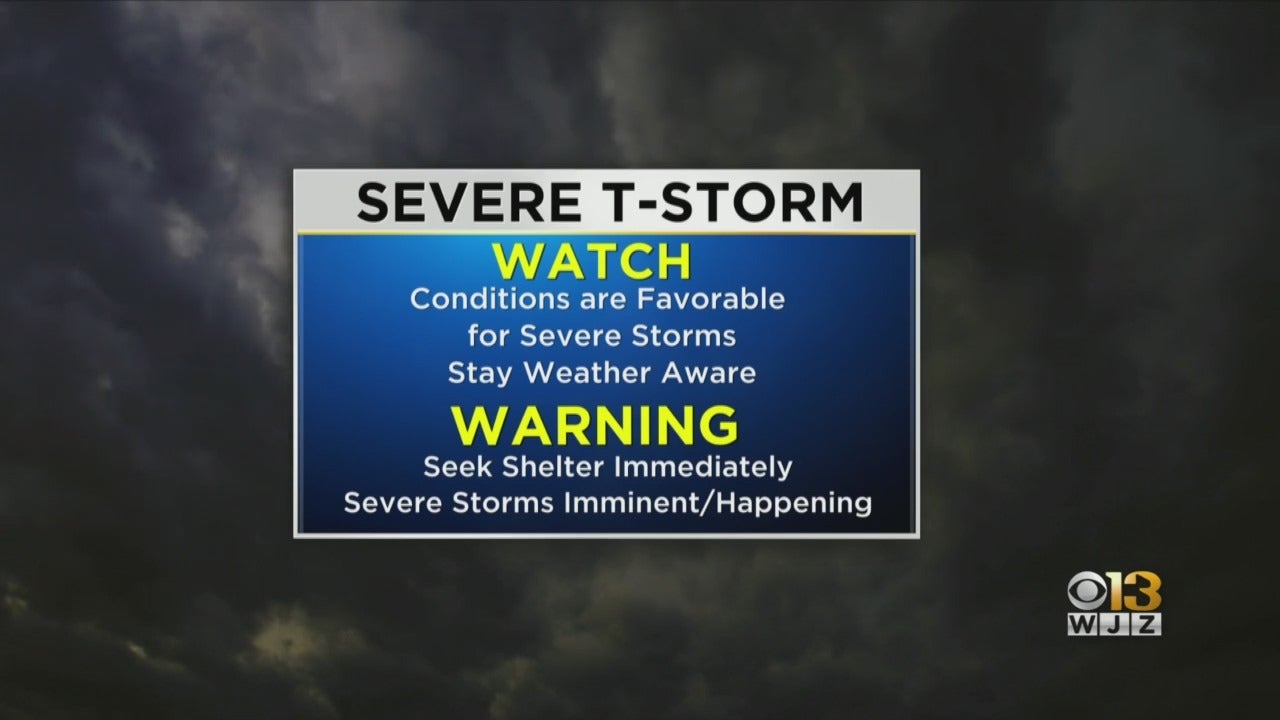 Thanks for reading CBS NEWS.
Create your free account or log in
for more features.