TIMELINE: When Will It Snow In Maryland?
BALTIMORE (WJZ) -- Maryland is gearing up to see one of its biggest winter storms in years.
WJZ's Weather Team is tracking this system that could bring up to a foot of snow to Baltimore.
Winter storm warnings go into effect at 4 a.m. on Sunday, and much of the state is included within the warning territory, with the exception of a few Eastern Shore counties, and those areas are under a winter weather advisory.
Maryland Weather: Up To A Foot Of Snow Possible In Baltimore, Winter Storm Warning Issued For Sunday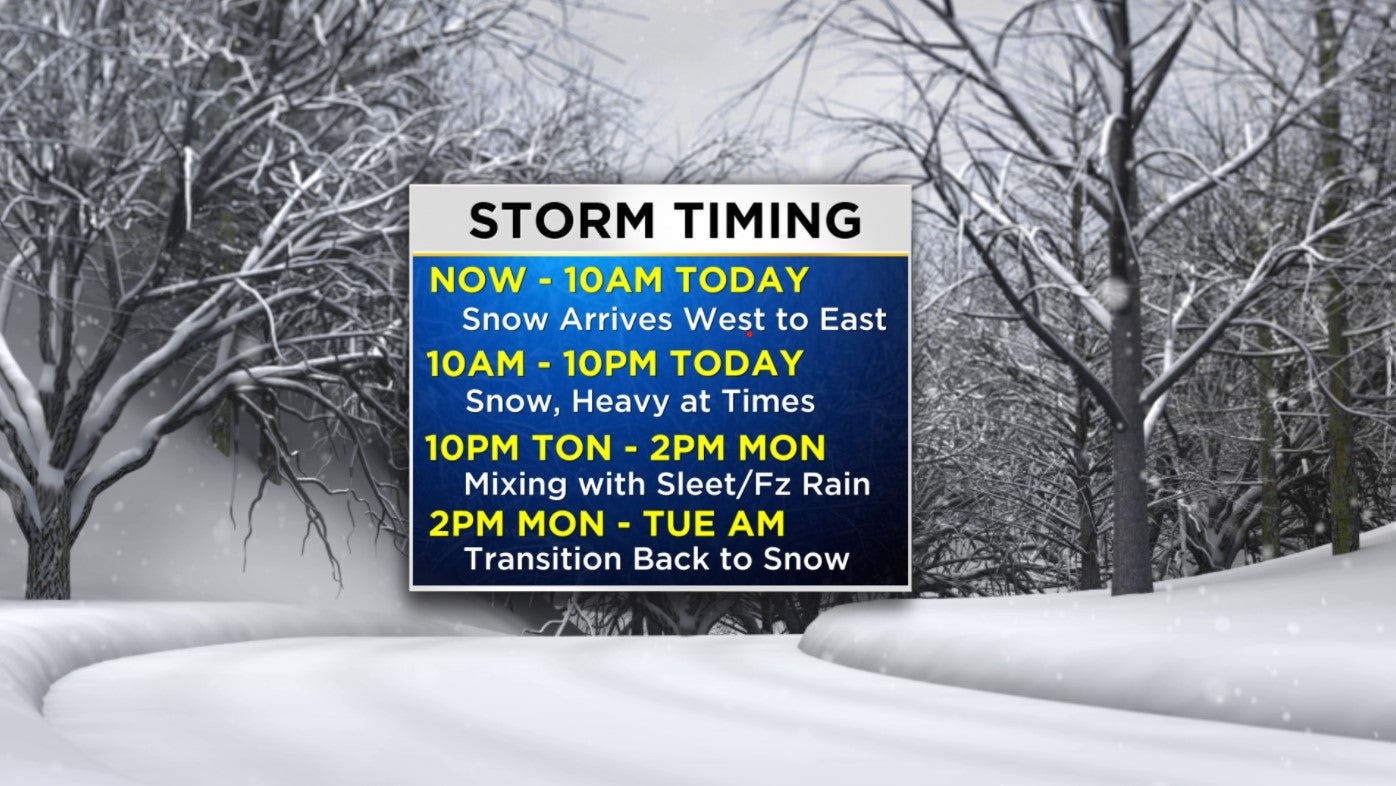 Here's a timeline of the storm:
Sunday, Jan. 31, morning: Flurries, snow will most likely be overspread between 6 a.m. and 10 a.m.
Sunday, afternoon & early evening: The steadiest snow will fall Sunday afternoon into the early evening. Up to 5 inches of snow is expected in some areas, higher in areas north and west, as the slow-moving storm moves through the state.
Sunday night: Light snow will mix with sleet and freezing rain later Sunday evening. Drivers should take caution on the roads as ice may form following the snowfall.
Monday, Feb. 1, overnight, morning rush hour: Snow will become intermittent overnight into early Monday morning.
Monday, throughout the day: Steadier snow is expected later Monday morning through Monday night. Another three to 5 inches of snow is expected.
Monday night: Snow could last into the night and ice could again be a problem overnight.
Tuesday morning, Feb. 2: Some flurries and a snow shower could even linger into Tuesday.
Motorists should be aware that visibility may be reduced to one-half miles at times during heavy snowfall.
Stay up-to-date with the latest forecast by downloading the WJZ weather app.
https://twitter.com/MartyBassWJZ
Thanks for reading CBS NEWS.
Create your free account or log in
for more features.