Family Of Man Murdered In Baltimore Clinic Shooting Says He Had Safety Concerns
BALTIMORE (WJZ) — The family of a man murdered during a gunman's rampage inside a Baltimore drug treatment center said he was concerned about his security in the neighborhood surrounding the Man Alive clinic on Maryland Avenue and West 21st Street.
The family of David Caldwell, 52, said he worked several months there as a phlebotomist. His sister Charlene Weigman told WJZ Investigator Mike Hellgren her brother had a huge heart, caring for several adopted and foster dogs.
She also said he expressed worries about getting into and out of the workplace safely.
"In his belongings, we found a piece of paper that said if something happens, LabCorp is aware he complained about security," Weigman said.
WJZ reached out to LabCorp for comment but we have yet to get a response.
Caldwell's niece, Stephanie Weigman, said her uncle wanted a safer parking spot near the Man Alive treatment center.
"He did want to find closer parking so he wasn't walking through dangerous areas in the early morning hours before it is light out and then after work," she said.
She spoke about her uncle's service to the community.
"It takes a special person to do that work. He loved people and always gave of himself."
Weigman said the family had concerns after learning Caldwell was the first person shot but reportedly the last person removed from the clinic, and loved ones wonder if his life could have been saved.
The suspect in the officer-involved shooting was identified on Monday as 49-year-old Ashanti Pinkney -- who lived near the scene. Pinkney's record showed several drug and theft charges between 1999 and 2008.
The day after the shooting, Baltimore City Police Commissioner Michael Harrison said investigators are no closer to finding out what made Pinkney open fire at Man Alive.
WJZ obtained a picture of Pinkney with the weapon in his hand taken by a witness in the clinic.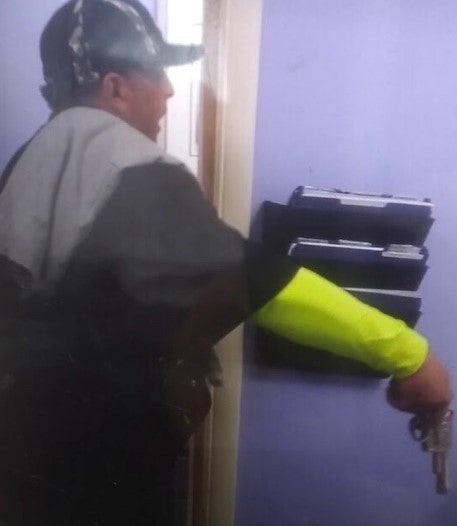 Harrison said two responding officers fired their service weapons, but he was unsure whose bullet struck and killed Pinkney.
Sergeant Billy Shiflett remains in Shock Trauma recovering after he was shot in the incident.
Police have praised Shiflett's actions and those of Officer Christopher Miller, who they say dragged Sgt. Shiflett to safety.
BPD Sgt. Bill Shiflett Injured, Two Dead In Shooting At Baltimore Methadone Clinic
Major Rich Gibson called Shiflett a "true hero."
Shecova Wilson told Hellgren she was a friend of suspect and struggled to understand why he snapped.
"He was a good person. He was sweet to everybody. I don't understand. It was a shock," she said. "I've heard he was denied medication on Friday at the clinic and he told them he would be back," Wilson said.
Pinkney lived one block from the clinic. A search of court records shows several drug and theft charges. The last court record was in 2008.
The commissioner told reporters investigators are still reviewing body camera footage of the incident.
Man Alive remains closed with patients directed to other facilities. A note left outside the door reads, "God bless Man Alive staff and BPD."
Police also said a 41-year-old woman who worked at Man Alive is now out of the hospital after being treated for her injuries during the attack.
Thanks for reading CBS NEWS.
Create your free account or log in
for more features.