Maryland Weather: Severe Storms, Tornado Warnings Sweep Maryland Thursday
BALTIMORE (WJZ) -- The WJZ First Alert Weather team has declared this Thursday an Alert Day due to the potential for severe storms.
Dorchester, Somerset, Wicomico and Worcester counties are under a tornado watch until 10 p.m.
Carroll County was put under a Tornado Warning until 7:45 p.m., but the warning was canceled after about 15 minutes. A Tornado Warning was issued for Montgomery and Prince George's County until 9:15 p.m.
A Severe Thunderstorm Watch was in effect until 10 p.m. for much of Maryland, including: Allegany, Anne Arundel, Baltimore, Calvert, Carroll, Cecil, Charles, Frederick, Garrett, Harford, Howard, Montgomery, Prince George's, St. Marys and Washington counties, along with Baltimore City.
If Your Area Is Under A Tornado Warning
Seek cover or shelter immediately
Move to an interior room on the lowest floor of a sturdy building
Avoid windows
Put as many walls as possible between you and the outside
If in a mobile home, a vehicle, or outdoors, move to the closest substantial shelter and protect yourself from flying debris
If it is safe to do so, continue to listen to local news or NOAA Weather Radio to stay updated about watches and warnings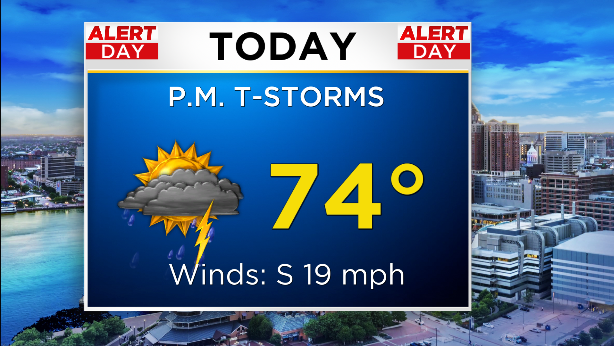 Models suggest the strongest activity will reach Baltimore City late this afternoon, though the storms will reach areas north and west of Baltimore earlier.
While the storms aren't expected to be too severe, the primary concern is the potential for damaging wind gusts and isolated tornadic activity.
The weather threat led Baltimore County Public Schools to postpone all outdoor athletic events Thursday afternoon.
LIST: Keep tabs on school, business and government office delays & closures
We also shouldn't be surprised to catch a shower or heavy downpour, even though the threat of flooding is low.
That said, a Coastal Flood Advisory has been issued for the following areas: Anne Arundel County until 10 p.m., southern Baltimore County until 11 p.m. and southeast Harford County until 2 a.m. Friday.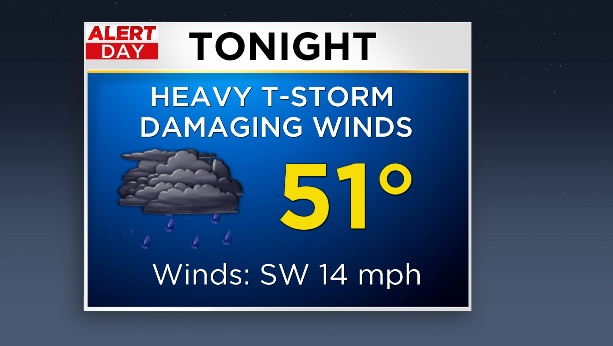 Into the evening hours, temperatures outside will cool down to a low near 52 degrees that will feel a bit more like 47.
After the cold front passes through our area tonight, high pressure will build in on Friday into Saturday.
Friday is expected to be windier and cooler with a mixture of cloud cover and sunshine.
A cold front and wave of low pressure are expected to move across the area Saturday night into Sunday.
High pressure is anticipated to make a brief return early next week before unsettled weather resumes midway through next week.
You can stay ahead of the storm with the CBS Baltimore app. Download it and you'll receive instant updates and the most accurate forecasts in town.
Thanks for reading CBS NEWS.
Create your free account or log in
for more features.