Darrell Ward, 4th Teen Connected With Baltimore County Officer Amy Caprio's Death Sentenced 30 Years
TOWSON, Md. (WJZ) -- A fourth person has been sentenced in the murder of Baltimore County police officer Amy Caprio.
Darrell Ward pleaded guilty to murder in the May 2018 burglary at a Perry Hall home that ended in Caprio's death. He is now sentenced to 30 years in prison, the maximum allowed under a plea deal with the state.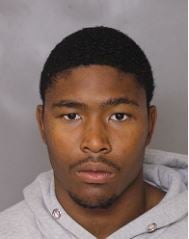 While Ward, Derrick Matthews and Eugene Genius were were inside the home, Dawnta Harris fatally struck Caprio with a stolen Jeep.
RELATED COVERAGE:
Harris was sentenced to life in prison, while Matthews and Genius were each sentenced to 30 years in prison.
Just before being sentenced, Ward addressed the court, expressing remorse and saying he would change places with Caprio if he could.
The state's attorney's office said they're "very pleased" with the sentences in the case.
"As you can imagine the family is extremely relieved [...] but this will never end for them," an attorney said outside the courthouse Monday.
Thanks for reading CBS NEWS.
Create your free account or log in
for more features.