Coronavirus Latest: Maryland Officials Warn Against Non-Essential Travel To 35 States Due To COVID-19 Surge
ANNAPOLIS, Md. (WJZ) -- Maryland officials are urging people to avoid any non-essential out-of-state travel to 35 states as coronavirus cases nationwide continue to climb and as the holidays approach.
During a news conference Tuesday evening, Gov. Larry Hogan outlined the details of an expanded travel advisory, under which Marylanders are strongly advised against traveling to any state with a positivity rate above 10% or any state with average case rates above 20 per 100,000 residents.
CORONAVIRUS RESOURCES:
Those states, based on a list from the Centers for Disease Control and Prevention on Tuesday, are:
Alabama
Alaska
Arizona
Arkansas
Colorado
Connecticut
Florida
Idaho
Illinois
Indiana
Iowa
Kansas
Kentucky
Massachusetts
Michigan
Minnesota
Mississippi
Missouri
Montana
Nebraska
Nevada
New Jersey
New Mexico
North Carolina
North Dakota
Oklahoma
Ohio
Pennsylvania*
Rhode Island
South Carolina
South Dakota
Tennessee
Texas
Utah
West Virginia*
Wisconsin
Wyoming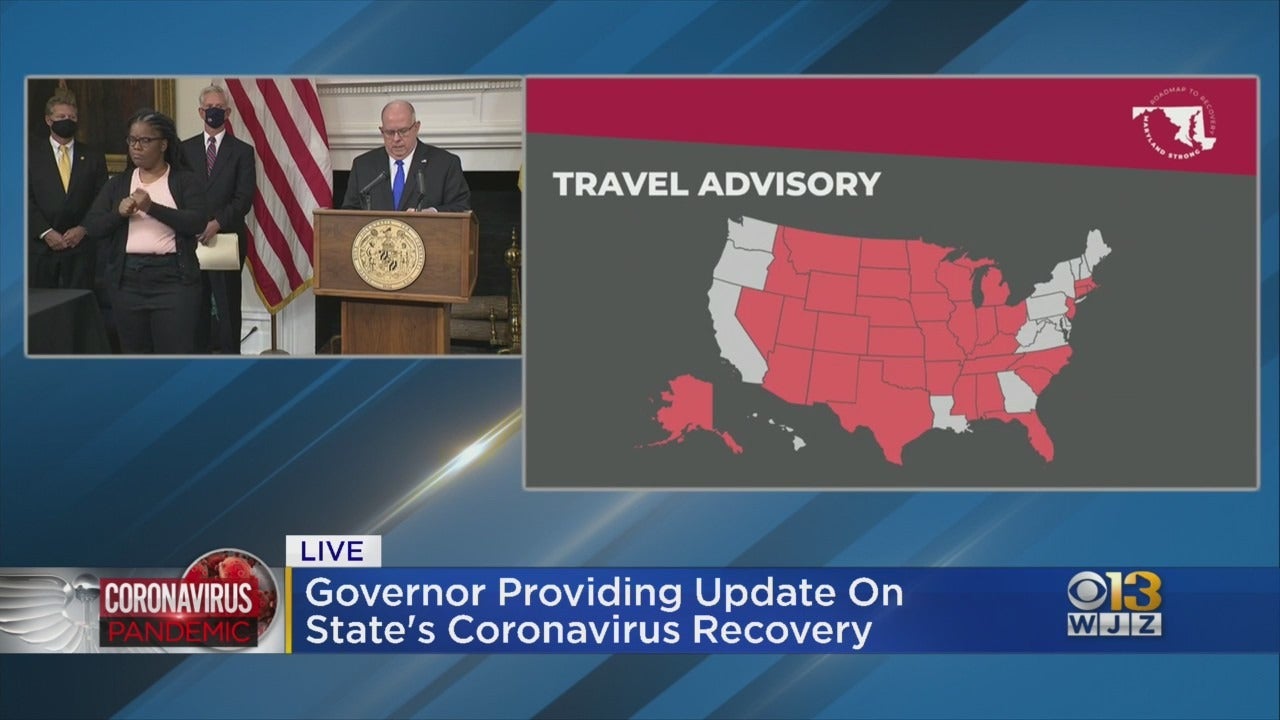 Delaware, Pennsylvania, Virginia, West Virginia and Washington, D.C., are exempt from the recommendation, according to the order.
HOGAN NEWS CONFERENCE UPDATES:
Anyone who travels out of the state should get a COVID-19 test upon returning to Maryland and self-quarantine until getting the results, officials recommend. Employees who cross state lines for work daily and whose employers have COVID-19 screening protocols don't need to quarantine.
WATCH: Tuesday's Full News Conference
For the latest information on coronavirus go to the Maryland Health Department's website or call 211. You can find all of WJZ's coverage on coronavirus in Maryland here.
This story was initially published on Nov. 10, 2020.
Thanks for reading CBS NEWS.
Create your free account or log in
for more features.