Best-Selling Author Tom Clancy Dies In Baltimore
BALTIMORE (WJZ) -- Surprising and sad news about one of the world's best-selling authors. Tom Clancy, who was born and lived in Baltimore, died Tuesday at Johns Hopkins Hospital after a brief illness.
Mary Bubala reports his fans across the nation and here at home are mourning the loss of a literary giant.
As one of the most successful writers of military and political thrillers of all time, Tom Clancy kept readers on the edge of their seats.
News of his death at just 66 years old has shocked his fans across the world and here at home.
"It's a huge fanbase. So people, I think particularly male readers of action and techno kinds of books, they're going to feel a real sense of sadness," said Helen Blumberg, Enoch Pratt Library.
Clancy was a minority owner in the Orioles, throwing out the first pitch in 1994.
"When I get involved with something, I get involved in it. That's my team now. I have to go there and watch and make sure they do it right," Clancy said.
Orioles owner Peter Angelos released this statement:
"For decades, Tom Clancy entertained millions with his novels and enjoyed producing no fewer than seventeen best-sellers. He was an extraordinary storyteller who had an ability to keep readers on the edge of their seats. His passion for the military was evident in his efforts to ensure that the men and women who serve our country were properly recognized for their service and commitment.
While he achieved international acclaim as a celebrated author, Tom, a proud Baltimorean, was a devoted Marylander, a treasured friend, and a valued partner and advisor in the Orioles ownership group. He was a regular presence at Oriole Park and enjoyed talking about baseball, the ballclub and its operations.
We are deeply saddened by Tom's passing. He will be missed but long remembered.
On behalf of the Orioles, we extend our sympathies to his family."
Tom Clancy was born in Baltimore, attended Loyola Blakefield and then Loyola College, where he was commencement speaker in 1986.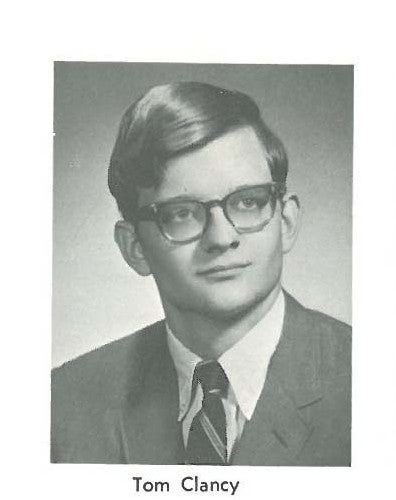 Tom Clancy's photo in the 1969 Loyola yearbook Photo courtesy of Loyola University Maryland.
The school released the following statement:
"The Loyola University Maryland community is saddened to learn of the passing of Tom Clancy, Class of 1969. Mr. Clancy was a prolific author with a passion for storytelling that engaged people all over the world. He truly embodied the creativity we inspire our students and alumni to bring to their personal and professional lives, and we are proud to call him a member of the Loyola University Maryland family. Our prayers are with his family, friends, and classmates at this difficult time and in the days to come."
Clancy was a former insurance agent who went on to write 28 novels.
"The whole point of any kind of artwork is to make people think," he said.
Clancy's books were transformed into blockbuster Hollywood films, including The Hunt for Red October.
Clancy also made his mark in the video game world with games like Ghost Recon, and well before that--Politika--the computer game, the novel and the board game, which Clancy told WJZ in 1997 was the project he was most proud of.
"What we are trying to do here has never been done before. It's completely new," he said.
All this made Clancy a very wealthy man, but he was very private. He lived in the Ritz Carlton along Key Highway, combining six condos into one.
And he continued to write. His latest novel, Command Authority, is planned for release Dec. 3.
The newest Jack Ryan movie is scheduled for release on Christmas.
Clancy was involved in several charities in Baltimore, including raising millions of dollars for Johns Hopkins Pediatric Oncology.
Other Local News:

Thanks for reading CBS NEWS.
Create your free account or log in
for more features.