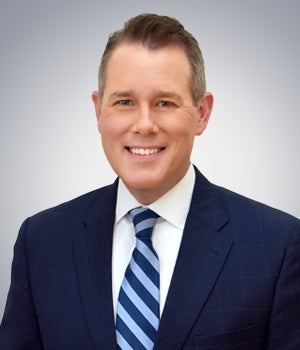 I've been fascinated with the weather for as long as I can remember -- at the age of 4, I happened to be looking out the kitchen window when lightning struck a neighbor's house, and in kindergarten a tornado skirted the town where my family lived.
Some kids would be scared of thunderstorms after those experiences -- instead, they sparked a fascination with weather, and I've studied it ever since.
I grew up in South St. Paul, Minnesota, but since graduating from high school I've moved all around the country. I attended the University of Denver and earned a bachelor's degree in geography, performing research into the effects of El Nino on weather patterns in the Rocky Mountains.
After graduating, I earned a master's degree in meteorology from Texas A&M University -- my research at Texas A&M focused on lightning patterns within severe and tornadic thunderstorms, a course of study that helped prepare me for forecasting the weather in some of the most challenging markets in the country.
I joined KPIX in March 2020. Previously, I worked for stations in Raleigh, NC, Nashville, TN, Tulsa, OK, Huntington, WV, Duluth, MN, and Beaumont, TX. In 2002 I was awarded the American Meteorological Society's seal of approval, and in 2016 I upgraded that to the AMS Certified Broadcast Meteorologist seal.
So far in my career, I've covered everything from blizzards in the Upper Midwest to tornado outbreaks in the Southern Plains to hurricanes along the Carolina coast. Now I'm excited to cover the micro-climates of the Bay Area, and forecast weather right on the front lines of climate change.
I've earned several awards for weather coverage over the years -- six Emmy Awards, and multiple "Best Weathercast" and "Best Weather Anchor" awards from the Associated Press and Society of Professional Journalists. In 2019, I was named "Weathercaster of the Year" by the Radio, Television and Digital News Association of the Carolinas.
I try to find the time to indulge in a number of hobbies -- I spend my dinner break every day running or at the gym, and I also enjoy golfing, playing softball and bicycling. I'm also a dog lover. My wife and I have two dogs, Scooter and Dagny.
Thanks for reading CBS NEWS.
Create your free account or log in
for more features.