Workers Trapped Inside Houston Bakery Bake Bread For Harvey Victims
HOUSTON (CBS News) -- Lines were stretched outside Houston's El Bolillo Bakery's doors last week as news of Hurricane Harvey's impending arrival spread.
The bakery staff worked around the clock — 24 hours a day — to fill orders. By Friday night, hours before Harvey made landfall, every shelf was empty.
HURRICANE HARVEY: How To Help Victims
"We shut down the stores, sold out of bread at all of our stores and made sure employees could get home safely at a good time," Kirk Michaelis, owner of El Bolillo Bakery, told CBS News.
On Saturday night, a handful of employees called Michaelis, asking if they could prepare to re-open on Sunday. He agreed, and they headed to El Bolillo Bakery's Wayside location, on the southeast side of the city.
But the workers weren't prepared for just how much worse the flooding was going to get.
"It started raining really bad. The rain increased, dropping like 10 inches in three hours and it flooded the area where they were," Michaelis. "There was no exit for them. They couldn't get out. So, they made bread."
Four bakers were trapped inside the Mexican bakery for two days.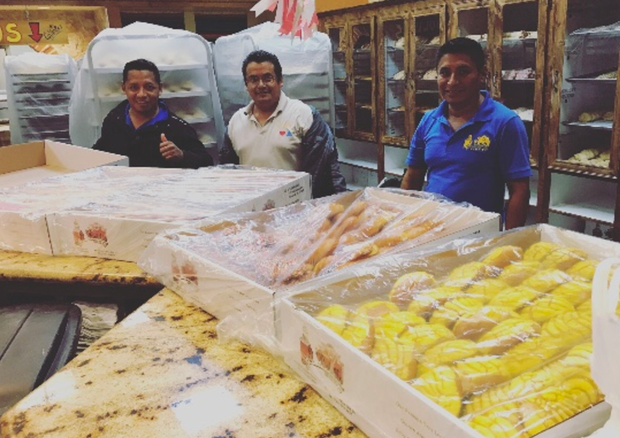 Instead of panicking, the men put on their aprons and began kneading dough. For hours, they baked bolillos — Mexican sweet bread — pastries and their signature pan dulce. Some of the employees worked 20 hours straight.
By the time Michaelis was able to rescue the crew on Monday, every display case was filled with hundreds of loaves of bread. They baked their way through 4,000 pounds of flour.
"It was amazing. I think it was a way to keep their minds off of what was happening outside," Michaelis said. "They were trying to produce as much product as they could for the bakery."
Knowing there was a huge need in the city, Michaelis loaded up his Jeep with the food and delivered it free of charge to first responders, police officers, nursing homes and local shelters.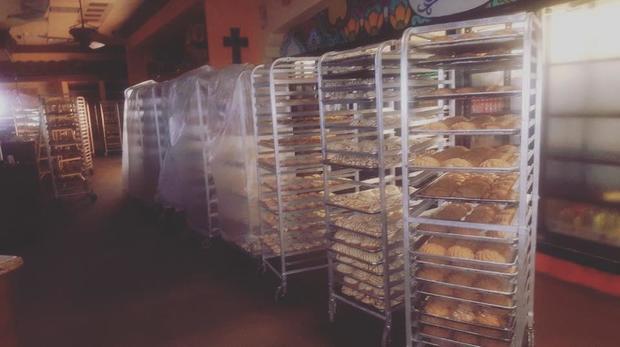 "We're not anything compared to some of the people out there working and doing amazing things," Michaelis said. "We're just doing our little part."
Unable to make it home in the flood, the group of workers stayed at Michaelis' house overnight. The next day, they went right back to work.
"They couldn't get home so they said, 'Hey, I'm going to stay working. I can't sit around knowing my family is trapped in our house and not do anything,'" Michaelis said.
The bakeries reopened on Tuesday, and employees plan to continue baking 24 hours a day, 7 days a week in shifts as the city recovers from the storm.
"Ever since we were able to open back up, lines have just been unreal," Michaelis' daughter, Meagan, who also works at the bakery, told CBS News.
Meagan says the bakery staff has been overwhelmed with praise and positivity since she posted about the crew's hard work on Facebook Monday. She never expected thousands of people to share the uplifting post, but she's glad it's out there.
"There are so many incredible efforts happening down here in Houston. We are just one story," she said. "Thank you for the support. We're feeling the love."
Thanks for reading CBS NEWS.
Create your free account or log in
for more features.