Kincade Fire In Sonoma County Grows To 16,000 Acres, At 5% Containment
GEYSERVILLE (CBS SF) -- Cal Fire reported Thursday evening that a total of 49 structures have burned in Sonoma County as the fast-moving Kincade Fire grew to about 16,000 acres with only 5 percent containment.
Reduced winds during the and a concentrated effort by the many fire agencies working to contain the fire helped during the battle. As of 7 p.m., authorities reported that the evacuation orders were holding steady at 2,000 residents, mostly people living in Geyserville.
The Sonoma County Sheriff confirmed that there were no fatalities and no reports of missing persons in the wake of the overnight evacuation of Geyserville.
CHP confirmed that there was no threat of U.S. 101 being closed by the fire, but the following closures were still in effect.
•Healdsburg Avenue at Alexander Valley Road
•Lytton Station at Lytton Springs
•SR - 128 at Pine Flat Road
•SR - 128 at railroad Avenue
Earlier, a prelimimary report from PG&E indicated a there was a malfunction on a 230,000 volt transmission line near the time and at the point where the fire started near Kincade Road and Burned Mountain Road. The report to the California Public Utilities Commission is required for such incidents. PG&E says the cause of the fire is still under investigation.
PG&E said it had shutdown power in the area a few hours prior around 3 p.m. for its Planned Safety Power Shutdown due to high fire danger weather. However, while the power distribution lines were deenergized, the high-voltage transmission line which malfunctioned was not deenergized. PG&E said the wind speeds of concern for transmission lines are higher than those for distribution.
About 1,300 firefighters were battling the blaze that was fanned by 60 mph wind gusts and bone-dry humidity conditions with the region under a Red Flag Warning. The fire had jumped Highway 128 and was raging though a rural area filled with vineyards, brush and difficult terrain.
But after 24 hours, it was a much different scene just east of Geyserville where the fire torched. It looked like a wind tunnel with ash and debris were swirling around as flames came racing up the ridge. Firefighters finally caught their breath as the wind and flames died down Thursday.
Firefighters on Thursday tried to create a clear buffer zone to put a black line around the entire fire. They hope by doing that, the embers will not be picked up in the next wind event and start another devastating fire.
A number of buildings were set ablaze and left in smoldering ruins. Fire officials said at a noon news conference it was not clear how many of the structures were residences or outbuildings.
PHOTOS: Wall Of Flames Roars Through Wine Country
A mandatory evacuation order had been issued for the residents of Geyserville, a town of about 900 residents, around 6:15 a.m. Residents were streaming down Alexander Valley Road -- an area dotted with wineries.
Approximately 2,000 people were being evacuated in the Geyserville area and in the hills east of Geyserville, said Sonoma County Sheriff Mark Essick, who added his office recognizes the emotional and stressful nature of the current situation, just two years after the wine country wildfires that devastated the region.
"We know that many people feel better prepared and more prepared than they were two years ago," said Essick. "Many people have taken the time to prepare kits and prepare their homes for wildfire, but this is not the time to stay. This is the time to go. Please heed our evacuation order."
There was also an evacuation warning for the unincorporated area north of Healdsburg "That means we want you to prepare to leave, we want you to gather your belongings and be prepared to leave at a moment's notice," said Essick.
The California Highway Patrol said to expect all roads east of Highway 128 from Cloverdale to Healdsburg to be closed due to the fire.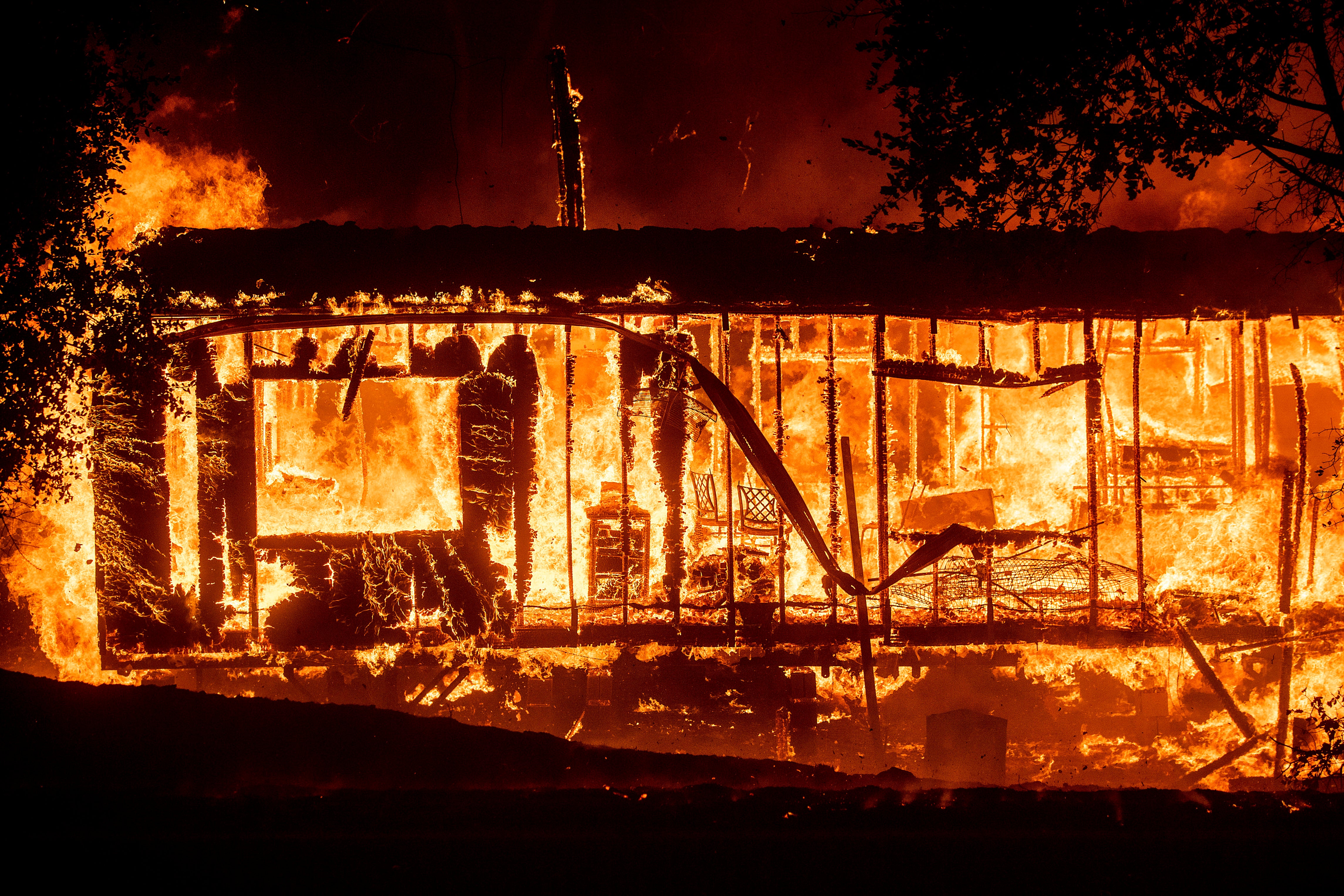 Cal Fire spokesman Scott McLean described the difficult conditions firefighters were facing early Thursday.
"The wind is definitely pushing the fire," he said. "The area has a lot of brush and indefensible terrain. It's hard to fight...It's dark right now so we don't have any eyes in the sky...They (the firefighters) definitely have a fight on their hands."
Sonoma County Sheriff's Sgt. Juan Valencia warned the high winds and direction of the fire would increase the likelihood of more evacuations into the later morning hours. There were several reports of structures burning or destroyed by the fire.
The fire, first reported at around 9:30 p.m., originated on the Sonoma County and Lake County line, where raging wind gusts were blowing with 70 mph gusts in the area. The strong winds are part of the conditions that prompted Pacific Gas and Electric Co. to shut down power in the North Bay Wednesday afternoon as a precaution.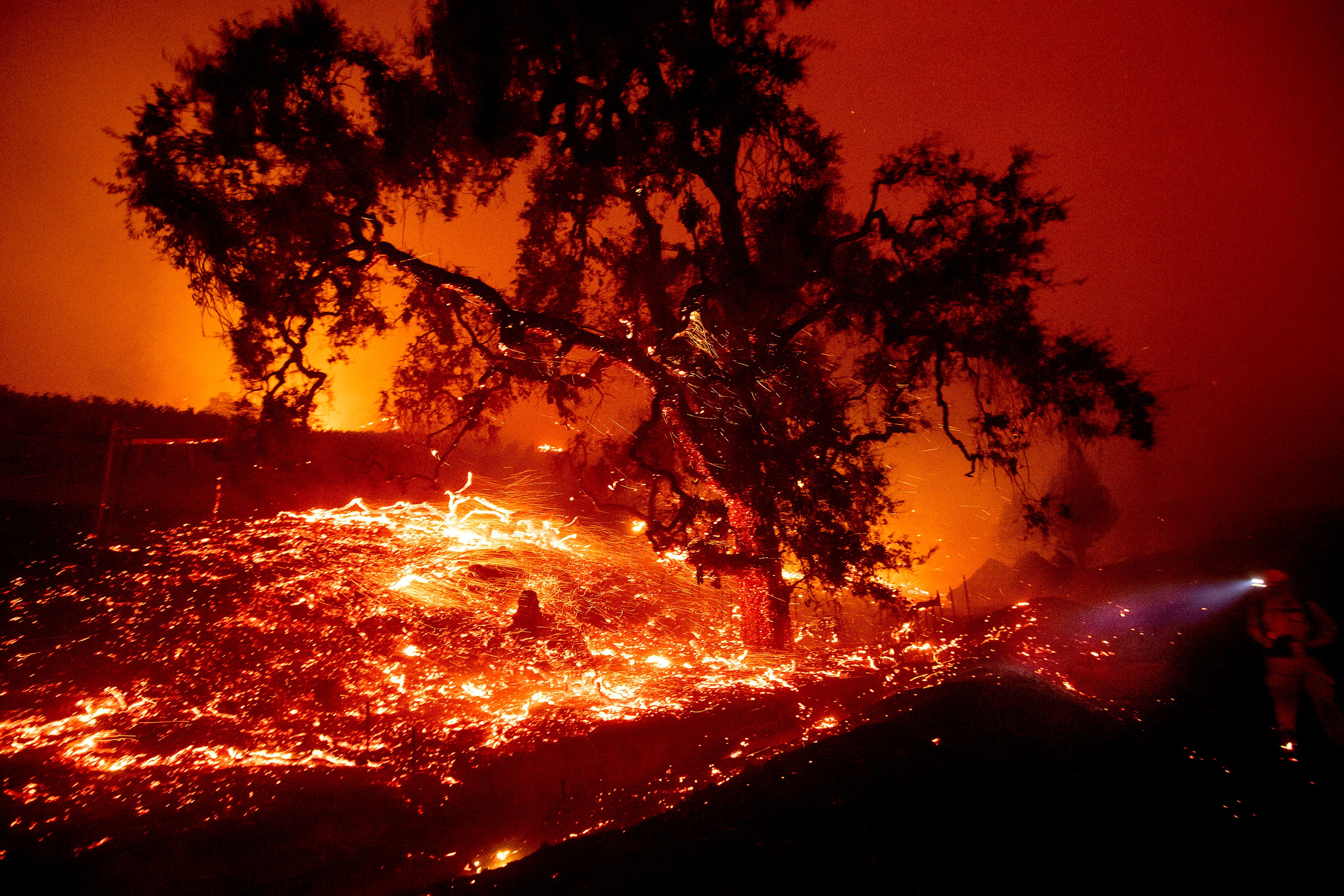 Evacuations were ordered for communities east of Geyserville early Thursday. More than 200 had been forced from their homes with another 1,700 preparing to leave at a moment's notice.
The evacuation order included all roads east of Highway 128 to Geyserville, Pine Flat Road, Red Winery Road, Alexander Mountain Road and all roads off of River Road. River Rock Casino was also evacuated. Sonoma County sheriff's deputies were going door-to-door to get residents to evacuate.
"At one point during the night, I heard on the radio firefighters and law enforcement getting together to get people out of their homes, out of harms way," McLean said. "I did hear of incidents where somebody stated they simply were not going to leave...This is not a game."
Overnight winds gusted up to 70 miles, sending showers of embers down the roads outside Geyserville as flames illuminated the hillsides and forced evacuations.
"Come 5:30 in the morning, CalFire is banging on the door in their helmets with flashlights saying, 'Get out!'" said evacuated Geyserville resident Sean Olhan.
Olhan has lived in the Alexander Valley for 16 years and said he's never experienced winds like Wednesday night.
"It's more of a tornado, a swirling wind. It was 40 or 50 miles an hour, and it was like, that's fire wind," said Olhan.
Maria Romo saw the advancing flames.
"I was driving with my friends when we saw this giant red blob and knew it was a fire," she said. "There was a lot of ash falling on our car."
There is an evacuation warning for northern Healdsburg and Geyserville. The fire jumped Geysers Road and was burning below it, closer to homes, near 1 a.m.
The Santa Rosa Fire Department dispatched resources to the Kincade Fire but said there were no fires within Santa Rosa city limits.
Viviane Marani told KPIX 5 on Twitter that she could see the fire from her North Bay driveway.
Cal Fire said there were no reports of downed power lines in the area.
Three witnesses who were driving late Wednesday night described the moment they saw the fire flare up to KPIX 5's Andrea Nakano.
"We were just driving and then there was this red flash," said Maria. "We all looked at each other like, 'What is that?' Living in Sonoma County, the first thing we think is the fires."
"It seems like it's something that is somewhat preventable, not to point fingers or anything like that at all," said Victor. "It's something that's becoming almost routine here in Sonoma County during the season and stuff."
Witnesses Describe Moment They Saw Kincade Fire Flare Up
The Healdsburg Unified School District, Alexander Valley School District and Cloverdale Unified School District were closed Thursday because of the Kincaid Fire, according to the Sonoma County Office of Education.
School closures in the Rincon Valley Union School District and Santa Rosa City Schools District were announced Wednesday in response to PG&E's planned Public Safety Power Shutoff.
Sonoma County officials are advising people with questions about the fire to call 211 and only to call 911 if they need immediate assistance.
The Sonoma County Fairgrounds opened Thursday as an evacuation center for residents escaping the Kincaid Fire in the Geyserville area. The center at 1350 Bennett Valley Road in Santa Rosa is open to large animals.
The Healdsburg Community Center at 1557 Healdsburg Ave. was being also being used as an evacuation center but it reached capacity by Thursday afternoon. Another evacuation center was set up at the Santa Rosa Veterans Memorial Building at 1351 Maple Ave.
The Bay Area Air Quality Management District has issued a Spare the Air alert for Thursday because of smoke in the region from the Kincade Fire.
The Sonoma County Department of Public Health announced Thursday evening that northern parts of the county may face unhealthy air conditions. "Changing wind patterns and pending fire conditions are making air quality unpredictable," SCDPH said in a statement.
Officials reminded the public that children, pregnant women, the elderly and those with respiratory conditions are most at risk. They also advised people to limit time outdoors and to reduce exposure to smoky air by keeping windows and doors shut.
Thanks for reading CBS NEWS.
Create your free account or log in
for more features.