The CW Invades San Diego Comic-Con 2019
By Lindsey Knott
For 50 years, San Diego Comic Con (SDCC) has been a bucket list destination for sci-fi and fantasy fans of all kinds. This year the CW beamed into SDCC and tantalized fans with 11 exclusive panels. Lucky attendees got a sneak peek at the CW's Batwoman and Nancy Drew and they bid an emotional goodbye to sun setting favorites Arrow and Supernatural. It was a jam-packed weekend, so here's your jam-packed roundup from SDCC19!
Nancy Drew (@cw_nancydrew #NancyDrew)
The series stars and executive producers presented us with a tease of what's to come in the first season of Nancy Drew. The modern-sexy-noir vibe had fans buzzing. Get a first look at this re-imagining of the classic mystery series below and mark your calendar to get into the new Nancy Drew Wednesdays at 9pm on KBCW 44cable12.
Batwoman (@CWBatwoman #Batwoman)
The newest face in the Arrowverse, Ruby Rose was not at the first Batwoman panel at SDCC. (insert sad face emoticon here). But Ruby had a great excuse: she was busy shooting pivotal scenes for her much anticipated fall show. This quote taken from her instagram post explained it all:
"I'm not going to be there, which stinks a lot, but just know that we tried everything that we could humanly to be there. It wasn't until really now that we realized there wasn't any other way to finish this episode, this ambitious episode that we're doing, and create this amazing show that really is special,"
We missed you Ruby, and we expect a thrilling series from the first LGBT actress to play a lesbian superhero broadcast lead! Make a date for the premiere of Batwoman Sundays at 8pm on KBCW 44cable12.
Arrow (@CW_Arrow #Arrow)
With a tear in our eye we prepare to say farewell to the show that started it all for the CW's Arrowverse. Stephen Amell's 8 year run as Oliver Queen is coming to an end. This SDCC appearance was emotional for Stephen, his cast mates and fans. You could tell this panel will miss working together. Lucky for us there is an epic finale season to look forward to. The comic con 2019 sizzle was a rad mashup retrospective that shows us Oliver returning to the green hood to become Arrow once more - Yes! Also Tommy Merlyn and Adrian Chase are back for the farewell season, and a whole new look is in store for Black Canary. Arrow's finale season begins 9pm Tuesdays on KBCW 44cable12
Supergirl (@TheCWSupergirl #Supergirl)
This supercharged tease for Supergirl is full of social messages and politically charged images, also Kara Danvers seems different somehow. It is it the new hair? The much ballyhooed pantsuit? Or is that impressive image of Supergirl planting a flag in front of the white house? One thing we know, season 5 looks packed with new drama, new turns for Supergirl and our favorite villains. SuperGirl will return with new episodes Sundays at 9pm on KBCW 44cable12
Black Lightning (@blacklightning #BlackLightning)
The cast of Black Lightning seemed to be following a Pierce family rule at SDCC : "Don't tell anyone who we are". Cast and crew didn't have many spoilers to share about the new season - which makes us even more excited and curious about what's to come. Because we have a lot of questions : Will Tobias make it out of the pit? What new powers will the Pierce sisters develop? Will Black Lightning ever join the Arrowverse? To start answering some of these burning questions tune in October 21 at 8pm on KBCW 44cable12
The Flash (@CW_TheFlash #TheFlash)
The most popular superhero in the Arrowverse loves a party, so in turn, we love an epic crossover event! The cast and creators prepared us for the Crisis on Infinite Earth, which will split up Season 6 of The Flash into three parts. Also get a look at the new creepy black eyeballed villain, Dr.Ramsey Rosso aka Bloodsport (played by Sendhil Ramamurthy). The new enemy is death itself? What does it all mean Barry Allen? Tune in to find out first. the new season of the Flash kicks off Tuesday October 8th at 8pm on KBCW 44cable12

Supernatural (@cw_spn #Supernatural)
What an emotional goodbye from the cast and crew of Supernatural! Fans were presented with a 10 minute long reel of Supernatural's greatest moments from the past 14 seasons.
It's sad to say goodbye to the Winchester brothers and their demon chasing muscle car. The iconic 1967 Impala became a parting gift for one very fortunate Supernatural fan. Everyone in Hall H then gave a standing ovation and farewell to the cast and crew, and tears were rolling. Join us to kick off the 15th and final season of Supernatural Thursday October 10th at 8pm on KBCW 44cable12.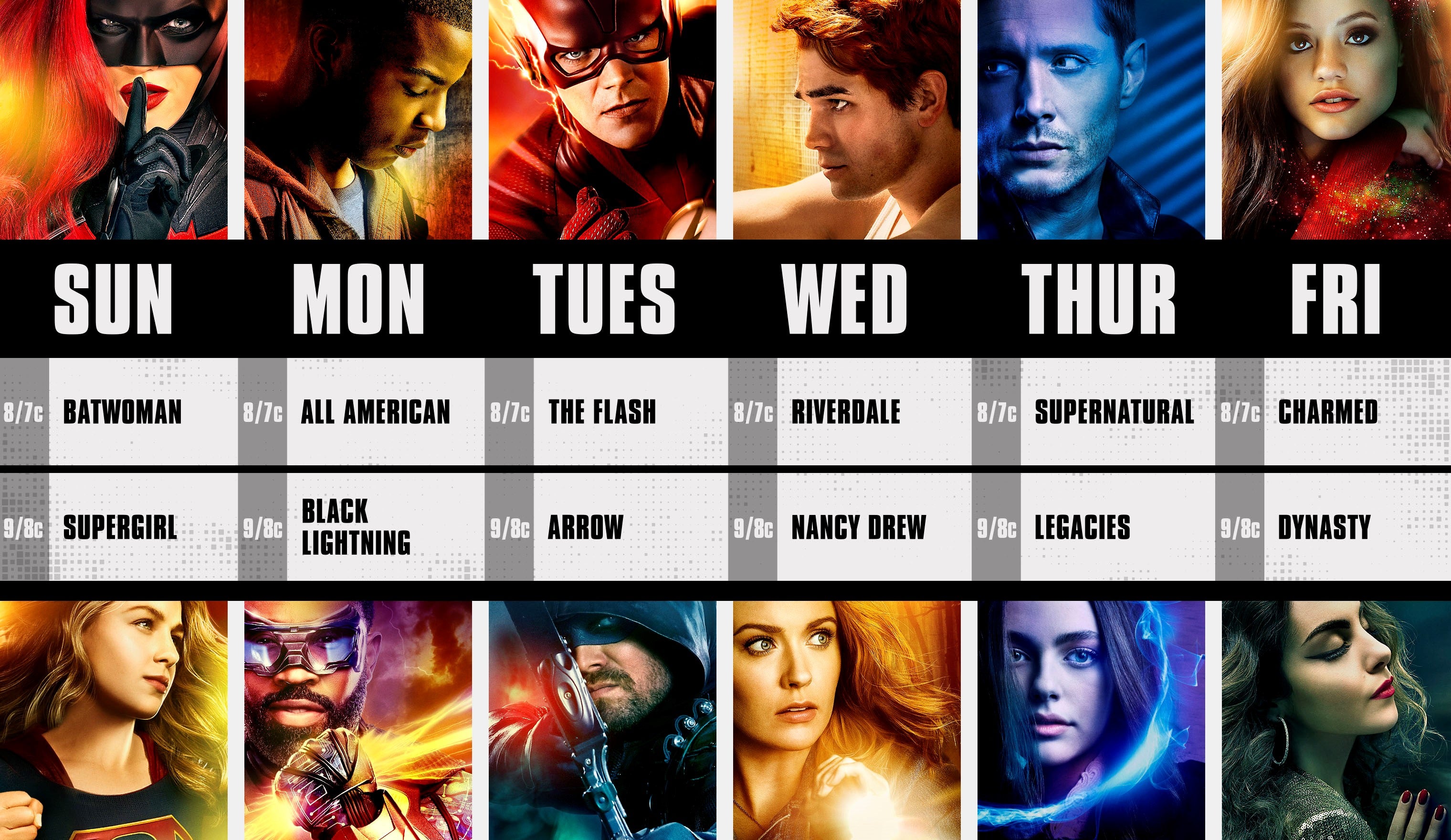 Thanks for reading CBS NEWS.
Create your free account or log in
for more features.