6 Injured In Horrific Wrong-Way DUI Crash On Highway 17 In Los Gatos
LOS GATOS (CBS SF) -- A wrong-way driver suspected of DUI triggered a horrific multi-vehicle crash in Los Gatos early Thursday that injured six and left crumpled debris across the northbound lanes on Highway 17.
The crash happened on northbound Highway 17 near the Highway 85 junction at around 12:57 a.m., according to the California Highway Patrol.
The crash that involved a Jeep Wrangler traveling southbound in the northbound lanes, a white sedan and a motorcyle. The heavily-damaged Jeep was left smoldering in the middle of the roadway as firefighters doused it with water.
The driver of the Jeep was ejected onto the roadway and suffered major injuries. The motorcyclist was seriously hurt after skidding into the wreckage and hurtling off the motorcycle.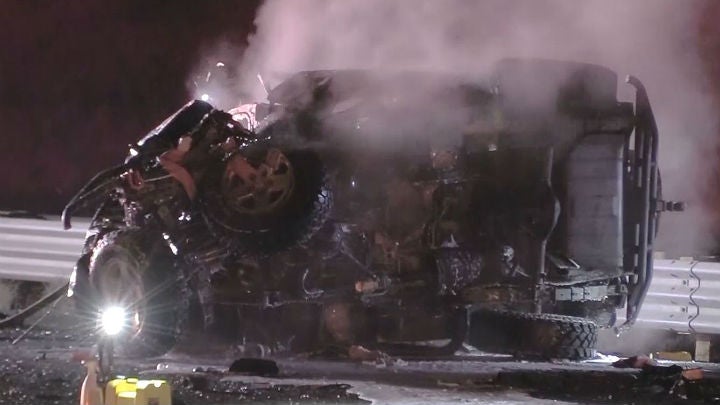 Michael Lott was driving home from work when he saw the damaged vehicles strewn across the freeway and as he talked with injured passengers from the white sedan, the motorcyclist slid into the crash scene.
"I was driving home from work and came upon an accident -- a vehicle in the fast lane, a vehicle over on the right hand side of the road," he said. "After speaking with the people in the (right-hand side) vehicle, a couple cars had come through and a motorcycle came through and went down. The motorcycle slid through and the motorcyclist came sliding to a stop about 25-30 feet away from me."
"He (the motorcyclist) had a badly damaged leg which I put a tourniquet on."
The CHP said the Jeep driver and motorcyclist were transported to the hospital with major injuries, while the driver of the sedan was hospitalized with minor injuries. The sedan's passengers were treated at the scene.
The unidentified Jeep driver is facing charges of driving under the influence and will be sent to jail after his release from the hospital, the CHP said.
The crash closed the busy freeway through the Santa Cruz Mountains in the South Bay for several hours but lanes were reopened before the morning commute.
Last month, a woman was killed after driving for several miles in the wrong direction on both Highway 17 and Interstate Highway 880. The crash came just one day a day after another wrong-way driver was involved in a deadly collision on Highway 1 in Pacifica.
Thanks for reading CBS NEWS.
Create your free account or log in
for more features.