Bay Area Men Arrested After Modesto Police Chase Ends With Deadly Crash Into Taco Truck
MODESTO (CBS/AP) -- A high-speed chase in Modesto came to a deadly end Saturday morning when a car carrying two Bay Area men fleeing a police traffic stop crashed into a food truck in Modesto, killing two people.
Authorities say the incident began early Saturday morning when police spotted the stolen vehicle and tried to stop it. Quiros and Gazo allegedly fled and started shooting.
The chase ended at the corner of 14th and D streets in Modesto, not far from the Department of Motor Vehicles, just before 2 a.m., where people were eating at the Tacos Vallarta taco truck on the corner.
The two victims, later identified as, Peter Gil, 31, and Melchor Leyva, 32, were struck by the suspect car before it crashed into a neighboring tire shop.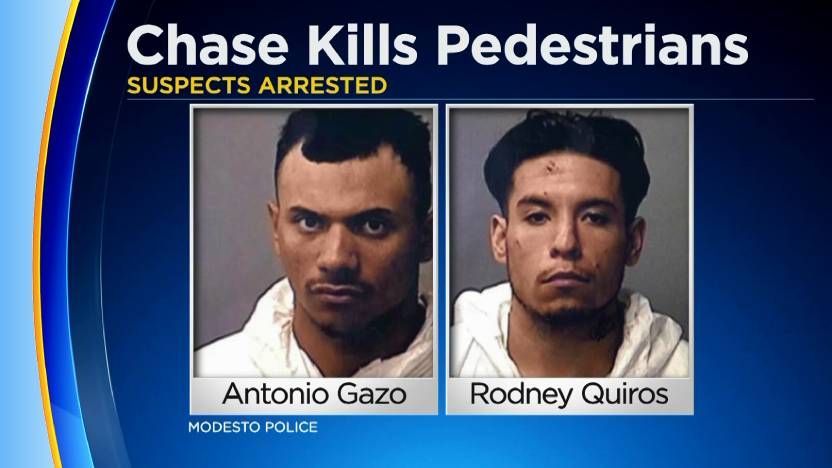 Police arrested two suspects at the scene and said they recovered two weapons. The suspects are Rodney Quiros, 24, of San Francisco and Antonio Gazo, 22, of Daly City. They were booked on multiple charges including homicide and attempted homicide.
They were driving a car reportedly stolen from Daly City.
READ MORE AT CBS SACRAMENTO: Modesto Police Pursuit Ends in Deadly Crash
© Copyright 2019 CBS Broadcasting Inc. All Rights Reserved. CBS Sacramento and The Associated Press contributed to this report.
Thanks for reading CBS NEWS.
Create your free account or log in
for more features.