San Francisco George Floyd Protest Turns Violent; Mayor Breed Announces Curfew
SAN FRANCISCO (CBS SF) -- A San Francisco protest over the death of George Floyd while in police custody that had been peaceful much of Saturday turned ugly shortly before 9 p.m. as looters broke off and began smashing shop windows and looting stores in Union Square and on Market Street.
The violence led San Francisco's Mayor London Breed to declare a curfew in the city in response to the destructive behavior. The curfew would be in effect from 8 p.m. until 5 a.m.
"When it crosses the line, we have a responsibility to protect our city. And we will do what we need to do to do that," said Mayor Breed during an emergency press conference. "To be clear, this is the last thing I want to do as mayor. I want peace. I want protests, but I don't want the kind of violence and crime we see playing out across the streets of our city to continue."
FULL COVERAGE: GEORGE FLOYD PROTESTS
The curfew went into effect immediately as the mayor made the announcement at around 10:30 p.m. She also said she had spoken with Governor Gavin Newsom and that the National Guard would be on standby if San Francisco police needed assistance in enforcing the curfew.
A state of emergency was declared by the governor for the city of Los Angeles earlier Saturday. The National Guard is set to be deployed there to keep the peace.
Mayor Breed and SFPD Chief William Scott both spoke during the press conference, decrying the violence and asking San Francisco residents to keep their protests lawful and peaceful.
The mayor asked residents of the city to go home and people who had come to San Francisco from elsewhere to leave.
The mayor also tweeted about the curfew.
The protest had earlier moved from the Mission District back to City Hall and Civic Center Plaza. It was from that group of approximately 200 to 300 protesters that some participants split off to target Union Square businesses as well as stores on Market Street near Fifth.
A Sak's Off 5th store on Market was one of the shops that was hit by looters. People could be seen exiting through the shattered glass doors with clothing and accessories.
A CVS drugstore on Market Street was also looted.
Soon afterwards at around 9 p.m., San Francisco police declared the protest an unlawful assembly and said that anyone who did not disperse would be arrested. Some protesters began throwing objects at police officers.
The remaining group of approximately 50 protesters moved west on Market with a line of police in riot gear following them.
At least one person was seen sitting with their hands behind their back on Market Street who appeared to be in police custody.
The news van being used by KPIX 5 reporter Kenny Choi and his photographer was broken into by protesters, but no one was injured.
According to witness reports, looting was still happening in the area of Union Square after 11 p.m., even as police continued to patrol the area. Some high-end stores including the Cartier Boutique were being targeted by looters who were seen brandishing crowbars that were being used to smash windows..
The protest activity in San Francisco led BART to close the city's Civic Center and Powell Street stations.
There were reports that some protesters had gotten on northbound US Highway 101 at the Duboce Avenue off-ramp and were blocking lanes at around 10:20 p.m.
After a night of violence left San Jose and Oakland battered and shaken, San Francisco officials were hopeful Saturday that the protest over the police in-custody death of George Floyd in Minneapolis on Memorial Day would not dissolve into violence and destruction.
The march organized by the Freedom Socialist Party got underway with a modest gathering around noon at U.N. Plaza. Demonstrators proceeded to march from there to the steps of City Hall where they stood peacefully listening to speakers as their number slowly grew.
Light rain and possible thundershowers that had been forecast for San Francisco on Saturday may have kept the gathering smaller.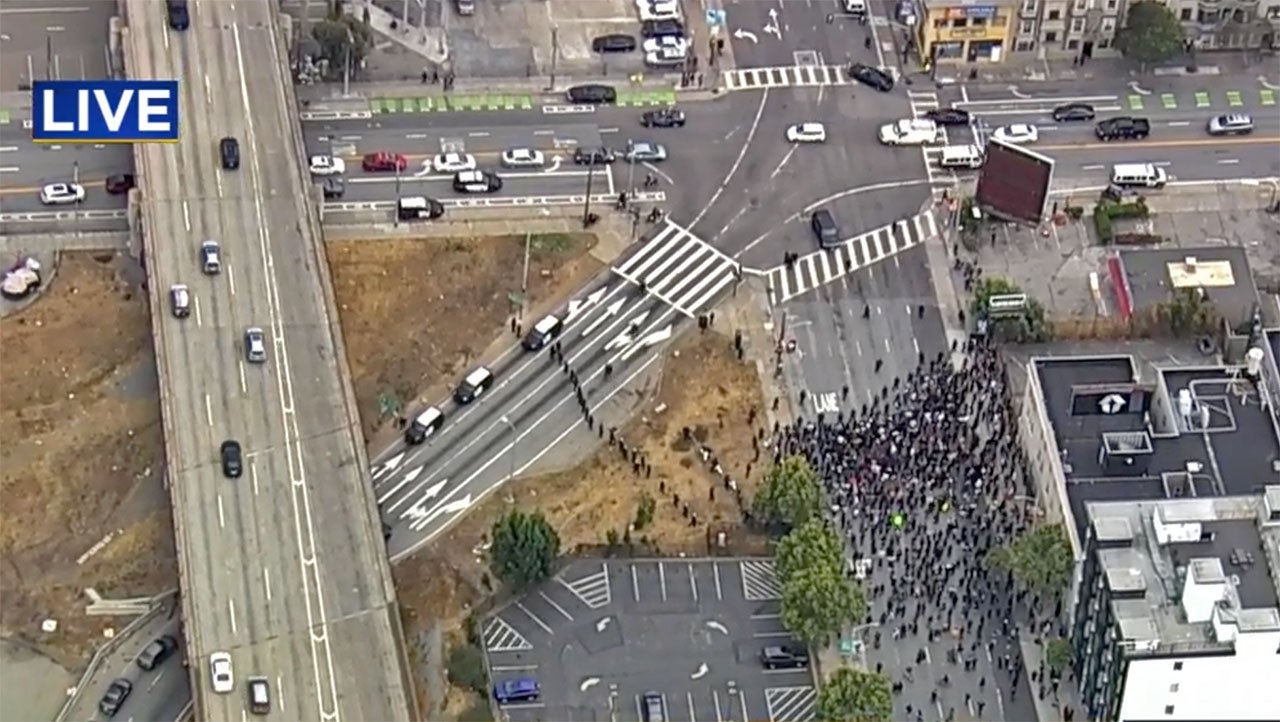 After almost two hours at City Hall, the assembled throng began to move in an orderly march to Market Street and east toward the Ferry Building. There, they turned south and began walking along the Embarcadero then up Harrison Street where they were met with a police line at the intersection of Harrison and Main streets. Diverted, they moved over to Folsom Street and headed southwest, assembling at the I-80 Fremont Street off-ramp where they were again blocked by police.
Moving steadily westward, marchers repeatedly attempted to access the freeway but were turned back by police, and finally appeared to end the attempt as they turned at Fifth Street and headed toward Market Street before turning southwest onto Mission Street at the Old Mint.
By 6 p.m., what was left of the march had gathered outside the police station at Valencia and 17th in the Mission District. While protesters were vocal and sometimes abusive with their language, things remained peaceful.
The group eventually moved away from the station, heading to 16th and Mission as of about 6:50 p.m. The protesters eventually made their way back to City Hall.
While protesters gathered in San Francisco to denounce the killing of African Americans at the hands of police, some said any hope of change lies in the hearts and minds of white Americans.
"They feel angry when we gather, when we march, when we protest peacefully or not," said one young African-American woman with a bullhorn. "They feel that anger, but one thing they will never feel is the fear of being born with a target on your back."
Earlier, the crowd gathered at United Nation's Plaza discussed the treatment of black people in today's America. The killing of George Floyd is only the latest incident, but the seemingly endless string of African Americans deaths at the hands of police have had a cumulative effect.
"We don't forget. We always remember and we're always on edge," said SF resident Terrence Paschal. "As a black man, I'm always on edge. Every time I get pulled over I think, this could be -- I don't know who's pulling me over -- this could be my last night. And it's…it's been building."
But it only takes one look at the crowd at Saturday's protest in San Francisco to note one curious fact: many of the protesters were white. And while it may be true that they cannot understand what it feels like to be black, an African American man named Mark said those people actually hold the key to genuine change.
"That's going to be the difference: the white voice," said Mark. "It really is. Because they're not going to pay black people's voices any mind. They don't. It's wrong, but they don't. It's that crowd right there, white America, that makes a difference, because it's starting to hit home to them."
But as the group took to the streets for a march to City Hall, Frank Perri was worried as he watched workers board up the windows of his building.
"I can understand their anger about it, but it gets to a point where it goes beyond that and other people suffer as well" Perri said. "Maybe that's what they're trying to express but, on the other hand, it affects me."
The feeling of many is that's what needs to happen. People who may not agree with racial injustice have been willing to accept it as an unfortunate fact of life.
"I think we need to just come together and people need to start taking responsibility," said Heather Freeman, a young white woman living in San Francisco. "We can't just be like, 'Oh, I'm against this,' but not really take any action."
And those who are the victims of racism say until everyone feels the pain, it will likely continue. That was Mark's message to the crowd:
"Where's the missing piece?" he asked. "The missing piece is the good white people's voices!"
John Ramos contributed to this story.
Thanks for reading CBS NEWS.
Create your free account or log in
for more features.