August Tropical Thunderstorm Rocks Bay Area; Lightning Strikes Spark Widespread Wildfires
SAN FRANCISCO (CBS SF) -- A rare August severe storm system rolled through the San Francisco Bay Area early Sunday, packing a combination of dry lightning and high winds that triggered wildfires throughout the region.
The National Weather Service on Sunday extended a red flag fire warning for the entire Bay Area until 11 a.m. Monday morning.
"Any lightning strikes will likely lead to new fire starts given the current heat wave," forecasters warned. "A secondary pulse of moisture and instability arrives later Sunday into early Monday."
According to the weather service, the bizarre storm system was being spun into the Bay Area from Tropical Storm Fausto off Mexico's West Coast.
High winds downed PG&E lines, triggering power outages from neighborhoods in San Rafael all the way into western Marin County. Utility officials said there were thousands of others throughout the Bay Area.
Sunday morning, utility officials said 57,410 customers without power -- a majority due to the lightning strikes. Those numbers were concentrated in the North Bay. By early Sunday evening, there were still some outages, but the numbers had been greatly reduced though there were still over 3,000 customers without power in Livermore and a similar number affected by a pair of outages in San Jose.
In Santa Clara County, fire officials said downed power lines sparked a fire in an unincorporated area on Brush Road near state Highway 17 that started just before 3 a.m. and forced the evacuation of 20 residents. It was contained by 6 a.m. after burning a little more than an acre.
Bay Area firefighters were busy as the storm moved through. The Calfire Santa Cruz-San Mateo tweeted that its crews responded to a total of 22 separate fires since 1 a.m. Sunday morning.
"Most presumed to have started from lightning strikes," Calfire officials tweeted. "Forward progress has been stopped on most of these fires. We're working to get more resources, stretched thin due to heavy fire activity."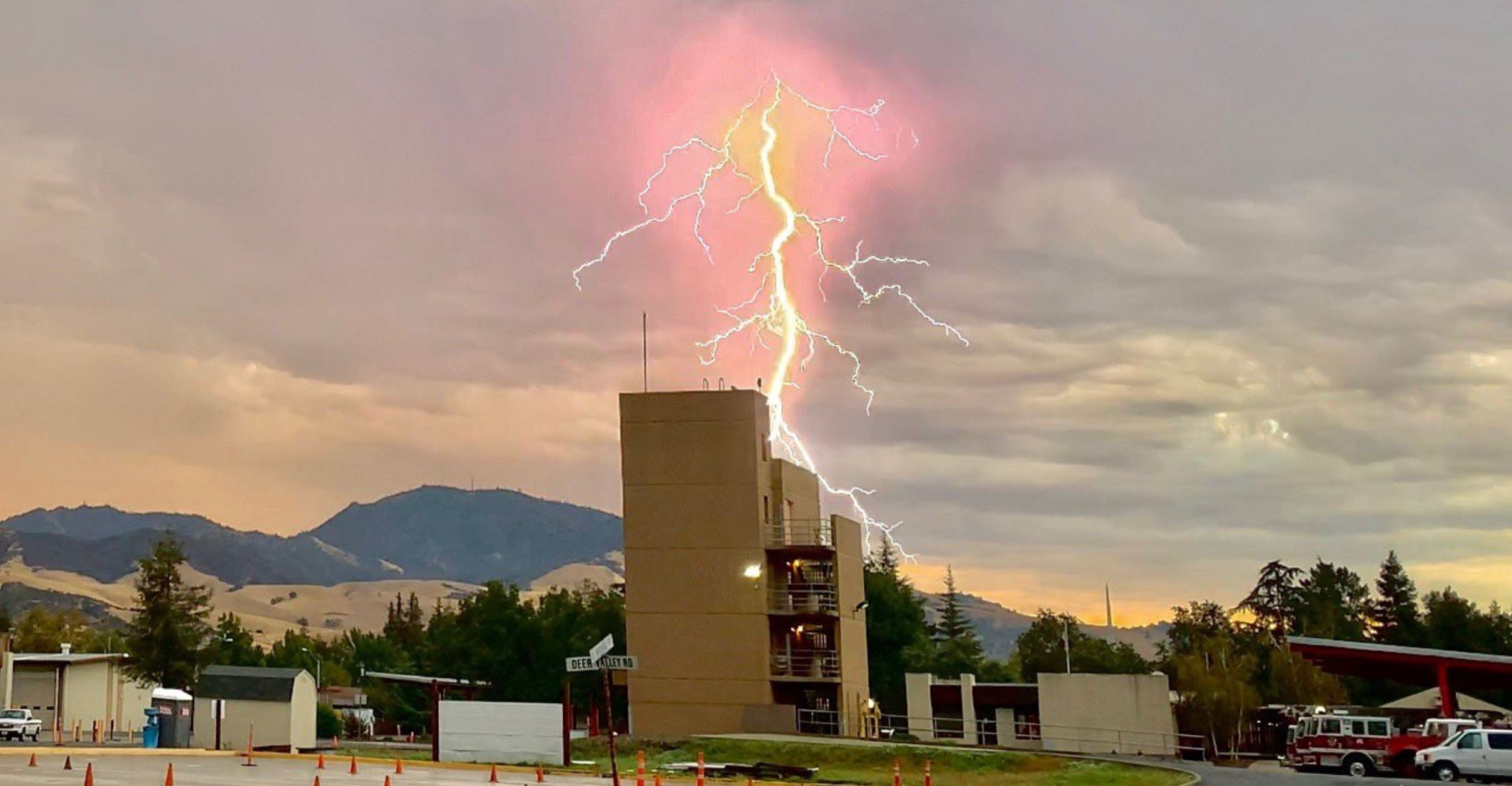 PG&E webcams captured images of a rather large wildfire in the Santa Cruz Mountains at around 5:30 a.m. Additional strike teams were rushed to the area by 6 a.m. with high winds spreading the fire and threatening structures. Air support was requested to begin at daylight.
Marin County Fire reported at 4:15 a.m. that its crews were "responding to numerous lightning strikes in the area of King Mountain and San Geronimo and throughout the county. No current evacuation orders or warnings in place."
Later, there was a fire at the base of Mount Barnabe that had grown to 10 acres and was about 60 percent contained.
Cal Fire sent crews to a lightning cause fire in the area of 20730 Brush Road in Redwood Estates Area that initially threatened homes and forced some evacuations before forward progress was halted around 4 a.m. Another wildfire erupted near Highway 1 north of Davenport and had grown to 15 acres and was 25% contained by 11:25 a.m.
Crews were also dispatched to battle a growing vegetation fire in the area of 5201 Arroyo Road in Livermore. By 6:35 a.m, Calfire reported that firefighters had aggressively attacked the 2-alarm Arroyo fire, a blaze fueled an Eucalyptus grove, and had held it at 50 acres and with 50% containment.
Meanwhile, the Sonoma County Sheriff's Department alerted that "law enforcement and fire personnel are receiving multiple calls for service involving downed trees and powerlines. A few spot fires within the county have also been reported."
In Contra Costa County, there were several fires in the area of Morgan Territory and Marsh Creek roads near Mt. Diablo State Park. By 10 a.m. the Deer Valley Complex fires had grown to a total of 100 acres with zero containment.
"No evacuation has been ordered at this time, however it is possible one may become necessary," Cal Fire officials said. "Gather any essential items you could carry with you, including medications, baby supplies, money, important papers, photos. Locate any pets and be prepared to cage or leash them."
RELATED: August Thunderstorm Rocks San Francisco Bay Area; Lightning Strikes Spark Widespread Wildfires
Multiple agencies - including Cal Fire, the Contra Costa County Fire Protection District, East Contra Costa Fire Protection District and San Ramon Valley Fire Protection District -- responded Sunday morning to the area.
East Contra Costa Fire Protection District officials reported there were three fires burning in the area -- south of Briones Valley Rd, at Marsh Creek Rd and Deer Valley Rd. and inside of Round Valley Regional Park.
"Approximately 25 fire units are on scene with more enroute," the agency said in a tweet. "Lightning has been striking the hills all around in the area while we are trying to contain the blazes."
In the South Bay near Salinas, firefighters were battling a growing 20-acre blaze in Pine Canyon.
The smoke-filled Bay Area skies also led to an air quality advisory being issued through Monday.
"Numerous lightning strikes overnight have sparked wildfires across the region," air quality officials said Sunday. "Air quality may deteriorate in areas near or downwind of the fires...If the smell of smoke is present, it is important that Bay Area residents protect their health by avoiding exposure."
The intensity of the storm system triggered an early morning severe thunderstorm warning for the entire San Francisco Bay Area. The warning for Contra Costa, Alameda, Napa, San Francisco and Santa Clara counties was extended until 8 a.m. and even after it expired the lightning and thunder continued.
The weather service also issued a special marine warning for the waters of San Francisco, San Pablo, Suisun Bays and the west Delta.
Bay Area residents also took to social media with remarkable images of the lightning storm. Many commented how strange it was to experience a "midwest" style lightning storm in the Bay Area.
The National Weather Service said wind gusts generated by the fast-moving system were being clocked as high as 66 mph. NWS Forecasters reported gusts of 66 mph on Atlas Peak, 65 mph at Hawkeye, 48 mph at St. St Helena, 45 mph on Mt. Tam and 42 mph on Mt Diablo.
"The cluster of severe thunderstorms are generating extremely strong erratic wind gusts which can cause downed trees, power lines, and other structural damage as well as difficulty driving," NWS forecasters tweeted.
They also posted on Twitter a photo of a massive, rare "roll cloud" along the Santa Cruz Coast shortly before 3 a.m.
The storm came as the region has been locked into a sweltering heat wave. Record temperatures again fell across the region on Saturday and the early morning rains would only provide a brief respite. Forecasters predicted another four days of temperatures in the triple digits in the inland areas.
Thanks for reading CBS NEWS.
Create your free account or log in
for more features.