Protest Over Recent Horse Deaths Shuts Down Golden Gate Fields Vaccination Site
ALBANY (CBS SF) -- Berkeley and Albany police on Thursday were called to a protest at Golden Gate Fields demanding the track be closed that shut down a nearby COVID vaccination site for hours, according to authorities.
The protest over recent horse deaths at the race track involved a group of about 30 animal activists, including five protesters who chained themselves to a fence, Berkeley City Communications Director Matthai Chakko told KPIX.
Officers from both the Albany and Berkeley police departments responded to the protest, Chakko said. However police did not have any information regarding arrests.
The protest started shortly after 12:30 p.m.
Police said the protesters were at two separate locations at Golden Gate Fields and that some of the protesters entered area of the vaccination site in the track's parking lot.
According to a Twitter post by the official Golden Gate Fields account, the protest led to the closure of the site and the cancellation of "hundreds" of vaccine appointments.
Police could be seen turning away some people who had driven up to the Golden Gate Fields entrance.
The animal rights activist group Direct Action Everywhere was claiming on their social media account that the protest was intended to disrupt scheduled races on Thursday.
A press release issued by the group said that four Bay Area residents participating in the protest had locked themselves together on the track with heavily-weighted PVC pipes and lit purple smoke flares.
The press release said the group was calling for Golden Gate Fields to be shut down and cited "dozens of horse deaths over the past year, as well as widespread COVID outbreaks among workers at the facility."
A group of protesters could be seen at one location outside the facility with a large banner that read "SHUT DOWN GOLDEN GATE FIELDS" along with some holding smaller signs with the same message.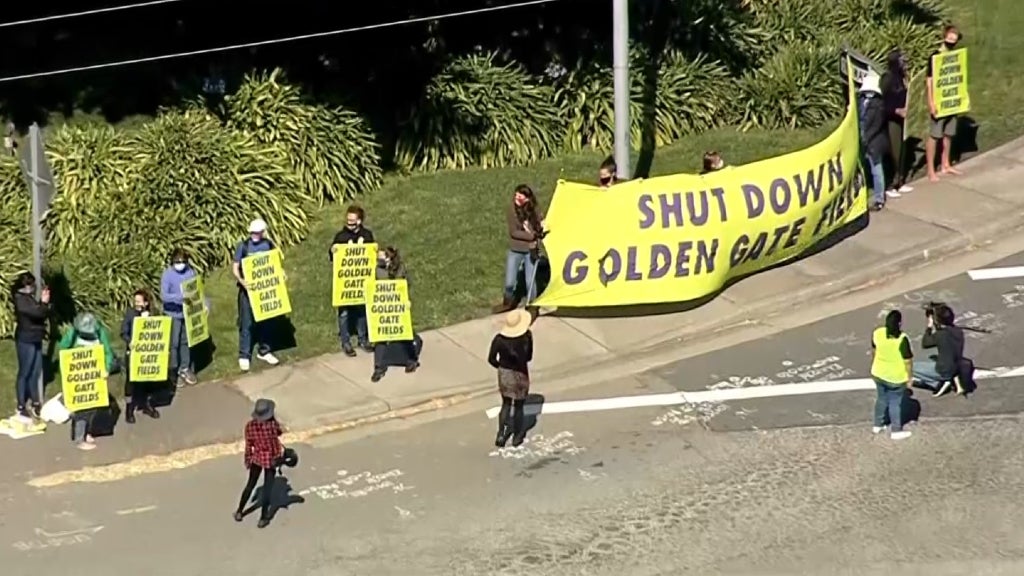 According to the California Horse Racing Board's website, there have been five horse deaths at the track so far this year, the most recent being the death of a 3-year-old filly named Okayo on February 23rd.
Direct Action Everywhere also noted in their release that the organization supported the vaccination efforts at the site located at the facility.
Some people who were forced to wait in long lines to make their vaccination appointments were not happy with the protesters.
"It's COVID, which is killing people. To me it's inconsiderate of them at this point," Johnell Fields told KPIX while waiting in his car for his shot. "People are dying everyday and they are worried about horses at the present time. I think they would worry about the human beings that are going through the fact of dying."
"I think it's just kinda crazy, but everybody has a right to an opinion and to protest and I really support that," said Georgette Endicott, who was also waiting in line. "So it's an inconvenience, but eventually I'll get a shot."
Almira Tanner with Direct Action Everywhere insisted her group was not at fault for the delays and stood by their decision to hold the protest.
"That responsibility is on the Albany police department. They could open that vaccine site. We are posing no danger to the public at all," said Tanner. "I understand that they are upset at the right parties, which is the police department making that decision."
Chakko later told KPIX that the site was able to reopen at around 3 p.m. He said that two engines were deployed to the site by both the Albany Fire Department and the Berkeley Fire Department in order to set up additional vaccination stations.
"We're hoping that with these extra personnel, we'll be able to get through as many people as possible who have been waiting," Chakko said in an email. "Nonetheless, we anticipate that 200 people will have been prevented from getting their vaccinations."
He also noted that Curative Inc., the site's medical provider, would be getting in touch with individuals who were kept from getting to their vaccination appointments over the next couple days to reschedule.
Andria Borba contributed to this story.
Thanks for reading CBS NEWS.
Create your free account or log in
for more features.