LNU Lightning Complex: Focus Moves To Hennessey, Walbridge Fires; Evacuees Returning; National Guard Arriving
HEALDSBURG (CBS SF) -- A major firefighting effort was being directed Wednesday at the northern end of the Hennessey Fire, burning just south of Middletown in Lake County, Cal Fire officials said Wednesday.
With its 7 p.m. update on the LNU Lightning Complex fires, Cal Fire said the total acreage consumed had risen to 360,868 with containment at 33 percent. A total of 1,080 structures have been destroyed and 272 structures have been damaged.
At around 6:30 p.m., Cal Fire issued a new evacuation order in the northern area of the fire that affected Yolo County (Zone 2) and evacuation warnings in Yolo County (Zone 3) and Lake County east of Old Long Valley Road/ New Long Valley Road extending north to the Lake/Colusa County line, north of Highway 20 and south and west of the Lake/Colusa County line.
"It's our top priority," said Cal Fire operations section Chief Chris Waters at a Wednesday briefing. "All the resources on this fire have started to coalesce in that area so we can start to close this thing off," Waters said.
Firefighters have made steady progress on the two blazes in Sonoma County: the Meyers Fire near Jenner, which is 97 percent contained, and the Walbridge Fire, which is 19 percent contained. Sonoma County officials on Tuesday lifted evacuation orders for thousands of people, allowing them to return home.
Still, the Walbridge Fire -- which has burned a large though as yet not precisely tallied number of homes -- remains a tough fight, Waters said.
"It offers some significant challenges, heavy fuels, steep and broken terrain, it's very difficult terrain to work in ... Also a lot of homes and a lot of structures we have to work around," said Waters. "We continue to make good progress in tying together vineyards, people's backyards, strategic points ... and we're still working to tie a lot of line together and put some line around this whole fire."
LNU LIGHTNING COMPLEX:
Both the Walbridge and Hennessey fires are part of the LNU Lightning Complex fires that are burning in six counties -- Sonoma, Napa, Lake, Solano, Yolo and Colusa -- and have killed five people and destroyed 978 homes and other buildings. It is the third-largest fire in the state's recorded history.
Of the Walbridge Fire, Kavanaugh said, "We do have the cooperation of the weather right now. We have to take advantage of that, we have to be opportunistic."
Crews battling the Walbridge Fire on Wednesday were working with parks officials to protect Armstrong Redwoods State Natural Reserve and the beloved Colonel Armstrong tree, a Cal Fire Division Chief said Wednesday.
A giant coastal redwood roughly 1,400 years old, the Colonel Armstrong tree was successfully defended after flames moved into the park Monday, Cal Fire Division Chief Ben Nicholls said. Members of the public had voiced concern about the preserve during a news conference.
Crews were laying hose to ensure that flames don't move down the slope and into the 805-acre park's floor, Nicholls said. In the park, he said, the fire was low-intensity, limited to "roughly 4-inch-tall flames" and moving through dead and decomposing organic materials: "as a whole, a very healthy and productive fire."
Earlier Wednesday, a wave of emotions and relief swept over wine country Wednesday as local residents forced to flee were allowed to return to their homes as firefighters expanded containment. For the vast majority, their homes remained as they left them. For a few others, they were returning to a devastating scene of their homes and possessions destroyed by the fires that were ignited by lightning strikes early last week.
Among the areas where residents will be allowed back to will be Spanish Flats, a Lake Berryessa western shoreline community where flames roared through the Spanish Flat Mobile Villa, reducing homes to ashes and vehicles to piles of melted metal.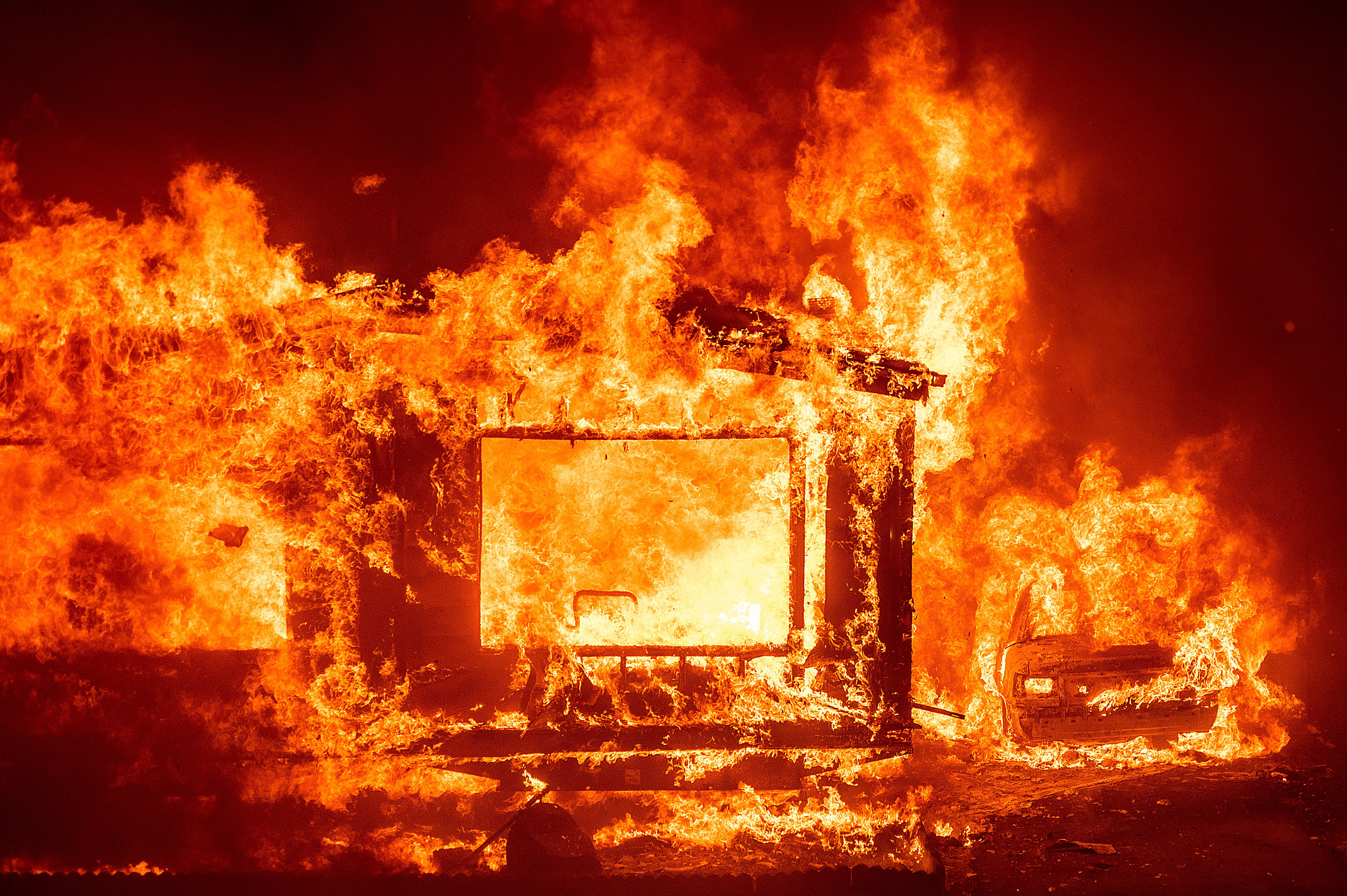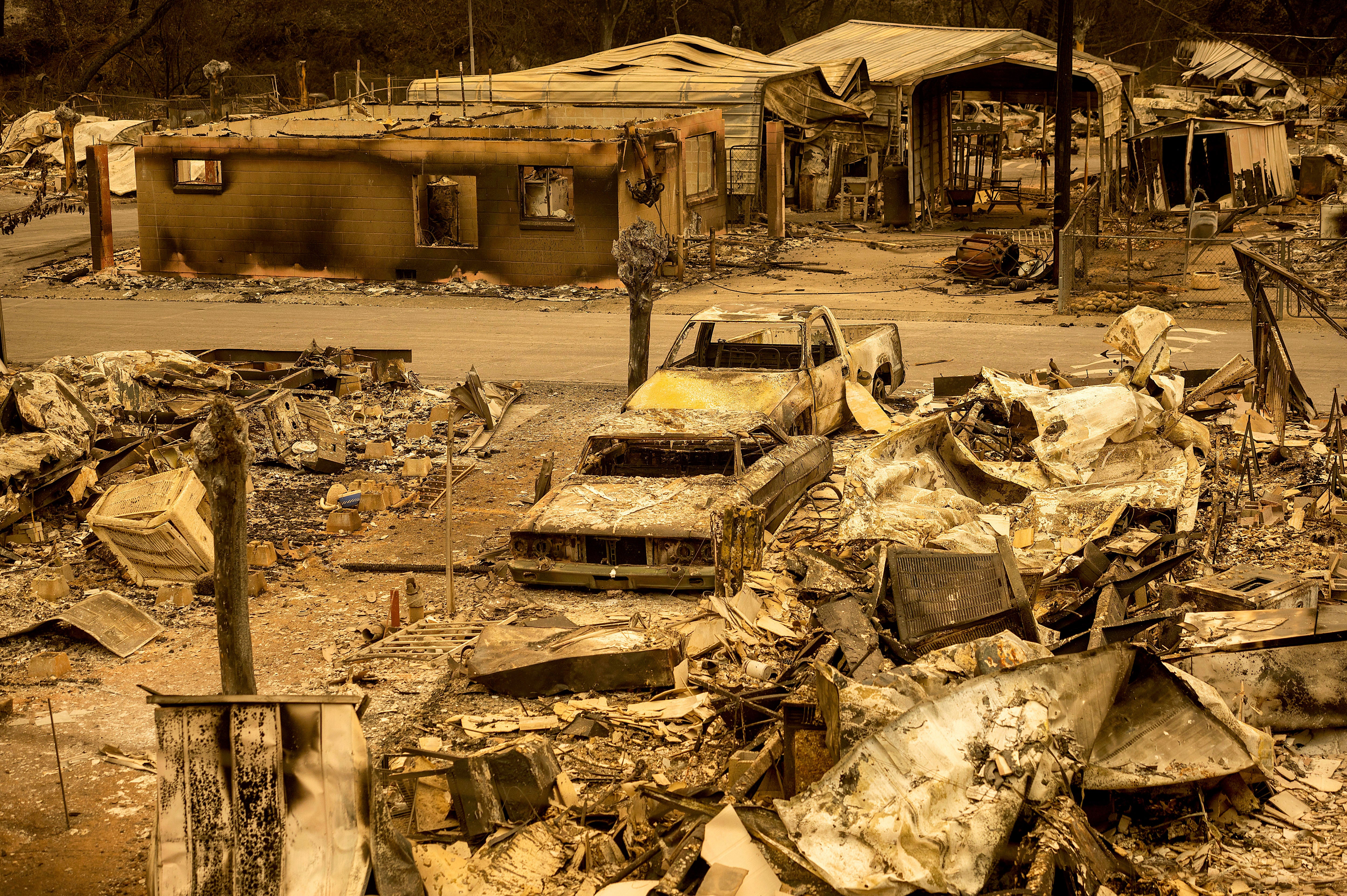 In Vacaville, 76-year-old Art Thomas said he found only ashes and melted metal at the site of the home he built with his own hands in a rural area where he had lived for 32 years.
"Possessions dating back to when I was a kid were all in the house, everything is gone," Thomas said. "Between sad, crying, laughing — every emotion is there."
He said he had left with his wife, two dogs, a pair of shorts, and tennis shoes.
So while some orders were lifted, officials were quick to point out the battle was far from over with the fire complex that had grown to 357,046 acres and had officially claimed five lives. Containment of the complex fires stood at 33 percent.
Overnight, the SCU Lightning Complex grew to more than 365,772 acres to surpass the LNU Complex as the state's second-largest wildfire outbreak in history.
LATEST ON NORCAL WILDFIRES:
"Every percent of containment is hours and hours of sweat and blood up on those lines," Cal Fire spokesman Jonathan Cox told reporters Tuesday night.
And the dynamic nature of the fire was playing a major role in containment. The Meyers Fire was at 97 percent containment while the Walbridge Fire was at 19 percent and the Hennessey at 33 percent.
"This incident is very dynamic," Cal Fire Chief Shana Jones told reporters. "Some parts are in mop-up and patrol...Other areas have active fire. That means you will still see smoke, there still will be flames, you will see folks still being evacuated and out of the area. There is a lot of information flowing from north to south, east to west on this incident. Each part is dynamic."
The National Guard hand crews will join a small army of firefighters that has grown to more than 2,000 as additional relief crews from around California and nearby states have been arriving each day. There were 91 engine crews on the line from eight states -- Arizona, Idaho, Nevada, New Mexico, Texas, Oregon, Utah and Montana.
"Originally in the incident, resources were definitely stretched thin," said Paul Lowenthal, a Cal Fire spokesman who is also Santa Rosa's Assistant Fire Marshal. "Firefighters were working 72, 96 hours straight. We have since then had a significant number of firefighters assigned to this incident. So firefighters are able to have their [24-hour] shift on / shift off."
On Tuesday, firefighters were also assisted in their efforts to contained the massive complex by a sky filled with helicopters and air tankers making water and retardant drops.
"Numerous firefighting air tankers from throughout the state are flying suppression missions as conditions allow," Cal Fire officials said.
As firefighters have started to bring the blazes to heel, government officials have started to speak of recovery. Rep. Mike Thompson, D-St.Helena, on Tuesday called attention to federal funds disaster relief funds that are now available.
Individuals are eligible for up to $35,000 in grants to meet needs including building or repairing property, temporary housing, counseling or legal services. Individuals are also eligible for Small Business Administration recovery loans of up to $40,000, while nonprofits and businesses are eligible for loans of up to $2 million.
For more information, people can call (800) 621-3362 or go to disasterassistance.gov for individual grants, or disasterloanassistance.sba.gov for business loan information.
© Copyright 2020 CBS Broadcasting Inc. All Rights Reserved. This material may not be published, broadcast, rewritten, or redistributed. Bay City News Service contributed to this report.
Thanks for reading CBS NEWS.
Create your free account or log in
for more features.