Hurricane-Force Diablo Winds Fan Massive Kincade Fire; Acreage Doubles To 54,000
WINDSOR (CBS SF) -- Wind gusts topping 80 mph created blowtorch-like conditions in Sonoma County along the massive Kincade Fire lines Sunday, fanning the out-of-control blaze into a wall of flames that approached the outskirts of Windsor and led to a new evacuation warning in neighboring Napa County.
Cal Fire reported at 6:30 p.m. that the Kincade fire had grown to over 54,000 acres and containment dropped to 5% from 10%. The City of Calistoga was under an evacuation warning as flames from Kincade Fire moved east toward the Napa County border.
Two firefighters were injured Sunday fighting the blaze, Cal Fire Division Chief Jonathan Cox said during an afternoon press conference. One suffered minor burn injuries, but another suffered significant burn injuries and had to be airlifted to the UC Davis Medical Center.
At least 94 structures have been destroyed and another 17 damaged, Cox said. It was not known how many structures burned were residences, commercial buildings or other structures. Another 80,000 more structures are still threatened by the wildfire, he said.
Cal Fire Sunday 6:30 pm Kincade Fire Update
Updated list of evacuation zones, which now include parts of Napa County
Around 10:15 p.m. Sunday evening, the fire flared up again in the area of Markwest/Larkfield Wikiup, where mandatory evacuations had previously been issued. Deputies were using Hi-Lo sirens on Faught Road from Shiloh to Old Redwood Hwy in Larkfield-Wikiup. "If in this area, you need to leave immediately!" the Sonoma County Sheriff asserted to people that hadn't yet left.
Sonoma County Sheriff Mark Essick said Cal Fire and assisting crews stopped the fire near the northeast edge of Windsor earlier Sunday.
Essick said the magnitude of this event struck him while visiting evacuation shelters.
"There is certainly a sense of fear out there," he said. "A lot of people have questions about what's going on."
"Ladies and gentleman, we are doing the right thing by keeping you out of these evacuated areas," he said.
San Francisco mayor London Breed issued a proclamation Sunday evening declaring a local emergency to provide shelter for Kincade Fire evacuees. The city will open a temporary disaster shelter to help those displaced by the fire at the Cathedral of St. Mary of the Assumption at 1111 Gough Street.
"San Francisco stands with our neighbors to the north and is ready to help in every way we can," said Mayor Breed. "Our City departments are working in unison to provide shelter and care to those who have been displaced, while first responders continue to fight the fire in Sonoma County."
More than 200 law enforcement officers were patrolling the evacuation zones for safety and to prevent looting.
Essick said there was one arrest Sunday of a suspicious person in one of the evacuation zones who could not provide a location for where they were headed.
The conditions that are making the Kincade Fire so dangerous will remain in effect in the coming days as PG&E warned of another wind event and possible power shutoffs beginning Tuesday.
Early Sunday morning, a wall of fire was rapidly approaching Windsor, triggering a frantic call from the Sonoma County Sheriff's Department for the town's 28,00 residents -- who had ignored a mandatory evacuation order Saturday -- to flee immediately.
"Heavy smoke, debris and strong wind reported near Brooks and Arata in Windsor," the department urged in an online alert. "If you are in Windsor you need to get out now."
Firefighters were able to stop the fire at the edge of the city, but not before at least one home burned down.
"There was nothing we could do to save it," said Sonoma County Fire District Battalion Chief Kevin Janes. "Spot fire got out ahead of us, didn't have an engine that we could get up here really available, because we're stretched to these other houses down below."
Windsor resident Dan Golden was one of those who refused to flee. He was determined to fight the fire on his own if he had to and bought a fire hose. He said he also learned how to use a fire hydrant on YouTube. "I didn't want to take a chance on losing everything," Golden said.
Cal Fire said the blaze had jumped containment lines on Highway 128.
"There were containment lines that were overtaken by the fire," Cal Fire spokesman Brian Vitorelo said early Sunday. "The fire continues to increase."
Sonoma County deputies also said the fire had advanced into southwest edge of Geyserville near Chalk Hill Road. The strong winds had toppled trees onto Chalk Hill Road, making any escape difficult for residents who had ignored the earlier evacuation order.
The sheriff's department also said "unconfirmed reports suggest that the fire is 'well established' south of 128, about 8 miles away from Healdsburg."
The fire devastated the Soda Rock Winery in the Alexander Valley overnight, leaving many of the structures in smoldering ruins by daybreak.
The mandatory evacuations that had forced more than 100,000 residents from their homes from Geyserville to Healdsburg west to the Pacific Ocean were expanded to neighborhoods in Santa Rosa and Sebastopol by early Sunday morning.
There were mandatory evacuations in effect for Calistoga and the surrounding area per these coordinates:
North of Diamond Mountain Road to Dunaweal Lane
East of Sonoma County Line
South of Lake County Line
West of Pickett Road
A map of evacuation the evacuation area can be seen at this link.
This advisory includes Oat Hill Road and Livermore Road at the Napa and Lake County line.
79 structures have been destroyed, including 31 homes. Over 80,000 structures are currently threatened.
The Sonoma County Sheriff tweeted early Sunday that 180,000 residents were under evacuation order due to the fire.
Patients at Santa Rosa's Sutter Hospital were evacuated Saturday night as precaution and inmates being held at the North Couty Jail were moved to Alameda County.
The Santa Rosa Police Department expanded the evacuation area at 5:32 a.m. to "all areas in the city limits of Santa Rosa west of Highway 101 and north of Highway 12, north of Steele Lane, Lewis Road, Chanate Road to Montecito Boulevard to Calistoga Road."
"Head south," the department told the new evacuees.
"We are going to get out stronger, meeting Mother Nature's fury," Governor Gavin Newsom said at a press conference in Petaluma.
The California Highway Patrol said early Sunday it had closed a 30-mile span of "Highway 101 northbound at Hopper Ave. in northern Santa Rosa and southbound at Cloverdale Blvd South in Cloverdale. The highway will be closed indefinitely."
By shortly before 7 a.m., the incident had cleared and a portion of Highway 101 had reopened.
At a Saturday evening news conference, Sonoma County Sheriff Mark Essink had urged residents to please leave their homes, telling it could prove deadly if they chose to attempt to battle the destructive Kincade Fire themselves.
"I'm seeing people reporting that they're going to stay and fight this fire," Essick said. "You cannot fight this. Please evacuate."
Conditions began rapidly deteriorating after midnight. The National Weather clocked wind gusts around 40 mph in the fire area, then to 50 mph, then to hurricane force levels of 70 mph.
By 2:30 a.m., the gusts had topped 80 mph in the Healdsburg Hills with humidity levels dropping to a bone-dry 10 percent. A combination known in Northern California as the deadly and destructive Diablo Winds.
"The latest automated weather observations indicating wind gusts over 70 mph at several gauges in the higher terrain in Sonoma County, with a couple gauges now reporting sustained winds over 50 mph with gusts over 80 mph," forecasters said.
The National Weather Service reported that its gauges had clocked a gust of 93 mph in the Healdsburg Hills at 5:50 a.m.
"The wind speeds are extreme...The strongest winds I have felt in my career," Cal Fire Capt. Robert Foxworthy told KPIX 5 Sunday morning. "They (the winds) are throwing embers a considerable distance in front of the main fire, causing spot fires, creating a real challenge for the crews fighting the fire."
"If we were to let one of these homes burn, it could very easily spread to the next to the next to the next. We've seen that in some of the areas, classic example, of that in this area is Coffey Park in 2017. All the homes were destroyed. It only started with one home, and it eventually spread to all the rest.," Foxworthy said.
That's why Cal Fire strategically positioned trucks all through the neighborhood to look for spot fires and attack them as soon as they start. In this case, the trees caught the roof of the house on fire and that spread to the attic.
"Looking in the yards, looking for smoke coming from behind the homes, in and around the fences, things like that. Anywhere we may see smoke or a small spotter fire, that's where we go there and attack it," Foxworthy said.
The biggest challenge Sunday was the unpredictable, gusty winds that often times blew embers hundreds of yards or even a mile ahead of the main fire.
Officials said evacuations centers in Petaluma had filled to capacity and the Finley Center in Santa Rosa had been closed by a new evacuation order. Evacuees were being advise to head to the Marin County fairgrounds.
Weather Service forecaster Ryan Walburn warned on Saturday evening that the winds would continue to howl until mid-day Sunday.
"The winds will blow for most of the night into mid-day Sunday," he said. "There will be little reprieve from the wind speed."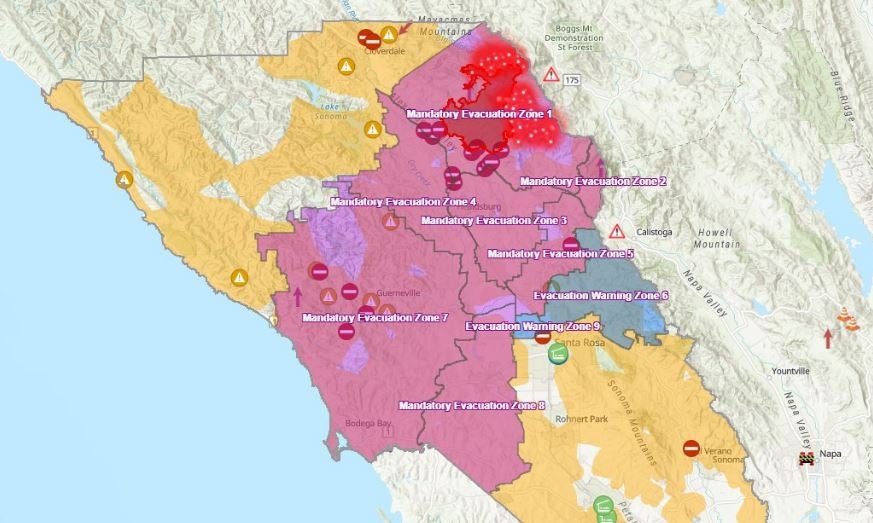 By Saturday night, the Kincade Fire, which erupted near Geyserville on Wednesday had grown to more than 25,000 acres and destroyed 77 structures including 31 homes. Three injuries had been reported of a firefighter and two residents he saved from the deadly flames.
The threat of wildfires elsewhere forced Pacific Gas and Electric officials to shut off power to more than 2 million residents from the Bay Area to the Sierra including the Sonoma County fire zone.
"We don't do this because it's the easy thing for us to do, we do it because it's the safe and right thing for us to do," said Andy Vesey, Utility CEO and President at PG&E. "It's a challenging thing to do, but the number one priority we have is your safety."
Thanks for reading CBS NEWS.
Create your free account or log in
for more features.