Hurricane-Force Winds Batter Sonoma County; Wind Storm Causes Widespread Damage, Power Outages
SANTA ROSA (CBS SF) -- Hurricane-force winds ripped through Sonoma County for more than three hours early Tuesday with gusts of 90 mph or higher in the Mayacamas Mountains, toppling trees and power lines and sparking a small wildfire near Geyserville.
Across the Bay Area, thousands woke up Tuesday morning in darkened homes. As of 4 p.m., 51,681 Bay Area customers were experiencing wind-related outages. The South Bay is the most impacted, with nearly 38,000 customers affected (12,098 in Santa Clara County and 25,885 in Santa Cruz County).
There was an additional 8,783 customers were impacted in the East Bay (7,194 in Alameda County and 1,589 in Contra Costa County) as well as nearly 4,000 in San Mateo County. There were minor outages in San Francisco, Marin, Sonoma and Solano counties.
The outages in the Bay Area are due to high winds, not public safety power shutoffs (PSPS).
The East Bay Regional Parks District shut down all ridgeline parks on Tuesday due to the high winds.
The strong winds also forced the National Park Service to shutdown access to Yosemite National Park for the day, but park officials later announced it would likely remain closed until Friday.
A post on the official Yosemite Twitter account noted that park would be conducting damage assessments, repairing facilities and clearing trees the rest of the week.
"While some facilities have been damaged, no injuries have been reported as a result of the high winds in the park," the post said..
The San Francisco Bay Area was under a High Wind Warning until 10 a.m. The National Weather Service reported gusts of 95 mph in the Sonoma hills, 82 mph near Middletown, 74 mph in the Healdsburg hills and 84 mph on Mt. Diablo in the East Bay.
Winds as high as 57 mph were clocked in San Francisco and 61 mph in Sausalito.
KPIX 5 Weather Center: Current Conditions, Maps, Forecasts For Your Area
Along with the high winds came an increased threat wildfires in the hills rendered tinder dry by drought conditions. Firefighters quickly responded to more than a dozen wind-whipped wildfires.
There was a blaze that burned about 10 acres near the Calpine geothermal plant area off Geysers Resort Rd. and a fire that forced some Milpitas homes to be evacuated Monday evening.
The Milpitas vegetation fire on a hillside near County Club Drive was first reported at 8:45 p.m. Police evacuated residents just briefly from four streets. No one was injured in the blaze and no structures were damaged.
Battalion Chief Jason Schoonover said the cause of the fire has not been determined. Winds helped spread the fire, which was contained to about two acres.
Another blaze ignited near the Altamont Pass Road. Approximately, 1 acre of mulch and debris burned before it was brought under control.
Firefighters were also battling vegetation fires in the Santa Cruz Mountains near Highway 9 and Skyline.
Elsewhere, the powerful winds toppled trees, left streets littered with leaves and branches and darken thousands of homes because of downed power lines.
In Los Gatos, the winds left Black Road filled with debris.
A home was heavily damaged in Santa Rosa by a downed tree in the 5000 bock of Middlebrook Lane. The large fir tree fell Wednesday evening.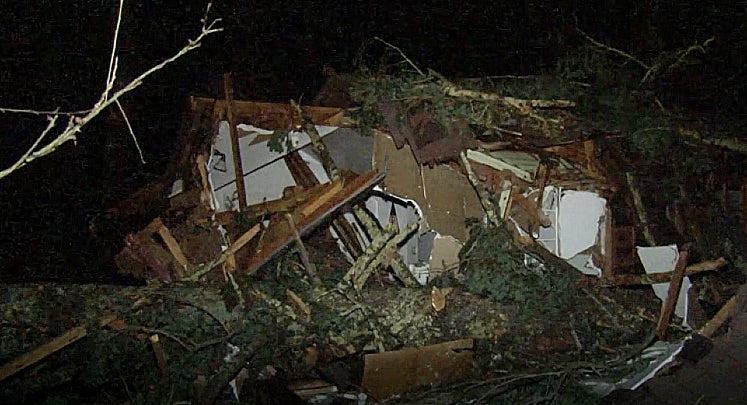 Calistoga city officials warned residents to trees and power lines were down in the 900 block of Foothill. Highway 9 in the Santa Cruz Mountains was also blocked by downed power and cable lines.
Downed power lines also shutdown I-680 between Scott Creek in Fremont and Jacklin Road in Milpitas for several hours before lanes were reopened late Monday night.
Meanwhile, BART service was halted Tuesday morning between Richmond and El Cerrito del Norte on the Richmond Line in the Berryessa, Richmond and Millbrae directions due to windstorm debris on the track. Service was restored by 8 a.m.
Strong winds in the Sierra also caused multiple power outages and shut down at least two Lake Tahoe ski resorts for the day.
The National Weather Service has issued a high wind warning through 7 p.m. Tuesday for the Lake Tahoe area, where gusts in excess of 130 mph were possible over the top of Sierra ridges.
Heavenly and Kirkwood mountain resorts announced they would not open Tuesday due to the winds.
Thanks for reading CBS NEWS.
Create your free account or log in
for more features.