SUV Rams, Injures 2 Demonstrators After Day Of Intense Police Clashes At San Jose George Floyd Protest
SAN JOSE (CBS SF) -- A frightening scene unfolded Friday night during a heated San Jose protest over an unarmed black man's death in Minneapolis Police custody as the driver of an SUV drove into a crowd and appeared to injure two people.
The incident was caught on video, and the driver appeared to deliberately back over one victim before speeding off.
UPDATE: Woman Arrested On Attempted Murder Charges For Allegedly Driving SUV Into San Jose George Floyd Protesters
It happened around 9 p.m. near the intersection of Sixth Street and Santa Clara, after a day full of demonstrations featuring multiple confrontations between protesters and police in riot gear. At least two people were injured, according to reports. Their condition is still unknown, as was the identity of the driver.
KPIX 5 reporter Maria Medina said that she and her crew ran from the scene in fear for their welfare as the incident unfolded, as did others in the area. She shared video from another witness on Twitter and said the mood at the protest turned somber immediately afterwards.
One witness said that a woman was behind the wheel of the SUV and was telling protesters to let her through because she had a child in the vehicle before the incident.
FULL COVERAGE: GEORGE FLOYD PROTESTS
The Santa Clara County Sheriff's Department later tweeted that a deputy was involved in an officer involved shooting at around the same time. It was not confirmed that the officer-involved shooting and hit-and-run incident were related.
Earlier, police had declared the protest an unlawful assembly, firing tear gas into the crowd of activists following a hectic afternoon of freeway shutdowns and smashed windows.
What began as a peaceful march through downtown, later spilled back onto city streets after activists had earlier shut down busy US Highway 101 in both directions for an hour, smashing windows of police cars and other vehicles during the angry protest march.
After shutting down the freeway, a growing crowd of protesters ended up gathering about a block from San Jose City Hall at the intersection of Seventh and Santa Clara Streets, where a line of police in riot gear stood across from the main group of demonstrators, with some activists coming closer to the officers waving signs and taking video with cell phones.
Police could be seen firing non-lethal projectiles into the crowd that gradually grew in size, numbering upwards of 1,000 people by some estimates.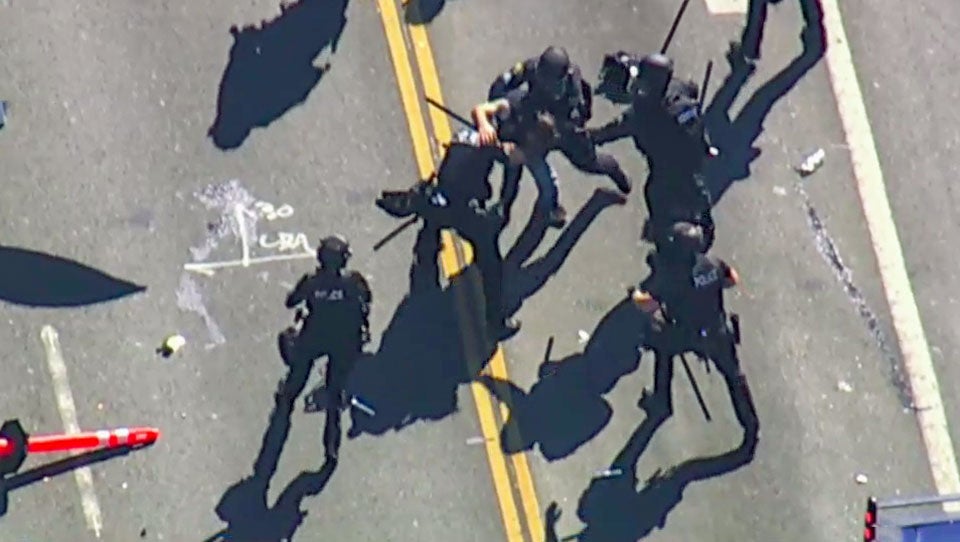 At least one demonstrator got in a physical confrontation with officers, scuffling with several policemen before being taken away.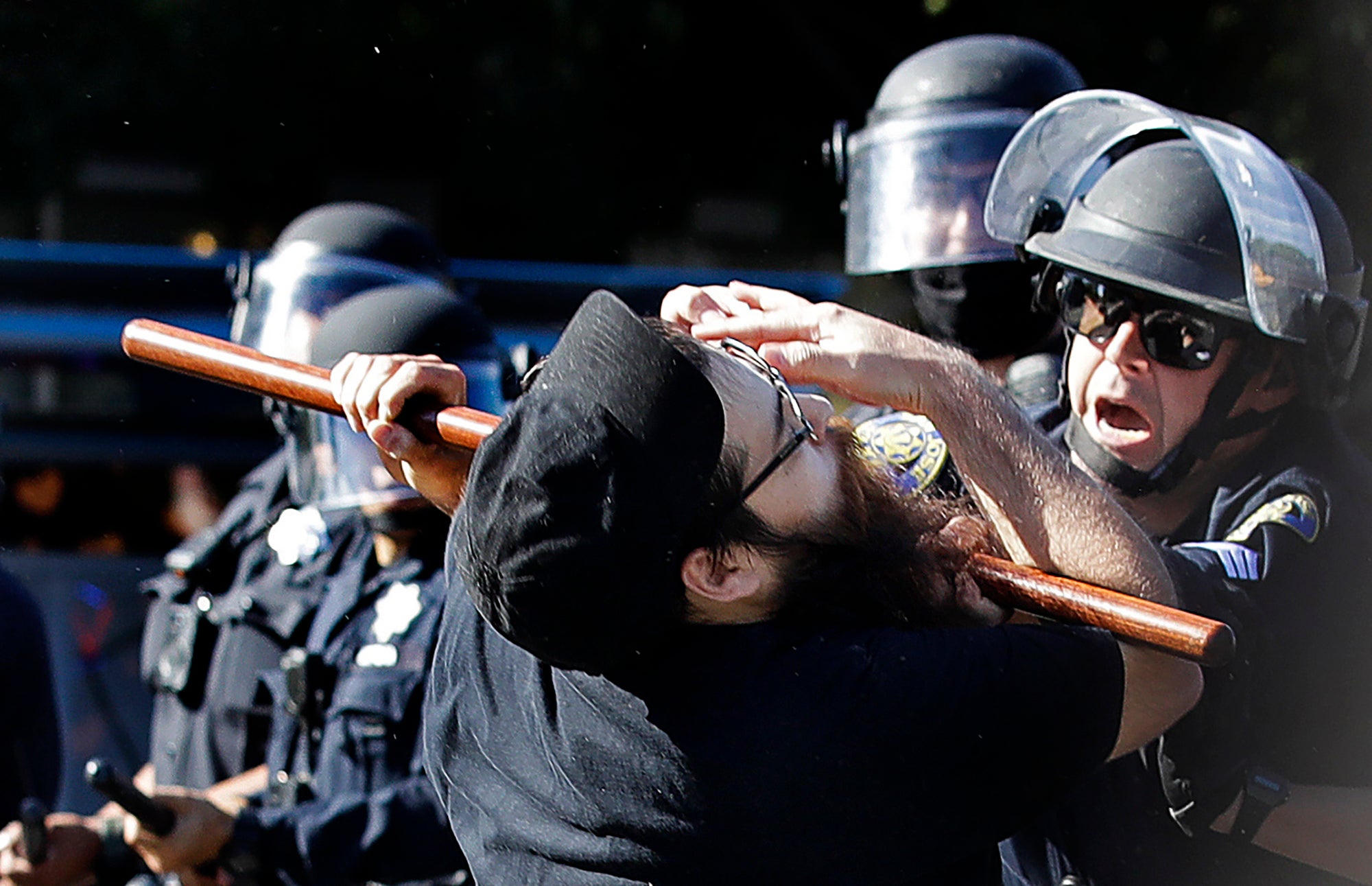 A protester is hit with a baton by San Jose police, Friday, May 29, 2020, in San Jose, Calif., as more demonstrations take place nationally after George Floyd died in police custody on Memorial Day. (AP Photo/Ben Margot)
In a separate incident, a San Jose police officer was knocked unconscious by a thrown rock before being helped by fellow officers into a police vehicle and taken from the scene. Protesters were also throwing plastic and glass bottles of water.
Shortly after 5:30 p.m., police announced that the protest had been declared an unlawful assembly and the crowd was ordered to disperse. The police line began to advance on the protesters down Santa Clara Street towards city hall with officers firing tear gas into the crowd.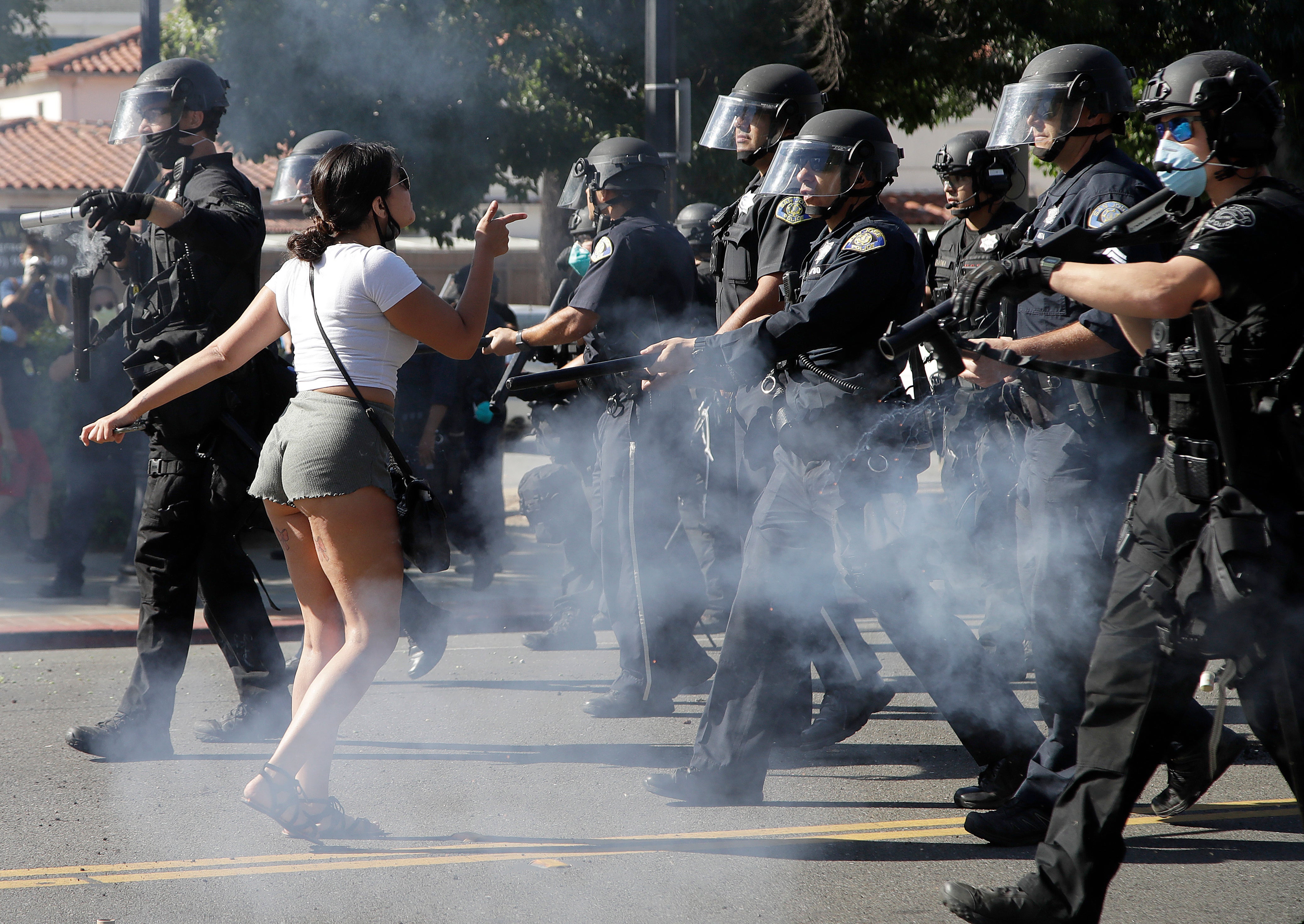 A protester confronts San Jose police as they advance on Friday, May 29, 2020, in San Jose, Calif., as people demonstrate nationwide in response to George Floyd dying while in police custody on Memorial Day, in Minneapolis. (AP Photo/Ben Margot)
Protesters continued to confront officers, leading to additional scuffles and arrests. Protesters could be hear chanting "Hands up don't shoot!" as they stood their ground or in some cases took a knee in front of the line of officers in riot gear. At least five or six more protesters were taken into custody as the standoff continued.

Protesters Clash With Police in Downtown San Jose
KPIX 5 reporter Len Ramirez was struck by one of the non-lethal projectiles which he described as a hard plastic disc that did not injure him, but did leave a mark on his clothing.
At around 6:25 p.m., the situation escalated as protesters broke through a perimeter fence to access a construction site that provided some of the activists with two by fours to use as weapons and a fire extinguisher. Construction workers at the site were able to repair the fence and protesters moved on.
At one point a car drove to the edge of the crowd and unloaded twelve-packs of beer in glass bottles that were thrown at police.

Construction Workers Turn Back Protesters in Downtown San Jose
At around 6:30 p.m., police began using what appeared to be flash-bang grenades that made a loud booming sound when detonated in addition to tear gas. Shortly after that, protesters moved a vehicle into the middle of Santa Clara Street apparently to use it as a barricade, but police quickly moved on the position to make sure activists weren't trying to ignite the vehicle.
SJ Police Push Back Rioting Protesters Barricaded Behind Car
Police continued to push the group of protesters down Santa Clara Street, now well past San Jose City Hall and further towards downtown. A Dumpster was set ablaze and a parked vehicle badly damaged. Protesters scattered newspaper stands across the street, setting up a makeshift barrier.
Dozens of buildings had been damaged, many with Graffiti spray painted on them.
San Jose police and Santa Clara County Sheriff's Department officers have set up perimeters around the two police and sheriff's precincts in downtown San Jose, possibly to guard against the protesters reconvening around one of those sites as happened Thursday night in Minneapolis.
As of shortly before 8:30 p.m., protesters and police were continuing a moving standoff in downtown San Jose.
Earlier, a group of what appeared to be around 300 protesters started blocking all southbound lanes of the highway near Santa Clara Street at around 3:10 p.m. Some vehicles were managing to skirt their way around the crowd, but the southbound traffic backup was already stretching for miles.

George Floyd Protesters Take Over 101 in San Jose
Traffic was also stopped in the northbound direction as CHP officers diverted cars off the freeway at Alum Rock Avenue. The exiting freeway traffic triggered gridlock on city streets in the area.
The main group of protesters blocked southbound lanes for the better part of an hour before walking across the freeway to the northbound side and eventually getting off US 101 at about 4:15 p.m.
However, CHP and San Jose police units could still be seen holding up southbound traffic after an initial group of vehicles was able to pass. Northbound traffic was moving again as of about 4:20 p.m.
There were some reports of confrontations between protesters and drivers on the freeway, including some broken vehicle windows. Protesters were also seen smashing the windows of San Jose police vehicles as well as flattening at least one tire and defacing the police SUVs with graffiti at Santa Clara Street.
The protesters appeared to be headed back to San Jose City Hall about a half mile away from where the group had blocked the freeway.
KPIX 5 reporter Len Ramirez was with the protest when the march wound its way to the Santa Clara Street freeway onramp.
San Jose Mayor Sam Liccardo issued a statement on the protests early Friday evening.
"Anger and peaceful protest will always be appropriate responses to injustice; violence will never be. San Jose is united in outrage over the atrocious crime committed in Minneapolis and in sadness over George Floyd's horrible death," the statement read." SJPD will take a measured approach in facilitating peaceful protest, but there will be no tolerance of violence to our people or damage to our city."
The police officers' unions of San Jose, Oakland and San Francisco issued a joint statement Thursday condemning the actions of the Minneapolis officers.
"What we saw on that video was inconsistent and contrary to everything we have been taught, not just as an academy recruit or a police officer, but as human beings," the statement read. "We are equally disturbed by not seeing any of the other officers on scene intervene to prevent this tragedy."
Earlier Friday, Gov. Gavin Newsom spent a good portion of his coronavirus response update discussing Floyd's death and the unrest it has triggered across the country.
Newsom called on the state's residents to "be better as human beings" to fight racism and inequality and to be mindful in their protests over the terrible tragedy.
"I pray that all of us that want to express ourselves do so thoughtfully and gently, but forcefully, in terms of expressing themselves as they should and as they must," said the governor.
Thanks for reading CBS NEWS.
Create your free account or log in
for more features.