Fire at San Francisco Tenderloin Apartments Injures 15; Dozens Saved by Occupants' Heroism
SAN FRANCISCO (KPIX) -- Fifteen people including a San Francisco police officer were injured early Saturday after a 1-alarm fire erupted inside a six-story Tenderloin District apartment building, a blaze that sent flames and a towering smoke plume billowing out of the top of the building.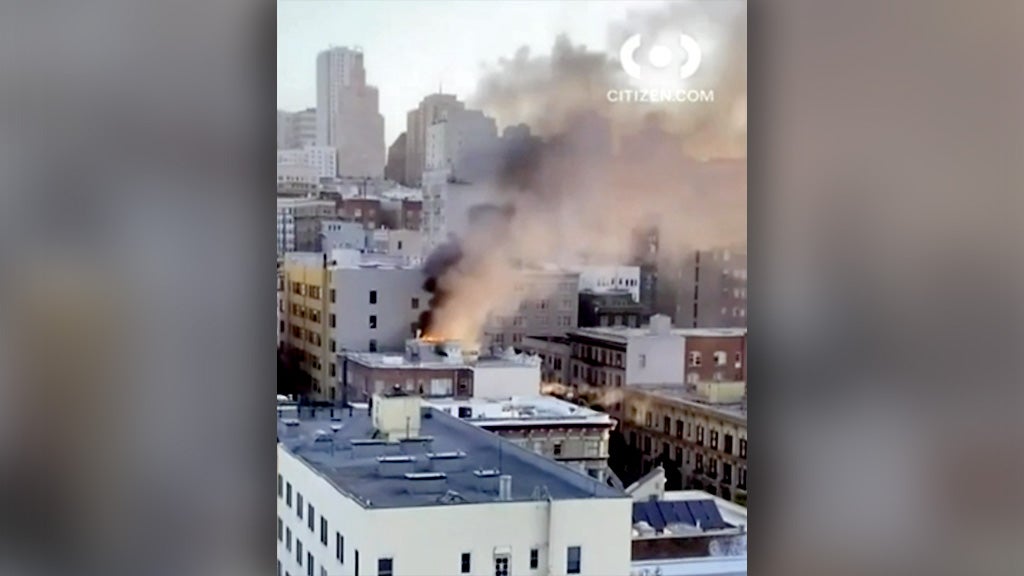 There are about 40 units in the Sierra Madre Apartments, with maybe as many as 60 people living in them. Given the layout of the building -- and who lives here -- it was a very dangerous situation and the scene of some true heroism.
"Somebody came to my door, bang! bang! bang!" said Paul Hickman. 'Fire! Fire!'"
"There was black smoke and we could tell there was a lot of heat coming off the fourth floor," added David Carpenter.
"When I opened my front door it was nothing but black smoke," said Denise Williams. "So I couldn't go down the stairs in the building. I had to go out the window."
With the flames quickly spreading, most of the building's residents went racing for the first escape they could find. Some, however, would not be able to make it out on their own.
"We have a lot of paraplegic people in the building," Carpenter said. "We have people that are bedridden, a lot of elderly people. I just went into rescue mode, started banging on doors and went down to get our friend who is paralyzed out of his bed and try to get him out safely. The only stairwell is in the middle of the building. It's very steep. It was not engulfed but there was stuff raining down in the stairwell as we were carrying him down to get him out of the building."
Outside, Paul Hickman encountered the man who lives in the unit where the fire possibly started.
"He said 'my hands are on fire, my hands on fire,'" Hickman said. "It was really black," he said of the man's burn wounds.
Most residents were unharmed but some were clearly still shaken after they had made their way to safety.
"They are just nervous, traumatized by what's happening," Bory Chea said of her parents and their dogs. "It's really scary, like, out of nowhere the fire just started."
"My whole apartment is burned," Williams said. "I have no clothes, no nothing. So only the clothes on my back."
There is some hope that the bottom three floors of the building are not badly damaged and everyone is grateful that the blaze wasn't much more costly.
"I feel good that I'm alive and everybody is safe," Hickman said. "That's the main thing."
The building is owned by the Tenderloin Neighborhood Development Corporation and that organization is already working to relocate tenants into other available units.
Thanks for reading CBS NEWS.
Create your free account or log in
for more features.