Coronavirus Fears Keep Cruise Ship In Limbo Off Coast; San Bruno Senior Center Closed After Former Passengers Visit
SAN FRANCISCO (CBS SF) -- The Grand Princess remained floating off the California coast Thursday night, banned by Gov. Gavin Newsom from docking in San Francisco and any other California port until 45 passengers and crew members suffering from flu-like symptoms were tested for the coronavirus.
Cruise Tracker showed that by 11:30 a.m. the ship -- carrying 2,422 passengers and 1,111 crew members -- was off the San Mateo County coast, heading toward the San Francisco Bay.
Mary Ellen Carroll, the San Francisco Director of the Department of Emergency Management, at a Thursday morning news conference said 35 of those aboard had shown flu-like symptoms during the 15-day cruise.
"Many of those people have recovered and are no longer showing flu-like symptoms," she said. "Once we have results from the (coronavirus) tests (that will be run Thursday), the CDC (Centers for Disease Control and Prevention) and the state will determine the most appropriate location for the ship to berth. That location needs to provide for the safety of the surrounding community as well as the passengers."
"The CDC and the state are considering a number of locations including San Francisco," she added.
On Thursday, San Bruno officials closed that city's senior center as a precaution after they learned that three former Grand Princess passengers, who had been board ship between Feb. 11 and Feb. 21, had also recently visited the senior center and assisted in the lunch program. All three individuals were advised to self-quarantine at home.
In a news release Thursday night, Princess Cruises said samples were delivered to the California Department of Public Health in Richmond for processing with results expected by Friday.
Flights from the California National Guard's 129th Rescue Wing carrying testing kits began arriving at the vessel around 11 a.m. Thursday.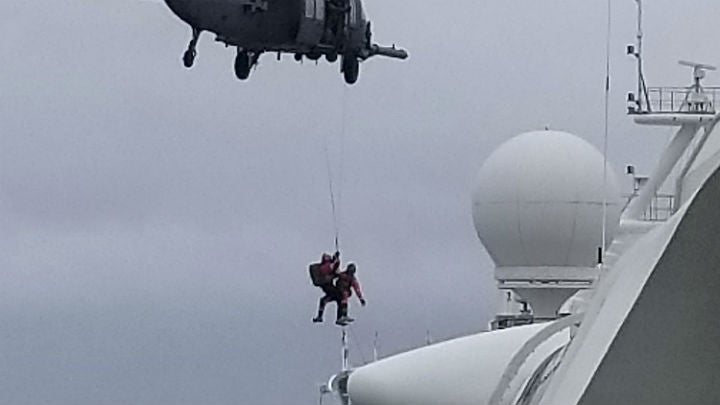 In this photo provided by Michele Smith, a delivering virus testing kits lowers crew down to the Grand Princess cruise ship Thursday (Michele Smith via AP)
Four members from the 129th and a representative from the CDC were hoisted down to the Grand Princess with 300 test kits.
The onboard medical team would now administer the tests with the samples being sent in batches by helicopter to a state testing lab in Richmond. Cruise line officials placed the number of those who needed to be tested at 45, a number that includes passengers and crew.
"Following guidelines received today from the CDC, all guests have been asked to stay in their staterooms while test results are pending. Guests are receiving meal deliveries in their staterooms by room service, and additional television and movie options have been added to in-room programming. Guests have also been provided complimentary internet service to stay in contact with their family and loved ones," according to a Thursday-night press release from Princess Cruises.
Gov. Gavin Newsom said that tests would need to be completed before clearance to dock in San Francisco -- where the cruise to Hawaii began -- or any other California port would be given.
"It is a dynamic situation as it relates to the cruise ship but nothing that should be alarming," Newsom said. "Appropriate protocols are in place, and as I said, the ship will not come on shore and tour till we appropriately assess the passengers and appropriately assess the protocols and procedures once people make it back on a to state land, state property."
"We are working closely with the City and County of San Francisco, the port commission and of course, the mayor and mayor's office," he continued. "We are grateful for their support and for their reasoned response to this. And as I noted, I want to just acknowledge with 53 tested cases positive, this is no longer isolated, just one part of our state."
A sick crew member was removed from the Grand Princess before it left Hawaii and returned to California.
"One crew member who had served on the Feb. 11 voyage was medically disembarked from the Grand Princess in Hawaii (on the most recent voyage) with influenza like symptoms and has tested negative for COVID-19," San Francisco health officials said.
Among the passengers on board was Laura Dunn. She took to social media expressing fear and anxiety.
"I am trying to remain upbeat and positive about this sailing we are on but here are my honest thoughts. Just my thoughts and I am not a doctor," she tweeted. "We have been inside this ship since leaving Hawaii. The decks have been closed the whole time per dangerous storm conditions. Other than staying in our cabins the entire time, we have basically been elbow to elbow with the entire population of this ship. There are a certain amount of folks who were on the previous sailing who are now being checked. But we all have been breathing the same inside air and in elevators, restaurants etc with any one of these who were previously exposed. It bothers me going home to my town, to my grand babies and family having been exposed to this.. Just the things that kept me up last night."
Chris Grady boarded the Grand Princess on February 21st in San Francisco. He told KPIX 5 he knew something was up after the cruise left the big island of Hawaii.
"There's a channel on the TV that shows where the ship is going and I noticed it. We were going straight toward Mexico and then, all of a sudden, just kind of turned and headed toward San Francisco for a few hours. So I knew something was kind of up," Grady explained to KPIX via Facebook Messenger.
As of Thursday afternoon, all passengers aboard are being asked to stay in their rooms. Grady said information about what's going has been hard to come by from Princess Cruises.
"I definitely feel I've been kept in the dark a little bit. Because I've learned a lot more by going online and reading what's going on. Here, they've been pretty vague. I'm not sure if they're trying not to scare people," Grady said.
A passenger from the Mexico voyage, Judy Cadiz of Lodi, said she and her husband became ill afterward but had not given it much thought until learning a fellow traveler had died of the virus. Now, they cannot get a straight answer about how to get tested, she said.
With Mark Cadiz, 65, running a fever, the couple worries not only about themselves, but about the possibility that -- if they contracted the infection -- they could have passed it on to others.
"They're telling us to stay home, but nobody told me until yesterday to stay home. We were in Sacramento, we were in Martinez, we were in Oakland. We took a train home from the cruise," Judy Cadiz said Thursday. "I really hope that we're negative so nobody got infected."
ALSO READ:
COMPLETE COVERAGE: CORONAVIRUS OUTBREAK
But testing the ill passengers and crew is only the first step of a challenging process.
Dr. Henry "Chip" Chambers, an infectious disease specialist and UCSF professor, said the situation with the cruise ship has a potential "be a mess." He points out that it will eventually be a challenge to get all the passengers off the ship, but consider what happened to the Diamond Princess in Japan: it left passengers quarantined onboard for two weeks. 704 people got infected and four of them died.
"I would have trouble regarding that a resounding success," Chambers said. He also said it depends how well the patients were isolated and how well quarantine procedures were followed. It also depends on the test results.
"My gut is it's probably a good idea to get people off the boat," he said.
In response to the growing outbreak of the coronavirus in California -- the state has had 53 confirmed cases -- Newsom declared a state of emergency on Wednesday. It came in the wake of a sad milestone in the outbreak as a 71-year-old Placer County man died of the illness he had contracted on the Grand Princess during a roundtrip cruise from San Francisco to Mexico on Feb. 11-21.
Officials said other than the Placer County man the two others are Sonoma County residents who both remain hospitalized.
At an afternoon press conference announcing the Placer County death, Dr. Christopher Braden, Deputy Director of the National Center for Emerging and Zoonotic Infectious at the Centers for Disease Control and Prevention, said there was "a cluster" of potential coronavirus patients from that Feb. 11-21 cruise.
"There are a number of other people who have been identified with some type of symptoms that are undergoing testing now," he said. "That information will be updated as we know more."
Princess Cruises officials also announced they were canceling the Grand Princess' next voyage scheduled for March 9.
"All guests will receive a full refund of their cruise fare, Princess Air, Princess Cruise Plus pre- and post-cruise hotel packages, prepaid shore excursions and other prepaid items purchased through Princess," officials said in a release.
Andria Borba and the Associated Press contributed to this report
Thanks for reading CBS NEWS.
Create your free account or log in
for more features.