'Close The Camps' Protests Held In San Francisco, Other Cities Over Immigrant Detention Facilities
SAN FRANCISCO (CBS SF) – Hundreds of protesters blocked streets in downtown San Francisco Tuesday afternoon, calling on U.S. Customs and Border Protection to stop detaining migrants at the U.S.-Mexico border.
The protest began at noon at Market and Montgomery streets, near Sen. Dianne Feinstein's office. It was one of several protests happening nationwide against the controversial detention centers, which are being used to detain undocumented immigrants, including children, from Central America.
"This is happening on our watch and nothing is changing," said Grace Hersh, one of the protests' organizers.
"People bring toothpaste and toothbrushes and soap to the camps and they (CBP) won't let them give it to them," she said. "The cruelty is unfathomable."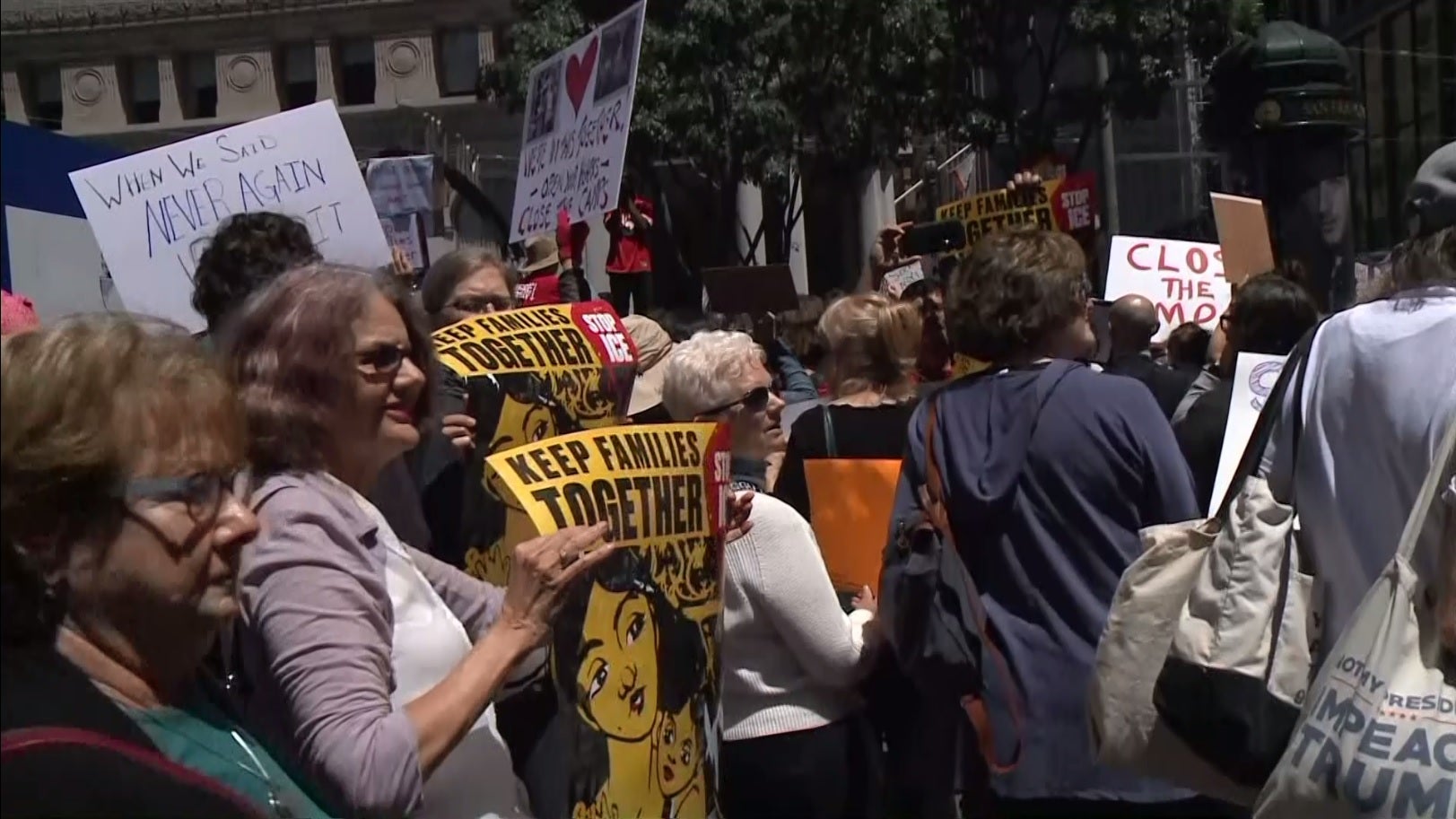 Spring Keosoupha said, "These people are seeking asylum. They're fleeing from war... The camps are worse than prison," she said, alleging that immigrants being detained, as well as their children, are forced to sleep on concrete floors and are deprived of food and medical attention.
"These people are victims and they're being villainized just because they're people of color. We're not doing this to any of the other people who come from Canada or Europe. These are people of color who are being persecuted and all they want is a better life for their families," she said.
Protesters initially blocked traffic at the intersection of Montgomery and Market streets before marching down Market Street, chanting, "Close the camps!"
The protest culminated at the Federal Building on Seventh Street, where protestors briefly rallied and blocked traffic on Seventh Street.
The Federal Building is where the office of House Speaker Nancy Pelosi is located.
The protest was organized by the groups MoveOn and Families Belong Together. They're calling on members of Congress to close the camps and refuse to authorize any more funding for family detention and deportation.
They're also calling on members of Congress to visit the detention camps on the border to witness for themselves what the organizers say are atrocities happening at the detention centers.
Similar Bay Area protests happening on Tuesday were scheduled in Santa Rosa, Walnut Creek, Oakland and Palo Alto.
More information can be found at https://www.closethecampsnow.org.
© Copyright 2019 CBS Broadcasting Inc. and Bay City News Service. All Rights Reserved. This material may not be published, broadcast, rewritten or redistributed.
Thanks for reading CBS NEWS.
Create your free account or log in
for more features.