California Enacts Law On Police Use Of Lethal Force Only When 'Necessary'
SACRAMENTO (KPIX 5) — On Monday Gov. Gavin Newsom signed a landmark bill that was once described as one of the toughest police use-of-force standard in the country, but some believe the law is watered down from its original version.
"The bill they have today, what they signed today, wouldn't have prevented our loved ones from being killed," said Rosie Chavez.
Next month marks two years since her nephew, Jacob Dominguez, was shot and killed by San Jose police officers when they say he ignored commands to put up his hands then dropped them out of view.
Since then, Chavez began working at the advocacy organization Silicon Valley De-Bug, which at first supported and even co-sponsored Assembly Bill 392. The bill was sparked by deadly shootings of unarmed black men, including Sacramento's Stephon Clark.
"We said as long as the bill stood as it was when it first was introduced we were OK with the bill," Chavez said.
But now Silicon Valley De-Bug no longer stands by the police use-of-force bill after major law enforcement agencies worked with legislative leaders to make amendments to the bill.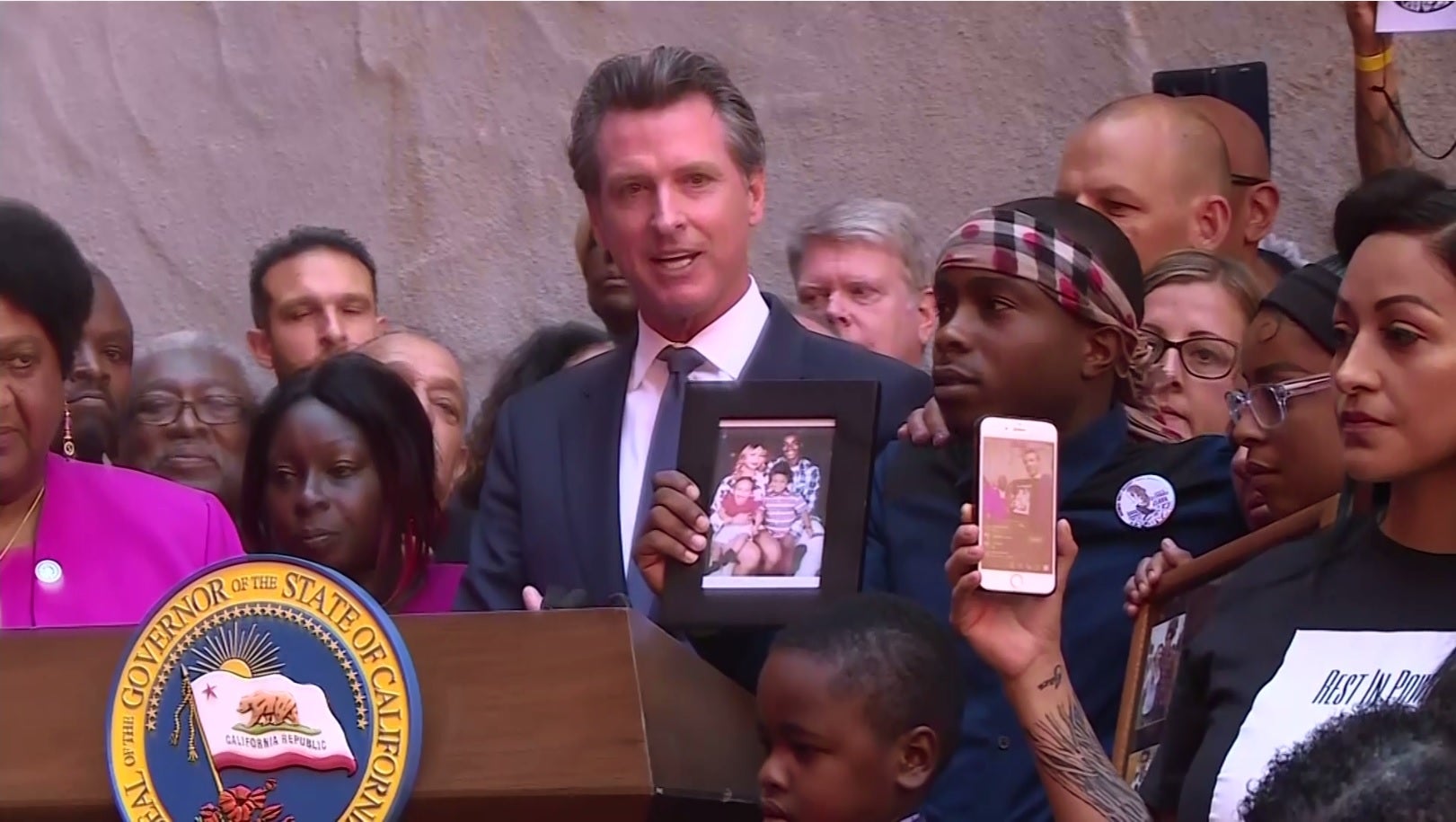 Surrounded by relatives of people killed in police shootings, Gov. Gavin Newsom signed AB392 at a ceremony in Sacramento on August 19, 2019. (CBS)"It was very important that a reasonable standard remained for us, that's what's in this bill, it supports what's already in law," said San Jose Police Officer Association Vice President Sean Pritchard.
The new language to the use-of-force law requires law enforcement to use deadly force when "necessary" instead of reasonable. Yet the bill still states an officer can use deadly force when they reasonably believe there's an imminent threat to he or she. The definition of "necessary," as well as language that would've forced law enforcement to exhaust all other measures before deadly force were removed.
"Once those changes occurred then we were OK 52 for what was signed in today," Pritchard said.
He said the bill helps law enforcement work toward a bill that would give them more training on issues like mental health.
"Our officers are faced with a very, very difficult job every single day that they go out there and try to make their community a better place," Pritchard said. "The last thing that they want to do is to have to be put into a position in which they're forced to defend themselves, another officer's lives or the community that they serve."
Chavez said since the bill doesn't give them the hope they once had for changes they're focused on making changes in San Jose, including having a mental health expert on
scene to help police with deescalation.
"It's not good enough," she said. "We're just going to try to make changes here locally."
Thanks for reading CBS NEWS.
Create your free account or log in
for more features.