California Kids Have Higher Levels Of Flame Retardant Chemicals In Bodies Than East Coasters
(KPIX 5) -- Just weeks after congress passed a law giving the Environmental Protection Agency more power to ban harmful chemicals; a new study demonstrates just how much chemical regulations can impact the health of our nation's youth.
From couch cushions, to baby products, to kid's pajamas, chemical flame retardants are widely used in consumer goods. As a result, the average American infant has the highest recorded levels of these chemicals in their body. However, a peer-reviewed biomonitoring study by the Environmental Working Group found that government regulations can increase those "potentially harmful exposures."
EWG found that children in California have twice the levels of concerning flame retardants in their bodies as kids on the East Coast. The study, published in Environment International today, links the increased levels in California kids to a recently-revised California flammability regulation that—for decades—led to added flame retardants in products sold in the state.
The group tested mother-child pairs in California for a series of flame retardants in their bodies, and compared the results to those from New Jersey mothers and kids.
"Until 2014 California was the only state with regulations that led to (flame retardant) use in virtually all foam cushioning for furniture." Researchers believe those regulations contributed to higher levels of the cancer-causing and hormone disrupting chemicals found in kids in the golden state.
While it is virtually impossible to eliminate exposure to the chemicals that are pervasive in consumer goods, the higher levels in California kids indicates that regulations encouraging added chemicals can significantly increase unnecessary exposure.
"We really believe that this report is a good example of how misguided regulations can increase exposure, and good regulations can actually decrease exposure, said Johanna Congleton, EWG senior scientist and co-author of the new study.
The report comes at a time when the U.S. Consumer Product Safety Commission (CPSC) is considering a national furniture flammability standard that could lead to increased use of flame retardants nationwide.
The CPSC is also considering a petition to ban "a class of toxic chemicals called organohalogens from four types of consumer products: upholstered furniture, children's products, electronics, and mattresses or mattress pads." EWG has collected more than 10,000 signatures on a petition in support of the ban.
Similarly, a recent KPIX investigation shed light on an unrelated federal flammability standard for children's car seats that critics say is unnecessarily exposing every child in the country to potentially harmful chemicals. The CPSC does not have jurisdiction over car seats; however, the National Highway Traffic Safety Administration is now reviewing the regulation that has not been updated since 1972. Like the national furniture flammability standard, a possible revision to the car seat standard has the potential to increase--or decrease--exposure to concerning chemicals nationwide.
Rep. Jared Huffman (D-CA 2nd District) recently introduced legislation into the House Commerce Committee that would require NHTSA to update its 44-year old flammability standard for car seats so that flame retardants would no longer be necessary.
"The big picture is, the government needs to change standards," said Arlene Blum of the Green Science Policy Institute.
Blum was instrumental in getting California's controversial flammability standard revised so that it no longer encourages flame retardants. The standard, and flame retardants added to meet it, was found to be unnecessary for real-world fire safety.
The chemicals in question have been linked to developmental delays, reproductive impacts and cancer but until recently, the EPA had limited authority to ban the chemicals or create regulations that reduce exposure. A recent overhaul of the federal toxic substance law gives the agency new authority to regulate concerning chemicals. It also allows the EPA to give special consideration to the effect of the chemicals on vulnerable groups like children and pregnant women.
The American Academy of Pediatrics has joined EWG and others in petitioning the EPA to ban some of the most concerning chemicals that are still found in furniture, children's products and car seats.
"Currently you can't shop your way out of the problem," notes the EWG's Congleton. However, she points out that there are steps parents can take to reduce exposure.
The study found a correlation between age and high levels of the chemicals; the younger the child the higher the levels in their body. Researchers believe that the increased exposure is likely associated with more hand to mouth contact and a greater tendency for younger children to spend time on the floor where dust settles.
Additionally, while kids who sucked their thumb tested positive for higher levels of the chemicals, hand washing was associated with lower levels.
The World Health Organization finds that nearly 1 in 5 cancers are caused by chemicals and environmental exposures. EWG notes that antismoking efforts cut lung cancer rates more than 25 percent. The group believes that reducing chemicals in our kids' environment could help cut cancer rates over all.
In response to the EWG report, the American Chemistry Council told KPIX 5, "Flame retardants provide an important layer of fire protection and help save lives." The group that represents chemical manufactures also pointed out that "The U.S. Centers for Disease Control and Prevention has stated that 'the presence of a chemical does not imply disease. The levels or concentrations of the chemical are more important determinants of the relation to disease, when established in appropriate research studies, than the detection or presence of a chemical."
For a links to the full report, the EWG's petition to the U.S. Consumer Product Safety Commission to limit the use of toxic flame retardants, and for resources on how to reduce your child's exposure, see EWG's research page here.
KPIX5 reporter Julie Watts and her daughter were one of the mother-child pairs tested for this bio-monitoring study.
You can visit her newsmom blog (link below) for details on how her daughter's results ultimately lead to a national KPIX investigation "exposing alleged false advertising, apparent legal loopholes and outdated federal regulations that systematically expose millions of children to concerning, even known-cancer-causing, chemicals in their car seats."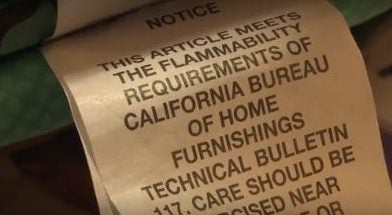 Remember 'That' Bio-Monitoring Study? Car Seats Are Just The Beginning...
About a year ago, I heard about a bio-monitoring study that was testing the levels of concerning flame retardant chemicals in the bodies of mother-child pairs.
I'm not a particularly "green mom" but as a result of my reporting on flame retardants, I'd made a significant effort to reduce my child's exposure to the chemicals. So, when this study came up, I thought it would be an interesting experiment to see if her levels were lower than the average child.
I never imagined that my daughter's results would ultimately lead to a national KPIX-CBS investigation.
Continue reading at NewsMom.com...
NOTE: Car seats in cars save lives. None of this information should be interpreted to imply otherwise. The safest place for a child in a moving vehicle is in a rear-facing car seat in the middle of the back seat.
This story has been updated with additional links to our on-going investigation into flame retardants in car seats.
For more information, see:
Thanks for reading CBS NEWS.
Create your free account or log in
for more features.