UPDATE: Atmospheric River Drenches Northern California With Historic Rainfall
SAN FRANCISCO (CBS SF) -- A cyclone off the Northwest coast aimed a potent atmospheric river into Northern California Sunday, dumping a stunning amount of rain in parts of the Bay Area over a 24-hour span, weather officials said.
The National Weather Service noted that the storm system was projected to make October 23 the ninth heaviest day of precipitation in downtown San Francisco since rainfall records started being kept in 1849.
With the rain still continuing, Sunday's rainfall totals for San Francisco could move up to the seventh highest rainfall of all time.
As the storm's heaviest concentration of rainfall gradually moved south, parts of the Santa Cruz Mountains started seeing a significant uptick in rain ranging anywhere from three to four inches in the past 24 hours to over eight inches.
The wettest spot in the Bay Area was the Marin County community of Kentfield where as of 7 p.m. nearly 12.5 inches of rain had already fallen.
Heavy downpours, triggered a flood warning for the Hennessey portion of the LNU Lightning Complex burn area in Napa and Sonoma counties at 12:30 p.m.
KPIX 5 Weather Center: Current Conditions, Maps, Forecasts For Your Area
"Doppler radar and automated rain gauges indicated heavy rain falling over the Hennessey portion of the LNU Lightning Complex Burn Area," the weather service said. "The expected rainfall rate is 0.75 to 1 inch in 1 hour. Additional rainfall amounts up to 1 inch are possible in the warned area. Flash flooding is ongoing or expected to begin shortly."
The National Weather Service later extended flood advisories until 9 p.m. for areas of Napa, Sonoma and Marin counties.
While most of the Bay Area flood advisories were allowed to expire at 11 p.m., the National Weather Service extended an areal flood advisory through 3 a.m. for Santa Cruz County.
In addition to flooding in Santa Rosa that led to some evacuations and extensive street flooding in San Rafael, the National Weather Service also issued an Urban and Small Stream Flood Advisory for a wide swath of the East Bay covering Contra Costa and Alameda counties that was set to expire at 7:15 p.m.
Winds topping more than 50 mph were also a problem as they howled through the Bay Area, toppling dozens of drought-weakened trees, tumbling them onto cars and power lines and forcing residents in San Francisco's Forest Hill neighborhood from their homes.
The National Weather Service issued a wind advisory for much of the region until 8 p.m. as a potent atmospheric river roared into the Bay Area, packing near hurricane force winds and driving rain showers.
"Peak gusts have been around 70 mph on higher peaks with 40 to 50 mph gusts filtering into lower areas," the weather service said. "Expect the winds to linger within the main rain band but cut back before the rain begins to let off."
From Santa Rosa to San Francisco, work crews were being dispatched to neighborhoods to clear the downed trees and large limbs.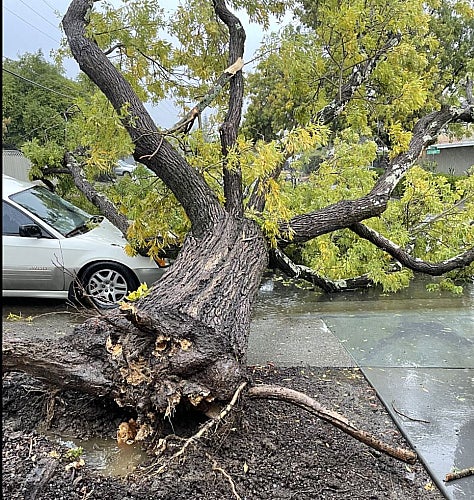 In San Rafael, a large tree toppled onto a car on Las Pavadas Ave. while the lower Great Highway in San Francisco was temporarily closed in both directions between Moraga and Lawton by another tree ripped down by the winds.
In San Francisco's Forest Hill neighborhood, fire officials issued a mandatory evacuation order for homes along a block of 9th Avenue. A 100-foot tree was leaning dangerously, threatening at least three structures.
The National Weather Service said the storm's arrival in San Francisco was a little ahead of schedule on Saturday night with steady downpours.
"If anything, precipitation, is over performing with values already around 1.25 for downtown San Francisco," weather service forecasters said in the 3:45 a.m. update. "Mt Tamalpais has reported 0.79 inches alone in the last hour with 6 hour values overnight of 3.34 inches. That's of course one of the wettest spots."
The atmospheric river has been elevated to a Category 5, the highest designation on the Scripps Institution of Oceanography Extreme Weather Lab scale and has triggered a litany of severe weather warnings and watches for the Bay Area.
Authorities have issued an evacuation order for hundreds of homes in and around the CZU Lightning Complex Fire burn scar zone in the Santa Cruz Mountains. The order goes into effect on Sunday at 8 a.m. in parts of San Mateo and Santa Cruz counties.
"Things will go down hill in a hurry in the Santa Cruz mountains once we reach the afternoon hours," the weather service warned.
But many Boulder Creek residents told KPIX 5, they were going to ignore the order and try to ride out the storm which could dump as much as 6 inches of rain on hillsides that have barely begun revegetating from massive blaze that burned 86,500 acres.
"Yeah, we're going to stick around," said Boulder Creek resident Steven Coleman. "Where else are we going to go?"
Those staying cited experience of dealing with big storms, evacuation fatigue, and fear of looting.
"We gonna stay unless it becomes unsafe," said Coleman.
"We've decided to stay," said another resident Gloria Sitz.
Most people like Sitz either stayed with family and friends or paid for hotel rooms for more than a month during the CZU fire evacuation last year. They said they don't want to deal with that anymore.
"In my particular location, we have a generator, we have chainsaws, we know how to use them and we're prepared," said Sitz.
The weather service also warned of flooding in the North Bay, particularly around the Russian River. Already overnight a rock slide had tumbled onto Mark West Springs Rd. near Fox Lane.
There was already flooding on Colgan Creek near Sebastopol where water levels had already climbed to 76.5 feet by Sunday morning.
"If the atmospheric river stalls for even a few hours over the Russian River basin, we will have to monitor trends closely," the weather service said. "Of more concern is some of the flashier creeks out of the Russian Basin such as Mark West and those near the base of Mt Tamalpais such as San Anselmo and Corte Madera."
The main pulse of the potent plume of sub-tropical moisture was still targeting the North Bay Sunday morning, but would be on the move.
"The main atmospheric river will drop to around the Golden Gate by roughly 2-3 p.m. this afternoon," the weather service said. "Expect several hours of very heavy rain to hammer the urban corridors during this time frame including the 101/280 on the Peninsula and 880/680 in the East Bay."
The threat of heavy rains also has already forced the closure of the Alameda County Fair, the Danville Fallfest and the Oakland Zoo on Sunday.
Meanwhile, the turf at Levi's Stadium will endure its toughest weather challenge ever by the time the San Francisco 49ers-Indianapolis Colts game kicks off around 5:30 a.m.
Thanks for reading CBS NEWS.
Create your free account or log in
for more features.