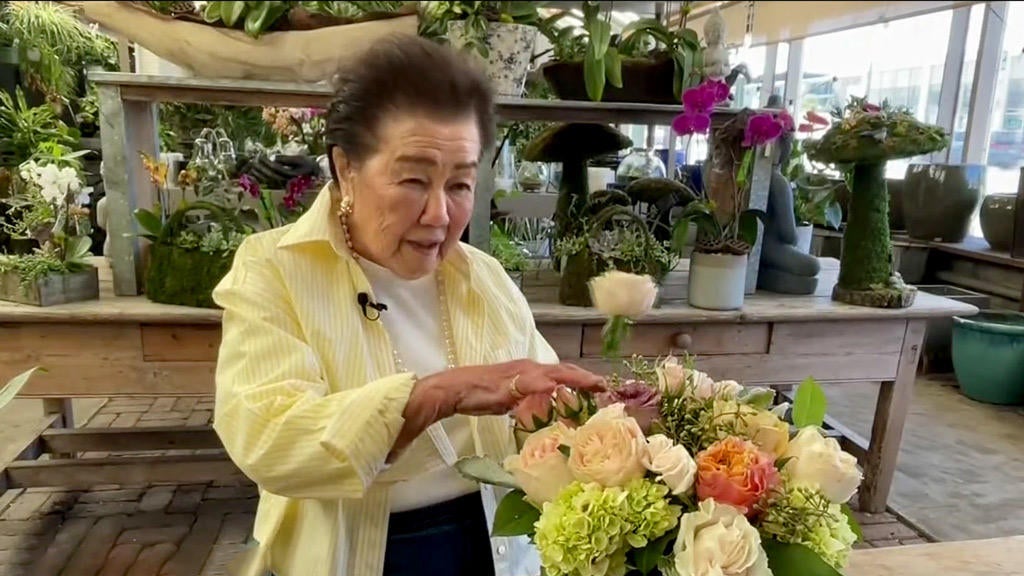 Asian American-run flower shop on Peninsula celebrates 90th year
SAN MATEO -- Mayme Leong is well into her 90s but she still has a hand in shaping her family's San Mateo business.
"I love to come here, help out a little bit. I don't make the big things, I make things like this, small things," she said while adding roses to a floral arrangement.
Her imprint is anything but small: She has helped keep her shop Ah Sam Floral rooted through three generations.
"We treat everybody like family," Leong said.
Her father-in-law, Gordon Leong, and his father, Sam Shun, opened Ah Sam in 1933.
It's blossomed over the decades despite some early setbacks.
Mayme Leong's son, Steve Leong, says that, as Asian American business owners, they encountered resistance then unexpected friendship while trying to purchase their signature lot on El Camino Real in the 1930s.
"The owner of the property chose not to sell to my grandfather but then what happened -- the farmer across the street was Italian. He said, 'No problem, I'll purchase the property for you and I'll transfer it over to you,'" Steve Leong said.
"When you want to buy something, you can't and you got the money, it's sorta sad," added Mayme Leong.
The Leongs were among the first Asian families to locate in Belmont and a neighbor apparently complained to immigration so Mayme had to prove her citizenship.
"My mom said, 'Here's my driver license,'" Steve explained. "They said 'that's not enough.' My mom said she was born in Fresno. They said, 'Where's your birth certificate?'"
Mayme Leong persevered in more ways than one.
When her husband, Art, and his siblings died in the 1980s, she stepped in with her kids to keep the shop going.
Today, she and Art's four adult children run Ah Sam.
The store's longevity, she says, stems from its innovative designs, fresh flowers and shift to online orders.
Generations of loyal customers have included high society and celebrities from Shirley Temple to Oprah whose thank-you note is framed at the store.
Mayme's most recent thrill: when Warriors' Stephen Curry visited to highlight small businesses bouncing back from the pandemic.
"He's my only favorite. I don't have any favorite. I don't like LeBron James." she chuckled.
The spunky matriarch remains the glue that binds together the family and store. She comes to work on busy holidays.
"It's nice to see everybody, you know," she said. "I make sandwiches you know? I put broccoli, cucumber, string beans," she said. "I don't know if they like it or not but they say they like it. It's free!"
She hosts Sunday family dinners -- on her terms.
"When they bring a dog, they've got to vacuum and they've got to wash the dishes and put it away," she said, adding, "Right now, there are a lot of things I can't find, OK? I don't know where they put it."
Mayme Leong keeps her children close and that keeps her going.
"When everybody, all my kids are OK, I'm happy," she smiled.
Thanks for reading CBS NEWS.
Create your free account or log in
for more features.