Target's Teacher Prep Event Starts Sunday - What You Need To Know
SACRAMENTO (CBS13) - Target's first-ever Teacher Prep Event starts Sunday and there are a few things you must do before heading in-store or online to shop.
The event runs from July 15-21.
Target's "A Bullseye View" spills some of the details: "For the first time, Target's offering teachers nationwide 15 percent off select classroom supplies, from pens, pencils, crayons and markers to classroom storage and organization and tissues, hand sanitizer and more, in stores and on Target.com July 15-21. Simply visit Target.com/teacherprep starting July 15 to share some quick details and grab your coupon code."
SEE ALSO: The Newborn Disney Princesses Are Now One!
That link doesn't currently have any content posted, but Target did confirm the target.com/teacherprep website would go live on Sunday.
At that time teachers will need to give their name, email, school, and school zip code. According to an advertisement posted in a store, "It takes less than 30 seconds."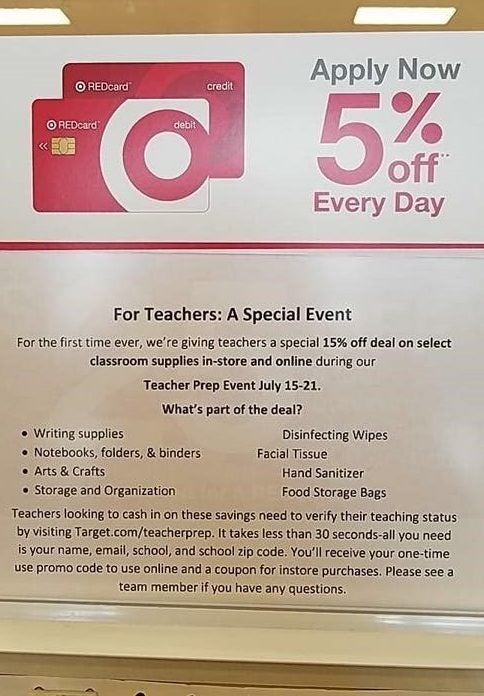 After filling out the information teachers will get a one-time promo code to use online and a coupon to use in-store.
READ: Back-To-School Spending Expected To Reach $82.8 Billion
Items included in the Teacher Prep Event:
Writing Supplies
Notebooks, Folders, Binders
Arts & Crafts
Storage and Organization
Disinfecting Wipes
Facial Tissue
Hand Sanitizer
Food Storage Bags
Thanks for reading CBS NEWS.
Create your free account or log in
for more features.